Antoine Roussel was a surprise success story at the IIHF World Championship this year. No one really expected France to perform well but the national team, and Roussel, managed to change the conversation when they eked out a 3-2 victory against Canada. Roussel would go on to lead France in goals, collecting six goals and five assists. He was named to the World Championship All-Star Team, the first Frenchman to ever receive the honor.
.@Rous_ant picks up all-star honors at World Championship. READ:http://t.co/so9c31qGRY pic.twitter.com/i98wg2DZis

— Dallas Stars (@DallasStars) May 27, 2014
Scheduled to be an RFA this offseason, one would think the Stars wouldn't blink before offering Roussel a new deal, but Roussel is proving to be a tricky guy to pin down. His run at World's makes a case for him as a reliable second or third line winger for the Stars. However, one has to take into consideration that Roussel was facing a level of competition lower than what he usually sees in the NHL and he likely filled a very different role as a point-leader for Team France than the position he tends to take with the Dallas Stars, that of brute squad leader.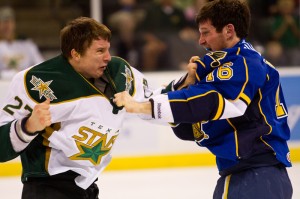 Roussel is effective as a shutdown player. The problem is he tends to go just a little too far. He reminds me of Lenny, from Mice and Men—he means well, but he keeps killing bunnies. Whatever good he does defensively tends to be canceled out by poorly timed, often dumb, penalties. His tendency to pick fights with guys twice his size has made him a fan favorite. While I applaud his gumption, the Stars are a team with serious defense problems who are better served by the version of Roussel that is a defensively minded forward with his head on straight.
Even though the majority of his World's performance was brutality free, Roussel's veneer of productivity cracked just enough to show the rage-monster within during France's final game of the tournament against Sweden. Roussel finished the game with no points, only two shots on goal, and a 10-minute misconduct late in the second.
The good news is Lindy Ruff seems to be aware of the problem with Roussel. Ruff's healthy-scratched Roussel before, to make a point about his aggressive behavior. If Ruff feels he's capable of reigning in Roussel, the Stars will likely re-sign the French bunny-killing forward. A lot hinges, though, on rewriting the way Antoine Roussel plays hockey, so it works consistently for the Stars, rather than against. And it remains to be seen if Roussel will be game to make those changes or resist and spend more time in the box.