The signing of center Antoine Roussel by the Dallas Stars to a two-way, two year deal this summer made few waves. Most of us saw this unknown's nine points and 177 PIM with the Chicago Wolves the prior season and shrugged our shoulders.
His recent inclusion as one of only three professional forwards invited to the Stars' mini-camp, however, did more than cause a few shoulders to shrug — but it makes sense.
The speedy, aggressive French-born center has played in 37 games with the AHL's Texas Stars this fall, scoring a career high 7-8-15 points in that span (along with 101 PIM) and has proven to be a versatile, high-energy forechecker with surprisingly good hands. Dallas GM Joe Nieuwendyk has said that there are three roster spots available: two at forward and one on defense. Cody Eakin all but owns one of those forward spots, and when Dallas wraps up camp, Roussel will very likely own (if only short-term) the other one.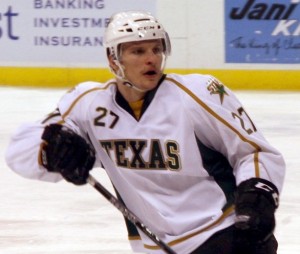 HOW HE GOT HERE
Antoine Roussel spent four years with Chicoutimi of the QMJHL, earning the team captaincy during his final season. Undrafted, he attended the Columbus Blue Jackets' rookie camp prior to his final year but didn't catch on. On finishing Juniors, he was invited to the Boston Bruins' camp but later signed with their AHL affiliate, the Providence Bruins. He played 42 games for Providence in his rookie year, but also spent time with the ECHL's Reading Royals. At the conclusion of that season an impressive showing at the Vancouver Canucks Young Stars' camp earned him a spot with their AHL affiliate, the Chicago Wolves, where he picked up those nine points and 177 PIM.
The following summer, Dallas inked him to a two year contract.
WHAT HE BRINGS
– Roussel is a pest, an agitator of the highest (or lowest, depending on your opinion) order.
– He has great hands and lots of hockey sense.
– He is a real grinder and a relentless forechecker.
– He has wheels, and his game looks no different in the third period than it did in the first.
– He's good on special teams. He even earned a short-handed goal this season by stripping the puck from no less a player than Oklahoma City's Justin Schultz and beating goalie Yann Danis with a nifty move to his backhand.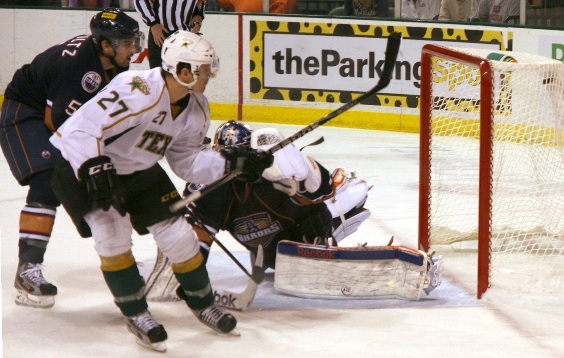 – Finally, Roussel is a fighter, although not an especially great one. With Texas he was in seven fights, squaring off against Drew Bagnall (Houston), Mitchell Heard (Lake Erie), Colten Teubert (Oklahoma City, although Roussel was not given a fighting major), Eric Selleck (San Antonio), Chris Bruton (Peoria), Alex Petrovic (San Antonio), and, in perhaps the greatest testament to his status as a first-class pest, 2010 #1 overall draft pick Taylor Hall (Oklahoma City). Most will recall that it was an ankle injury sustained during a fight that ended Hall's rookie NHL season early.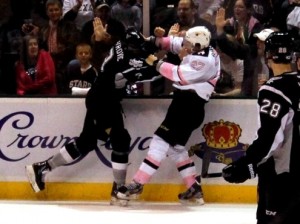 WHY IT MATTERS
A shortened season schedule makes every game all that more important, and Dallas seems especially anxious to see to it that the team has a roster of fresh, high-flying bodies on the ice, if only until the remainder of the players catch up. In that regard Roussel is a nice fit.
Furthermore, as others have noted, Roussel's game bears some similarity to that of super-pest, fan-favorite and now Buffalo Sabre Steve Ott, traded for Derek Roy over the summer.
The only other forward invite (beyond a pair of players in Juniors) is Reilly Smith, who is the points leader in Austin. But Dallas does not envision Smith as anything less than a top 6 forward. There's little point in relegating Smith to 3rd and 4th line minutes in Dallas when he can be earning top line minutes in Austin and where he can continue his impressive development to date.
In October, no one predicted that Antoine Roussel would be making his NHL debut this season, and he still may not … but it looks increasingly likely that he will. Whether he does or not, what's certain is that he has earned it.