Be honest…when you hear the name Damien, you think of creeps.  You think of Satanic children.  You think of of Marilyn Manson style goths, and amoral drug users.  You think of skin headed tattoo artists and 7-11 cashiers with hollow gazes.  But if we of Red Wings faith have it our way, this is all about to change.  Damien will no longer be synonymous with the anti-christ, but with 30 goal seasons and power play perfection.  The Detroit brass cut a deal with Damien Brunner, and this could turn out to be the first deal with the Devil that benefits all involved, instead of just the Devil himself.
Detroit is 0 for 3 in signing un-drafted Europeans.  Ville Leino had spurts of usefulness.  Ilari Filppula and Fabian Brunnstrom had spurts of nothing.  One would think that by now, Holland and Company would have given up on this trend.  But hockey is not baseball, thank God, so "three strikes and you're out" means nothing on the ice, and there was something about this mysterious Swiss character that intrigued Mike Babcock; the man who persuaded the management to sign Brunner.  After harnessing some nuclear chemistry in the Swiss league with Henrik Zetterberg, Brunner has earned the endorsement of the heir to Detroit's captaincy.  We will find out how much this all means, if anything, next week.
If highlight videos are any index of skill, then we have quite a bit to be excited about with Brunner.  The 26 year old moves his feet, has a lightning release, and sees the ice well.  He may remind viewers of Alexander Semin.  Now, Switzerland is not a hockey superpower.  It's not even a sleeping superpower.  But Brunner was the one Swiss player who was able to menace the opposition during last year's World Championships; the tournament that earned him a spot on Detroit's top two lines.  A bold move by a typically timid team that no longer has the luxury of being so.
Switzerland, for most people, conjures up images of fine chocolates and even finer watches.  For historians, it will conjure up images of shady bank deals with unscrupulous groups.  But for me, it conjures up images of an armory; a cache of weapons in one of the most heavily armed countries in the world.  A weapon is what Detroit needs.  Do we have one in Brunner? We'll see.  He's quoted as being in awe of his new line mate, Pavel Dastyuk.
Think of Brunner as a standard issue Swiss rifle, and Datsyuk as the modifying kit.  The results could be marvelous.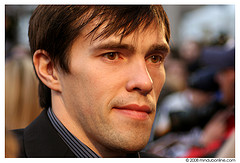 So, my choices for goal songs accompanying Brunner tallies are "Symapthy For The Devil", and the theme from "The Omen."  Intense stares and a stoic demeanor would make this guy even cooler, but I would settle for goal horns and Swiss celebrations.  We've been doing quite a bit of settling since the end of last season.
Perhaps Brunner is ready to do some surprising.