Erik Cole is happy to be back playing hockey.   He is not, though, happy about the new CBA. In fact, he's so unhappy with the deal that he's considering retiring from the NHL after the season.
"I want to have a conversation with the [NHL Player's Association] about some of the escrow stuff and some of the fearsome things in the new CBA," Cole told the Montreal Gazette. "Family-wise it's a transition year with my daughter [starting high school] next year and I think it's something to be considered and everybody should consider this when they look at the new CBA, not just the way it affects the group but how it affects you individually."
The 34-year-old is worried that players won't be receiving full value for their contracts under the new agreement, according to TSN.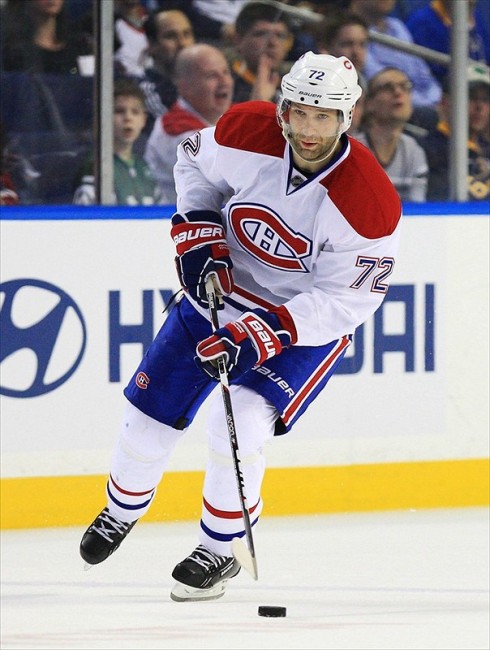 Cole is in the second year of a four-year, $18 million deal with Montreal.   His 35 goals led the team, and he was second in overall team scoring with 61 points.
His line, which included Max Pacioretty and David Desharnais, was a bright spot in an otherwise depressing year for the Eastern-Conference-basement-dwelling Habs.  (Before you get too optimistic, check out Stephan Cooper's excellent critical analysis on why should shouldn't get your hopes up about that trio coming into the 2013 season.)
This is not the first time Cole's threatened to hanging up his skates. Back in November, he said, "If the conflict keeps dragging on, I'm going to have to ask myself if I want to keep being part of this thing," said a remarkably bitter-sounding Cole. "If the whole season is cancelled and that its return looks uncertain, I'm going to look toward Europe or maybe just simply retire. In any case, I'm going to think seriously about my future this summer. I'm not going to stay forever at the mercy of the owners." (via Top Shelf with BK)
While Cole is correct in his concerns about a potential drop in salaries, it seems that he's missing the big picture.  Erik Cole is a professional hockey player, playing in what is unquestionably the premier league in the world.  His current contract pays him an average of $4.5 million per year.  Thanks to a pricier first year and a signing bonus, his actual salary will be $4 million per season for the duration of his deal.  Even if we assume a worst-case 20% pay cut, that still leaves him at $3.2 million per year.  Where else will he have the opportunity to earn that kind of money?
Elsewhere in North America?  No chance.  The AHL would be the best alternative, but forget losing 20% — Cole would be looking at more of a 92% pay cut.  The highest AHL salary is $350,000, currently being earned by Keith Aucoin of the Toronto Marlies.
Europe?  Unlikely.  While salary information isn't publicly shared, European league contracts don't exceed the equivalent of $1 million per season – especially for a 34-year-old injury-prone import player from North America.
The KHL?  Perhaps.  Their big-dollar contracts usually go to top-tier Russian players, but a handful of North Americans have gone over and carved out solid careers.  Even if the KHL came close to that salary given the tax-free nature of KHL contracts, there are far greater personal implications to consider. In his comments, Cole discussed the impact to his family. If he has concerns about where his daughter attends high school in North America, relocating the family to Russia is a whole different issue (and, based on his family-centric comments, there's little chance he'd leave them behind to work overseas).
Outside of hockey?  Cole spent three years at Clarkson University, but has a minimum of one more year left to earn his degree.  The average starting salary for Clarkson graduates is $57,900.  A good start, for sure, but a precipitous drop from the types of paychecks Cole's earning right now; he earns more than that in a week.
The CBA negotiations were certainly contentious – Cole even got into it with defenseman Roman Hamrlik – and, yes, the players did have to give up some potential earnings.  It's a bit short-sighted, though, for Cole to threaten to retire completely as a result. While no one would necessarily be happy with a 20% reduction, there's no better alternative – as a hockey player or otherwise.