It's just five days before the Toronto Maple Leafs open their season in Quebec against their dreaded rival Montreal Canadiens.  Puck drop will be at 7 pm in the French Canadian hotbed of hockey.  The question that everyone is asking is 'who will be standing at center waiting for it?.  Will Nazem be in the picture?
Lockouts over. Lets get to work!

— Nazem Kadri (@43_Kadri) January 6, 2013
For that matter, who will be filling out the any of the available roster spots?  Mark Ritter of #THW talked about the decisions Dave Nonis may have to make in this piece 'Dave Nonis Has Work Cut Out For Him'.  You can also check out mapleleafs.com analyst Mike Ulmer who has put his predictions for opening night lineup here.
On day one, there were some key messages sent either at the mic or between the lines.  Many of these messages were centred around the defence situation.
Uncertainty On the Blue Line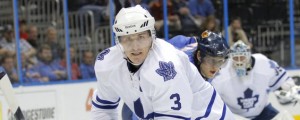 On Sunday, the Toronto Maple Leafs confirmed that they had inked former Islander and Devil Mike Motteau to help shore up the depth of the blue line.  His signing and the re-signing of big Cody Franson for at least another season, is an indication that the Maple Leafs are potentially preparing to hawk one of their current defenders or they are preparing to sit one.  Insert Mike Komisarek stage left.   It could also mean that the Leafs know a little more about the Jake Gardiner situation and that he may not be ready to come back anytime soon.
Almost a lock are Captain Dion Phaneuf, Liles & Gunnarson barring any player moves including one of these veterans.
As is, the Leafs will have the following defensemen vying for a spot at camp.
Dion Phaneuf 'C'                       Mike Motteau
Mike Komisarek                       Cody Franson
Carl Gunnarson                       Morgan Rielly
Mark Fraser                                Mike Kostka
Korbinian Holzer                    injured – Jake Gardiner
John Michael Liles
Jake Gardiner would have been the other lock to make the team, but until he gets back to the lineup, Jake Gardiner will be question mark and will be missed by Leafs coaching staff and fans alike.  Here is a glimpse of his creative play at a December Marlies game.
They're lucky to have the Marlies down the street
ason starting in five days, Dave Nonis told the media that they felt very fortunate to be within arms reach from some of their AHL players who have been playing since October.  In addition to Fraser, Holzer and Jake Gardiner whom I mentioned above, the Leafs have called upon the services of Keith Aucoin, Nazem Kadri, Ryan Hamilton, Matt Frattin, Leo Komarov and Ben Scrivens.
The bottom line is that these guys are not only playing competitive hockey, but coach Dallas Eakins has the Marlies are playing at a high level and are currently four points ahead of the Lake Erie Monsters for first place in the AHL's Northern division.  They won't all make it, but those who do will already be game ready.
Some of the personnel decisions may be surprising
I take this mean that Dave Nonis thinks that Morgan Rielly can make this team.   As I mentioned earlier, the signing of Mike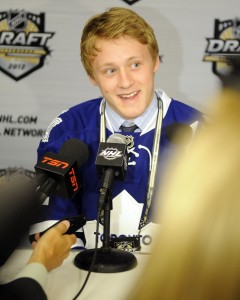 is intriguing because it potentially spells the end of time in Toronto for someone else either via demotion, buyout or trade.
He also interestingly mentioned that he wouldn't be trading a bunch of young players for a bunch of old players, but they would be willing to move 'a' young player if it meant acquiring a veteran that could help right away.  A little foreshadowing maybe?
As Nonis rattled off the prospective blue liners at his morning press conference, he landed on Morgan Rielly and had this to say:
"Morgan Rielly is going to be given a chance, and i'm not saying he's going to stick, but he's strong enough and he's a good enough player that he may have a chance to make an impact on us."
If the Leafs did want to let Morgan Rielly start the season in Toronto, they would be able to let him play five games before burning his eligibility in junior.
So as we enter day two of Maple Leafs camp, I leave  you with this.  If the season is a sprint, then training camp is like the hundred metre dash.  But In the centre of the hockey universe, while fans are dying to see their team play, it will seem like an eternity.
For every Maple Leafs article on THW, follow @THW_MapleLeafs  on Twitter