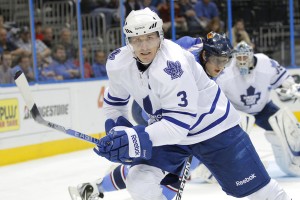 Name: Dion Phaneuf
Position: Defence
DOB: April 10, 1985
Birthplace: Edmonton, Alberta, Canada
Drafted: Round 1, pick 9
Height: 6'3″
Weight: 214
Dion Phaneuf first began playing at a high level of hockey in 2001 after he was drafted by the Red Deer Rebels of the Western Hockey league.
As a 16-year-old, Phaneuf had a very strong rookie season with the Rebels. He scored just 17 points in 67 games, but he finished the season with a plus-21 rating and a total of 170 penalty minutes.
He was known as a player who took a lot of penalties during his time in the WHL. Over four seasons and 255 regular season games, Phaneuf spent a total 554 minutes in the penalty box. His highest total came during his second year (185), while his lowest came during his last (73).
He was also known as one of the best offensive defencemen in the league. Phaneuf finished fourth on his team and first among Rebels defencemen in points in his final season, and he had only played in 55 games. Many of his points came by way of goals, with five, 16, 19 and 24 in each of his four seasons respectively.
After some time in The Dub, Phaneuf was selected in the first round, ninth overall by Calgary Flames in the 2003 NHL Entry Draft. He began playing for the Flames as soon as the 2004-2005 lockout ended.
In his rookie season, 2005-2006, Phaneuf scored 20 goals, went plus-5 and played in every game possible. He continued his success into the playoffs that season, with a goal in seven games. This success led many to believe that he would be the NHL's next great defenceman.
That theory was strengthened even more over the following two seasons, with 50 and 60 points respectively. He was also known as a big-hitter who wasn't afraid to step up against some of the league's best players.
Phaneuf's career took a bit of a left turn during the 2008-2009 season; his production dropped off significantly and he didn't look quite the same anymore. Phaneuf finished the season with his lowest career point total (47) and his worst career plus/minus rating (minus-11).
His struggles were the main reason why so many people were calling for a trade, which resulted in trade rumours that swirled around the Internet and the entire hockey world for what seemed to be forever.
Then, on January 31, 2010, came a day that no one saw on its way. Almost out of nowhere, Toronto Maple Leafs general manager Brian Burke decided to completely shake up his team as it was mired in a slump.
One of the trades the Maple Leafs completed on that day saw Phaneuf pack his bags and take off for Toronto.
"It was definitely a shock, but I'm very excited about going to Toronto and being a Maple Leaf," Phaneuf explained on the day of the trade.
"It's a cliche, if Wayne Gretzky can get traded anyone can get traded," he described the move. "I was very surprised, but on the other hand I'm very excited to be going to the biggest hockey market in the world."
Phaneuf enjoyed immediate success in Toronto and was named team captain in the off-season. He missed 16 games during the 2010-2011 season due to injury and really struggled during the first half. However, once Tomas Kaberle was traded to the Boston Bruins, Phaneuf really took control of the Leafs.
The 2011-2012 season appears to be a great one for Phaneuf. He tallied 18 points through his first 25 games and was hitting just a big as he did in Calgary when he was a member of the Flames.
It remains to be seen if Phaneuf can become that elite defenceman that many have expected him to be for years, but things are looking pretty good for the young phenom.