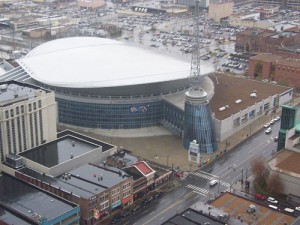 I recently wrote about a daunting stretch of games the Predators faced that included five cities in 8 days, wrapped around Thanksgiving that included some of the NHL elite (November 22nd – November 29th).  That aforementioned stretch saw Nashville amass 2 points and end up 1-4.  The Predators dropped from 4th place in the Western Conference down to 4th place in the Central Division.  The same week included a 4-1 beating at the hands of the Red Wings and a 1-0 loss in Calgary.  The broader picture has been the Predators at 2-5-1 in the last 8 games.  During those 8 games,   the Predators have scored more than 2 goals in a game only twice and have not looked like the playoff team they appeared to be as of mid November.
All is not lost in Nashville, as the Predators next four games are against Phoenix, Columbus, Anaheim and Calgary.   The list of opponents includes three last place teams in their divisions and Phoenix is a fourth place team (only ahead of Anaheim).  The Predators will also get to play three out of the four games at home.  This is the type of scheduling that this team needs and could not have come at a better time.
If the Predators were to score seven out of the possible eight points over the next four games, it would put them back in the mix of the Central Division and should move them back in the Conference discussion as well.  In order to cure Nashville's recent offensive woes, three out of the four opponents rank in the bottom half of the NHL goals against average.  Plainly speaking, the Predators should be able to score some goals and build some lost confidence.  Phoenix offers the largest obstacle defensively, with their ninth ranked goals against average of 2.40.
As noted prior, three out of the four upcoming Nashville games are at home.  In order for the Predators to pad their points in the standings, they are going to have to improve their 4-4-3 home record.  Home ice has been anything but friendly.  At home, this year, the Predators have allowed 31 goals in 11 games for a poor 2.82 goal against average.  They've been equally poor on offense, averaging 2.55 goals per game.
The Nashville Predators have a legitimate opportunity to turn around their recent slide.  The combination of opponents and home ice should be enough for the Predators to reverse course.  There is nothing that's a given about these four games however.  The Predators have lost to Calgary, Columbus and Phoenix already this year.  They also have to overcome their affinity to be below average at home.  If the Predators step up and play Smashville hockey, they will find themselves right back in the thick of the Western Conference.  The question remains, will the Predators make hay or will they have rain on their parade?