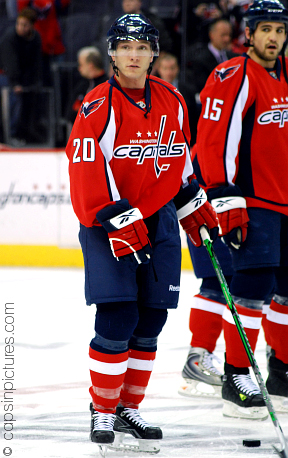 It can be tough to crack a big league lineup. The mental wear and tear of bouncing back and forth between the minors and NHL isn't easy, just ask journeyman Keith Aucoin. At the age of 33, Aucoin is still searching for stability. The Waltham Massachusetts native has been called up and sent back down five times this season, only playing 14 NHL games in that span, but don't feel too sorry for Aucoin. He's won the AHL's Les Cunningham Award as the Most Valuable Player, been named the player of the year twice in the ECAC and won two Calder Cups with the Hershey Bears. For many players, a record like this would translate into a speedy transition to the NHL.
The undrafted centerman has been signed as a free agent by five NHL teams in his career, only ever playing for two of those. He's amassed 89 NHL career games (and counting) and is currently enjoying a stint with the Washington Capitals. Before Aucoin ever played his first NHL game he had played with four AHL clubs over five seasons, getting his first shot at the NHL with the '05-'06 Carolina Hurricanes. In that season Aucoin played just six regular season games and while he didn't lace up for the 'Canes during the playoffs, he did receive a Stanley Cup ring for his contributions to the club.
The next season the Cup-winning Aucoin posted over point-per-game numbers with the Albany River Rats in the next two seasons, warranting more than a few call-ups to the Hurricanes, though he never played more than 40 games per season. In 2008 Aucoin was signed by his 5th NHL club, the Washington Capitals, and joined the 11th team in his career, having played in six leagues to date. Since Aucoin has been in the Caps system he has brought their AHL affiliate Hershey Bears to back-to-back Calder Cups, leading the way with 23 points in 21 games in the '08-'09 playoff run and racking the league's most playoff assists the following year. In Aucoin's time in Washington/Hershey he's been called up a total of 15 times, something that's become the norm for the 33-year-old. For a player who has 673 games of experience and 777 points to back it up, why is it that this highly decorated forward remains on the outs of an NHL roster?
The short answer is just that: at 5'8" and 170 pounds, Aucoin has been discounted as too small to hold his own in the big league, despite his offensive prowess. Aucoin isn't afraid of the rough stuff, having five career fights and racked over 108 PIM in the '06-'07 season with Albany. "He's always a fiery player, plays with a lot of passion and plays with an edge," said Caps Centerman Jeff Halpern. But Aucoin is the smallest player currently on both the Bears and Capitals roster, the latter of which is the heaviest in the league with an average weight of 209.5 lbs, and the fifth tallest team with an average height of 6'1. It's a mould that Aucoin so far doesn't fit into despite his rock star status at the AHL level.
Since Aucoin was recalled on February 28th the Caps are 4-1-1 with him in the lineup. Aucoin faces more uncertainty at the end of this season with his contract expiring and no re-signing as of yet, so it will be interesting to see what GM George McPhee decides over the summer. It's hard to say if Aucoin's struggles are due to fundamental differences between AHL and NHL hockey, or if he's unfairly discounted due to his small size in a league that prides itself on toughness. Nonetheless, hopefully for the Caps and Aucoin the journeyman can bring some of his AHL MVP flair to the transitioning NHL club.
Matt Stephen is a writer, not a fighter. He is both a beer and fantasy league veteran and has written about hockey online and in print for The Hockey News. He now covers the spectrum from the White House to Mike Green. He carries a picture of Ovechkin in his wallet.