This weekend in Hollywood, the movie "John Carter" was a bust at the box office.  As for Hollywood's hockey team, the Los Angeles Kings, their newest star attraction, Jeff Carter kept up his solid play.  So too did Mike Richards and Dustin Brown.  Throw in a suffocating penalty kill and you've got a recipe for success.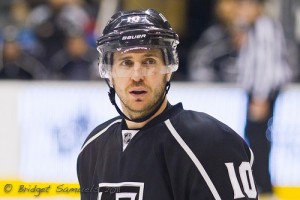 Additionally, after letting one get away against the Detroit Red Wings, the Kings were determined to finish strong against the Chicago Blackhawks.
L.A. stormed out to an early advantage.  In the first, on a virtual four-on-one, Slava Voynov bested Ray Emery, with helpers from Justin Williams and Dustin Brown.  For Brown, the secondary assist gave him a eight-game point streak.  Again making the Kings and General Manager Dean Lombardi very happy they didn't deal him.
However, midway through the second stanza, Chicago would knot it up.  Off a Patrick Sharp shot, Marcus Kruger buried a rebound past Jonathan Quick and the Blackhawks were on the board.
Shortly thereafter though, L.A. would get back to work.  Digging and scrapping just behind the net were Dwight King and Mike Richards.  Reaping the benefits of all that work, was Jeff Carter out front.  As Carter lit the lamp for his 19th overall and third as a King, Los Angeles regained the lead.
Yet in the third, it looked as though things might be slipping away once again.  Patrick Kane was able to stuff one home and the Blackhawks would push the Kings to a shootout.
In the shootout, it was a goaltending clinic by Quick and Emery.  Ultimately it was a deep shootout, which saw Quick, who earlier stopped a Victor Stalberg penalty shot, hold serve and Richards tally the only goal the Kings would need for the win.
***
Earning the extra point was obviously enormous for Los Angeles.  With the victory, L.A. is now an astonishing 23-0-3 when leading after two periods of play this season.  Plus this contest marked the ninth consecutive game wherein the Kings did not allow a power-play goal.
Additionally, L.A. finds itself in a good kind of gridlock where the standings are concerned.  By improving to 32-25-12, L.A. is sitting in ninth, although tied in points with Calgary and Colorado at 76, one point ahead of San Jose and only two back of Phoenix for seventh.