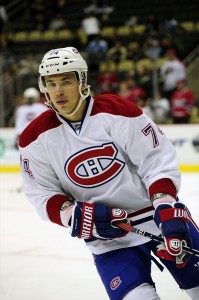 The name Alexei Emelin has been but a whisper in the Bell Centre rafters since the Montreal Canadiens selected the young Russian with the 84th overall selection in the 2004 NHL Entry Draft. For seven long years, Habs' fans have waited patiently for the 6'2, 220lb blue-liner, whose reputation for thunderous open-ice hits has had hockey's capital city salivating at the thought of his impending arrival.
Since the lockout, Montreal has struggled to find a balance between the speedy, highly skilled style of play favoured by management and the toughness and grit required to stand up to the more physical teams in the Eastern Conference. With such failed experiments as the Georges Laraque signing in their rear-view, it is easy to understand the club's hesitancy to value physicality over pure ability.
Now 57 games into Emelin's NHL career, it is clear that the 26-year old has the balanced skill set to put those fears to rest. After spending the better part of a decade sharpening his skills in Europe, first as a member of his hometown Lada Togliatti in the Russian Super League and then in the KHL with Ak Bars Kazan, Emelin has proven himself a force to be reckoned with in the National Hockey League.
He is already being mentioned in the same breath as Detroit Red Wings' all-star defenceman Niklas Kronwall in the debate over the league's most imposing open-ice hitter, and some have even gone as far as drawing comparisons to a young Scott Stevens.
With 211 hits thrown so far this season, Emelin currently sits tenth in the NHL and leads all rookies by a wide margin. His closest competition, Colorado winger Gabriel Landeskog, has thrown 25 less hits than Emelin despite appearing in 13 more games.
http://www.youtube.com/watch?v=-oh9DyLJA38
After starting his career as a prototypical stay-at-home defenceman, Emelin blossomed in his final year with Ak Bars Kazan, recording a career-high 26 points in 52 games last season to go along with a +16 rating.
The road to the National Hockey League has certainly been a strange one for Emelin. For the past several years, he has been at the centre of a murky contract situation with the Canadiens. After reportedly turning down a minor-league deal in 2008-09, he returned to Russia with his NHL future very much in doubt.
In hindsight, the added development time may well have been a blessing in disguise. Emelin brings an awareness and maturity to the rink which is exceptional for a first-year player. With only two thirds of a season under his belt, he appears both comfortable and confident under the glaring spotlight of the Montreal media.
Emelin's age and offensive stats may not garner him much attention when it comes time to award the Calder Trophy this spring, but in terms of NHL readiness and immediate contribution to his team, one would be hard-pressed to find a better first-year player in the National Hockey League.
After signing a one-year, $984k deal last May, Emelin will undoubtedly be seeking a long-term extension this coming off-season. With big-name players like Carey Price and PK Subban also coming due for contract negotiations this summer, Canadiens brass will likely have their hands full when it comes to comprising the Habs' 2012-13 roster.
But with reliable defencemen being at a premium in today's NHL market, it would be certainly be in the best interest of Pierre Gauthier (or Bob Gainey…or Geoff Molson…or Youppi…whoever is in charge by then) to ensure that Alexei Emelin is wearing the CH for a years to come.
With the healthy return of Andrei Markov, the consistently reliable play of Josh Gorges, and the continued development of youngsters PK Subban and Raphael Diaz…the signing of Emelin to long-term deal could solidify the Canadiens' blue line for the first time in long while.