Entering the 2011-2012 OHL Season, the Sarnia Sting had high expectations for their season. Jacques Beaulieu became the tenth coach in Sarnia Sting history and adopted the title of General Manager as well last spring. The former Saint John Sea Dogs' Head Coach came over from the London Knights' organization (Assistant Coach) and immediately began to make the team his own completing several trades adding depth and skill to an already talented roster. Nail Yakupov and Alex Galchenyuk entered the season as potential top picks in the 2012 NHL Entry draft and Beaulieu looked to surround these elite talents with complimentary players.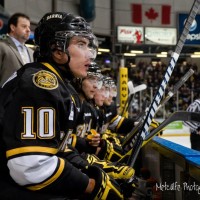 Reaching the CHL Memorial Cup was the goal of a Sting franchise that had not tasted playoff action since the 2008-09 season and it was a playoff run that was short lived. Sarnia was ousted in a quick five game series by divisional rivals Plymouth Whalers. In fact, Sarnia has struggled with playoff success even when they qualified for post-season action failing to advance past the opening round in eight of the past nine playoff appearances. Captain Nathan Chiarlitti is the only Sting member remaining from the 2008-09 roster that experienced playoff action in a Sting jersey.
Fast forward seven months to present day and glance at the OHL Western Conference standings to see the Sarnia Sting sitting fourth and one might ask, "What happened?" Sarnia was expected to challenge a tough Plymouth Whalers team for the West Division title yet sit twenty-two points back with three games remaining on the regular season schedule. To be fair, Sarnia's current fourth place ranking is pretty impressive considering the struggles and bad luck this team has endured over the course of the 2011-12 season.
It is never right to blame a team's struggles on one particular reason but the Sarnia Sting have played sixty-five games of the season and have yet to ice a healthy roster. Injuries have decimated a team that was expected to take a huge leap forward this season. The team has struggled to find any sort of consistent chemistry in their lineup as Coach Beaulieu has been forced to juggle line combinations on a nightly basis to accommodate constant player damages.
The injury curse began on September 16, 2011 in Sarnia's second last exhibition game when star forward Alex Galchenyuk was chasing a loose puck behind the net when he caught a rut in the ice and crashed into the net. Galchenyuk tore his ACL that required surgery to repair the damage. As a result, Galchenyuk has missed the entire season after scoring 31 goals and 83 points in all 68 games last season as a rookie. Galchenyuk is nearing a return to action as the regular season winds down but there has been no confirmation on whether the high scoring centre will get into any of the Sting's final three games before playoffs begin.

Galchenyuk's injury was the first of many as the Sting trainers worked hard to keep these players in the lineup. Beaulieau acquired forward Taylor Carnevale from Windsor after learning Galchenyuk's injury would sideline him long-term but the five-year OHL veteran struggled to stay in the lineup himself missing six games to a shoulder injury. By the time January rolled around, Sarnia found out that Carnevale required surgery to repair his shoulder and would miss significant time. As a result, Jacques Beaulieu continued to work the phones to replace another injured player. Tyler J. Brown came over from Kingston with teammate Ryan Spooner (in separate deals) giving the sting a nice combination of experience and scoring punch.
The City of Sarnia received exciting news in the summer when they learned that Connor Murphy, a Phoenix Coyotes' first round pick (2011, 20th), would report to the Sting after being drafted as a longshot in the 15th round of the 2009 OHL Priority Selection draft. Unfortunately, the big defenseman suffered a knee injury at the 2011 USA Hockey National Junior Evaluation Camp a month before the OHL season started prolonging the arrival of another important piece of the puzzle. Murphy returned in December giving the Sting a much needed boost on the blueline and the son of former NHL defender Gord Murphy has been nothing short of outstanding in his first OHL season.
Beaulieu brought in Spitfires defensemen Craig Duininck and Adrian Robertson to solidify their blueline but both defenders have missed considerable time due to injuries. Duininck has just returned to the Sting lineup after missing 12 games with a broken foot while Adrian Robertson has been limited to just 11 games with a concussion. Robertson missed his 15th game as a member of the Sarnia Sting on Sunday, March 11th against his former team but is hopeful to return by playoff time.
Brett Ritchie is no longer a member of the Sarnia Sting after being dealt to Mississauga for draft picks but the big winger missed 15 games of his own before leaving shortly after the year turned 2012. The Sarnia Sting's first round pick (4th overall) in 2011, Ryan Kujawinski, could not avoid the injury curse either as he missed eight December games with a knee injury. The native of Iroqouis Falls, Ontario has since been dealt to the rebuilding Kingston Frontenacs.
Another off-season acquisition, defenseman Alex Basso, had found a niche playing in Sarnia scoring nine goals and 34 points in 41 games setting career highs in all categories but has not played since February 12th when he injured his hand. The list goes on.
The heart and soul type players and longtime Sting members have been banged up recently as well. Captain Nathan Chiarlitti sat and watched nine games from the Stand as his team continued to battle teams with an undermanned roster. Local Sombra native, Craig Hottot, continues to miss games with an upper-body injury. The loss of Hottot was huge for Sarnia as he is a player that is counted on to do almost everything. Hottot is a vital member of the fourth ranked Sting penalty kill and fourth ranked powerplay. He's a player that is counted on to keep his opponents in check if things go a little squirrelly and is ready to drop the mitts at any time. Chiarlitti has returned to action and the team expects to see Hottot back competing soon as well.
January and February were tough months for the Sarnia Sting as their organizational depth was severely tested. Sarnia recalled players Daniel Nikandrov, Mike Dipaolo, and Steve Farlow from the Sarnia Jr. B Legionnaires club to help fill the vacant positions. Moreover, Davis Brown, Sarnia's 3rd round pick in the 2011 OHL Priority Selection draft, was signed and called up from the Strathroy Jr.B Rockets to help out. Justin Thomas, previously sent to Strathroy, was brought back to Sarnia to give a helping hand as well. Unfortunately, Sarnia was limited to the number of games these kids could play and has been playing with a roster short two or three players on most nights. Daniel Nikandrov was starting to find his groove at the OHL level and despite being a great skater, he could not outskate the injury jinx as he broke his foot sending him to the infirmary as well.
Not feeling sorry for the Sarnia Sting yet? Okay, fair enough. Injuries are certainly part of sport and it is impossible to avoid them altogether. But, it is fairly easy to see (even for the casual observer) that the Sarnia Sting have been hit hard by injuries. The long list of injuries above does not even include the serious troubles superstar winger Nail Yakupov has experienced throughout the season.
Finishing his OHL rookie season with 49 goals and 101 points as the CHL top scoring rookie, Nail Yakupov entered his draft year with enormous expectations from the public and himself. Nail impressed early on in the season as he carried the momentum from last season over scoring close to two points per game despite missing his best friend and linemate Alex Galchenyuk. The weight of carrying an injury-riddled Sting team on his back caught up to him as Yakupov missed eight games in November with a sore back. The Russian sniper joined a talented and dynamic Under-20 Russian World Junior squad as an eighteen-year old and put up 9 assists in seven games tying for second on the team in scoring. In the gold medal game, Sting nation had the wind knocked out of them hard as Yakupov left the game in overtime with a knee injury.
Sarnia would soon find out that Nail Yakupov would miss nearly a month (9 games) as he rehabilitated his knee. Nail returned to the lineup on January 27th and played in the next three games sparingly to test out his knee. The Sting organization, on the advice from Yakupov's doctor, decided to hold back the winger from playing in the CHL Top Prospects Game on February 2nd and it was a decision that would cost Yakupov and Sarnia a two game suspension adding to the list of unavailable Sting players. Yakupov returned from suspension and buried nine goals and 14 points over his next twelve games clinching a playoff berth for the Sarnia Sting on Friday night for the first time in three years. However, Sarnia would receive their biggest blow of the season mid-way through an intense game with the Owen Sound Attack on Saturday night when Yakupov crossed the blueline and cut to the middle only to be met by a punishing hit from Attack forward Mike Halmo.

Yakupov would lay on the ice as the team doctors attended to him before leaving the game. Yakupov received stitches and treatment to his face and missed the Sting's game on Sunday as the team continues to monitor him. Yakupov's status for the remainder of the season and playoff action is unknown but it is likely he will sit out the final three games of the regular season as a precautionary measure at best.
Sarnia has invested a lot in the success of the 2011-12 season and the franchise has worked feverishly over the course of the season to fill roster holes via call-ups, trades and whatever other means possible. Coach Jacques Beaulieu has been tested fully to find chemistry in a roster that changes daily. Over the course of the season, Sarnia has used 34 players including 20 forwards, 11 defensemen and 3 goaltenders. The team has exhausted their call-ups and continue to ice a roster that is short an entire forward line. Defensemen Julian Luciani and Craig Duininck have been used on forward to fill in for injured forwards while Craig Hottot has played games on defense to assist when the defense core is depleted. Overcoming the challenges of the 2011-12 season has been a team effort by the entire Sting organization. Considering the gruelling fight with player damages the Sting have battled to repair, the fans of Sarnia should be thrilled with their current achievement within the OHL's Western Conference.
Sixteen year-old rookie defenseman Anthony DeAngelo and cast-off Frontenac-turned-Sting-leading-scorer Charlie Sarault are the only two Sarnia Sting players that have played in every Sting game this season. Sarnia has tallied 141 man games lost to forward injuries and 83 man games lost to defensive casualties. Led by Alex Galchenyuk's 65 games lost to injury the Sarnia Sting have totalled 224 man games lost to injury alone and that number continues to grow as several key players work towards returning to the lineup.
Next up: Calculating the cost of medical supplies and doctor services for the 2011-2012 Sarnia Sting.
The following is a list of man games lost to injury for Sarnia Sting players.
MGL = Man Games Lost to Injury (does not include suspensions/healthy scratches)
** player no longer with the team
Man Games Lost to Injury
Alex Galchenyuk (C) – 65+ MGL
Alex Basso (D) – 24 MGL
Connor Murphy (D) – 23 MGL
Nail Yakupov (RW) – 18 MGL
Adrian Robertson (D) – 15+ MGL
**Brett Ritchie (RW) – 15 MGL
Craig Hottot (RW) – 12+ MGL
Craig Duininck (D) – 12 MGL
Nathan Chiarlitti (D) – 9 MGL
Nickolas Latta (C) – 8 MGL
**Ryan Kujawinski (C) – 8 MGL
Daniel Nikandrov (C) – 7 MGL
**Taylor Carnevale (C) – 6 MGL
Ludvig Rensfeldt (LW) – 1 MGL
Reid Boucher (LW) – 1 MGL
Total (and counting): 224 Man Games Lost to Injury
Follow @RossyYoundblood on Twitter for OHL and Sarnia Sting news.