Back on November 15 I wrote about the struggles of Texas Stars forward Reilly Smith. Scoring goals in college hockey creates no guarantee the player will do the same at any professional level. It was evident in those early games that Smith had the tools but his timing was off. He always seemed just slightly out of position, such that errant pucks that squirted loose or seeing-eye passes from linemates Cody Eakin and Tomas Vincour caught him unprepared.
Not anymore.
Over the last 12 games:
Reilly Smith has 8-4-12 points.
His rating is +8
He has two power play goals
Two game-winning goals
Three first-goals (a stat the AHL keeps). This is significant only to the extent that in 27 games this season Texas has scored the first goal just eight times.
The team is 9-1-1-1 in that span, dropping one game in regulation to Grand Rapids, one in overtime to Houston, and one in the shootout to Abbotsford.
TEAM EFFORT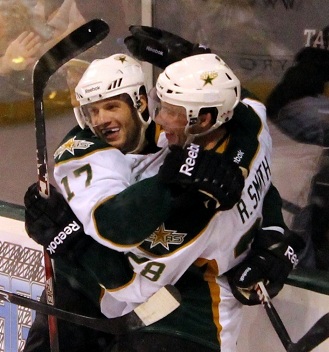 Reilly Smith's turnaround has certainly helped propel Texas from last to second place in their division, but the surge has been a team effort that began back on November 10, when they had a 3-6 record and had dropped six of their last seven.
On November 10 the Stars hosted the Lake Erie Monsters, a team that had blanked them 4-0 in October. To make matters worse, the night before, the Toronto Marlies beat Texas 3-0 at home.
To their credit the Stars came out aggressively, outshooting the Monsters 21-4 in the first and tying a franchise record for most shots in a single period. Predictably, they had little to show for it, with the game tied at 1.
Down 4-2 with just over two minutes to go in the third period, there was every reason to think the team was headed for another loss. Coach Willie Desjardins had pulled goalie Jack Campbell when center Cody Eakin scored from his knees in the slot, putting Texas within one with 2:03 to go.
The Monsters took a boarding penalty with a minute remaining, giving Texas a 6-on-4 advantage. As the last seconds ticked by, Eakin got the puck to Travis Morin on the right point, who fed Cam Barker on the left. Barker couldn't have known just how little time remained, but he shifted his body and deliberately shot wide. For many fans that did it. Game over.
The puck rebounded behind the net and back over the goal line, finding Matt Fraser who, on his backhand, took an ugly swipe at the puck. With two tenths of one second remaining, the puck was in the net. Tie game.
Despite pouring a total of 49 shots on Monsters goalie Calvin Pickard, Texas eventually lost in a shootout. But Texas has been a different team since that game.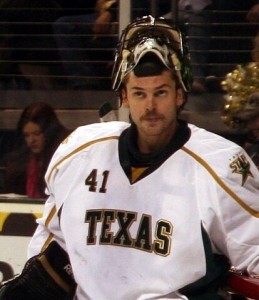 Over the last 18 games, including the Lake Erie game, Texas has gone 12-2-4, earning 28 of a possible 36 points. The players who are expected to score are scoring:
Reilly Smith:8 goals 5 assists (+5).
Matt Fraser: 9 goals 3 assists (+6)
Colton Sceviour: 5 goals 7 assists (+7)
Cody Eakin: 4 goals 8 assists (+7)
Travis Morin: 2 goals 9 assists (+7)
Equally if not more important, Texas is getting sensational goaltending from Swedish Elite League veteran and AHL rookie Christopher Nilstorp, recently the subject of a rare Texas Stars-based profile in the Austin-American Statesman.
Since a November 11 game against Houston, the left-handed netminder, who is listed at 6′ 4″ and just 184 lbs, is 10-3 with a .943 save percentage, 1.58 GAA, and four shutouts.  On top of that, Nilstorp has been phenomenal in the two shootouts he was involved in, allowing one goal out of ten shooters from Peoria and one out of nine shooters from Charlotte.
In a season of hockey uncertainty, and in a league typically known for its transience, the Texas Stars are on the rise thanks to defensive consistency and offensive production that is finally meeting expectations.