The Christmas season is well upon us.  Many people are clamouring to the stores and malls, hoping to finish the rest of their shopping before the big day arrives on Tuesday.  It is a special time of year for people to spend with their families and friends, reveling in the company of those who make this so incredible.  Almost everywhere one goes, one can see decorations adorning the homes of many in several neighbourhoods, showing the sheer beauty of the biggest holiday of the calendar year.  Children await the arrival of Santa Claus, wondering what he leaves under their families' trees to unwrap early Christmas morning.  The magic and amazement of the season is simply unparalleled.
There are also several people who have even more reason to celebrate on Christmas Day.  That is because there are many whose birthdays also happen to fall on December 25.  For young children born on this day, it can mean double the presents (and double the expenditure for their parents).  It is all the more reason to celebrate on a day of the year that is most certainly amazing and joyful in itself.
On EliteProspects.com, there are 252 hockey players listed on their database with their birthdays authenticated as being on Christmas Day from several different countries.  Here is a list of ten of the more significant ones: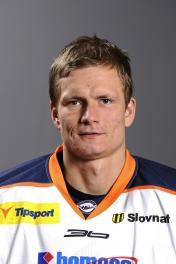 Alexandr Hylák was born on Christmas Day 1983 in Pardubice, Czech Republic.  A slender goaltender at 157 pounds, Hylák was a key netminder for his hometown's junior teams, both under-18 and under-20, between 1999 and 2004.  He played only one season of under-18 hockey at the age of sixteen before graduating to play under-20 full-time beginning in 2000.  His statistics were unbelievable, including a 2.12 goals-against average as a seventeen-year-old in his first season with the under-20 squad. Hylák helped Pardubice's under-20 team win back-to-back championships in 2001 and 2002.  Remarkably, despite how well he played, he was never brought to a World Under-18 or World Junior Championship for the Czech Republic. During the 2003-04 season, Hylák got the opportunity to play his first two games in the Czech Extraliga, recording back-to-back shutouts.  He spent the better part of the next three seasons playing for both HC Pardubice and HC Hradec Králové, including helping HC Pardubice win the Extraliga championship in 2005. (That was also the same championship after which someone tried to kill Aleš Hemský by stabbing him in the neck.)  In 2007-08, Hylák split the season between four teams: Pardubice, Hradec Králové, Šumperk and Vrchlabí.  Happily, the next year, he got to stay in one place, spending the season with HC Kometa Brno. Hylák's moving was not done, though.  The next year, he played in Brno, Šumperk (again) and Olomouc. After one season with KLH Chomutov, Hylák signed with HC Košice in Slovakia.  He appeared in 52 games and he emerged leading the Slovakian Extraliga with a .934% save percentage, garnering him a one-year contract extension.  Všechno nejlepší s veselé Vánoce, Alexandr!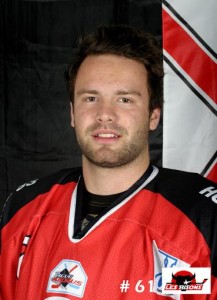 Alexis Birolini was born on Christmas Day 1988 in Brou-sur-Chantereine, France.  A smaller defenceman at 5'9″ and 141 pounds, Birolini spent the majority of his junior hockey career with Amiens, appearing in games for both their under-18 and under-22 teams between 2004 and 2008.  He was even an alternate captain on the under-18s as a sixteen-year-old during the 2004-05 season.  Birolini played in two World Under-18 tournaments and one World Junior Championship over the course of his junior career. After his junior career ended, Birolini even got the opportunity to play for Amiens' team in the Ligue Magnus.  He spent four years playing for Neuilly-sur-Marne from 2009 to 2012, winning a league championship in France's second highest professional league in 2011.  That was also his best season offensively during his professional career, recording fifteen points in 26 games.  On April 28, 2012, Birolini signed a one-year contract with Caen, another team in the Ligue Magnus.  Bon anniversaire et joyeux Noël, Alexis!
Bálint Bojkó was born on Christmas Day 1993 in Budapest, Hungary.  A defenceman, when he was only sixteen years old, Bojkó got the opportunity to play two games for the under-18 team of MAC Népstadion. The next year, he graduated to play for both the under-18 and under-20 teams of Ujpesti TC, a very well-known hockey team in Hungary.  He appeared in eighteen games for the under-18 team, recording one assist and twelve penalty minutes.  With the under-20 team, he appeared in nine games, recording three points, including a goal.  His 2010-11 season is not well-documented but, the next year, Bojkó made the trip to North America to attend Upper Canada College, a prep school in Toronto with a significant hockey program. Bojkó graduated in the summer of 2012.  This year, he has returned to MAC Népstadion, this time to their under-20 team, which plays in a league based out of Slovakia. Bojkó also played at the recently completed Division 2A World Juniors, winning a silver medal for Hungary. Boldog szülinapot meg boldog karácsonyt, Bálint!
Daniel Patrick Høhl was born on Christmas Day 1986 in Frederikssund, Denmark.  A gifted forward, Høhl started his short, yet illustrious career in his homeland, appearing in one game in the AL-Bank Liga for Rungsted/Nordsjælland during the 2002-03 season.  Also in 2003, he appeared at the World Under-18s for Denmark, recording three points in five games en route to helping win gold for his country. The next year, Høhl traveled to Sweden to play in the J20 Elit league, one of the best junior leagues in all of Scandinavia, signing with Skellefteå's under-20 squad.  The next year, he left for Clemensäs' under-20 team and he also got the opportunity to play in eighteen games for their Division 1 team.  In 2006-07, Høhl played for Manglerud Star Ishockey, a well-known team in Oslo, Norway.  He had is 26 points in as many games.  For the remainder of his career, Høhl remained home in Denmark.  He played one season in Herlev before going to play for Amager Ishockey, where he was named team captain.  During that season, he had 45 points in 25 games, the offensively best season of his career. Høhl played for Hvidovre, as well as three years with Copenhagen Hockey.  Høhl retired in March of 2012 to focus on his education and family.  He is still under contract with Copenhagen, meaning that he could return to them — or to their reserve team — if he chooses to resume his career.  Tillykke med fødelsedagen og glædelig jul, Daniel!
Edgars Lūsiņš was born on Christmas Day 1984 in Riga, Latvia.  A goaltender, Lūsiņš is one of the better-traveled netminders in recent Latvian hockey history.  After appearing in nine games for a junior team in Daugavpils during the 2000-01 season, Lūsiņš came over to North America the next year.  He attended Park Tudor School in Indianapolis, Indiana, during the 2001-02 season, appearing in 31 games for the Panthers.  The next year, Lūsiņs graduated to the now-defunct Continental Elite Hockey League, spending the 2002-03 campaign with the Dayton Gems; he had a solid season with a 3.85 goals-against average and an .899% save percentage in 46 games.  During the offseason, he was traded to the Traverse City Enforcers but he decided instead to return home to Latvia, signing with a team in Zemgale; that same year, he represented Latvia at the 2004 World Juniors, helping his country win a bronze medal.  After some time in Zemgale, Lūsiņš spent seasons in Ogre, Riga and Ozolnieki.  During the 2008-09 season, he was given the Latvian league's best goalie award after recording a 2.75 goals-against average and a .919% save percentage in only twelve games with HK Ozolnieki.  In the years since, Lūsiņš has had a stint in the KHL; as well, he has played in Germany, the Czech Republic and Denmark.  He has even been brought to the World Championships for Latvia's national team as a third goaltender.  Apsveicu un priecīgus Ziemassvētkus, Edgars!
Elia-Marius Mettler was born on Christmas Day 1993 in Winterthur, Switzerland.  A smaller forward at 5'7″ and 165 pounds, Mettler started his junior career in the Swiss Top Mini league, which is relatively an under-15 league, playing for Pikes Oberthurgau.  He also spent ten games during that first year, the 2007-08 season, with their under-17 team in the Elite Novizen, recording a goal during that stretch.  The next season, Mettler got to stay in the Elite Novizen and even played two games in the Top Novizen with Herisau.  Mettler's last year in the Elite Novizen was his best, though.  After transferring from Oberthurgau to Kloten, his offensive production grew and he recorded 45 points (25 goals, twenty assists) in 31 games.  He even got to play for Kloten's under-20 team in the Elite Jr. A league during the 2009-10 season.  He played another season for Kloten before transferring to the under-20 team of Rapperswil-Jona in 2011.  During the 2011-12 season, Mettler was loaned for ten games to EHC Wetzikon, a team in Switzerland's third-highest pro league.  He got four points (two goals, two assists) during that time. This year, Mettler has recorded 32 points thus far (ten goals, 22 assists) in 26 games for Rapperswil's under-20 team; he has also been loaned for two games already with Thurgau, a team in the Schweiz Nationalliga B, Switzerland's second-highest league.  In fact, Mettler's older brother Manuel played in eleven games for Thurgau during the 2002-03 season.  Tanti auguri e buon Natale, Elia-Marius!
Jordi van Gaal was born on Christmas Day 1992 in Rijmenam, Belgium.  A goaltender, van Gaal is one of very few Belgian netminders to find success somewhere other than his homeland.  After playing a season of professional hockey in the second-highest professional league in the Netherlands, he moved to North America to play in the NORPAC (Northern Pacific Hockey League) for the Flint Jr. Generals during the 2009-10 season.  Although what van Gaal did during the 2010-11 season is not documented, he spent one year in prep school at Bridgton Academy in North Bridgton, Maine, not far away from both Portland and Lewiston. Van Gaal is currently in his freshman year at Nichols College in Dudley, Massachusetts, where he is one of five goalies employed by head coach Kevin Swallow and his staff.  Gelukkige verjaardag en Zalig kerstmis, Jordi!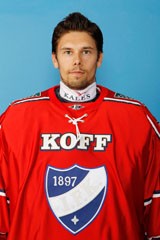 Mika Norja was born on Christmas Day 1984 in Lohja, Finland.  A goaltender of good size (6'2″, 203 pounds), Norja has surely epitomized the values of hard work and perseverance.  After playing for LoKV's junior teams in his hometown, he found himself playing in the lower echelons of Finnish professional hockey, mostly in the Suomi-sarja, the third-highest professional league in the country.  It was with Ketterä where he truly started to be on his way toward greatness. Norja helped Ketterä win a Suomi-sarja championship in 2009, a season in which he recorded a 2.96 goals-against average and a .911% save percentage in 34 games.  The next year, he helped Kiekko-Laser win the Suomi-sarja championship, allowing for them to be promoted to the Mestis.  Also in 2010, he got the chance to play in the Mestis for RoKi. On September 7, 2011, Norja signed his first SM-liiga contract with HIFK Helsinki after a stellar season with Kiekko-Vantaa, a campaign in which he had a 2.58 goals-against average and a .922% save percentage in 37 games.  In 2011-12, Norja made his SM-liiga début for HIFK.  For the last two years, he has been playing for them, as well as for Kiekko-Vantaa and KooKoo, another team in the Mestis.  He has surely come a long way from where he was not even seven years ago.  Paljon onnea ja hyvää joulua, Mika!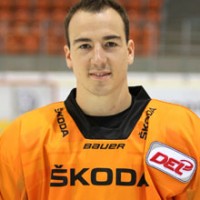 Simon Danner was born on Christmas Day 1986 in Freiburg, Germany.  A right winger, Danner played his first games of under-20 hockey at the age of fifteen in his hometown.  He also got the opportunity during the 2002-03 season to play in the 2. Bundesliga, the second-highest professional league in Germany. That season, he helped EHC Freiburg win their league championship, leading them to promotion to the DEL for the 2003-04 campaign.  That year, Danner became a DEL regular, appearing in 28 games.  He also played at the 2004 World Under-18s for Germany, helping the team win gold. Danner spent the majority of the next few years playing for both EHC Freiburg and in the DEL.  He appeared in one game during the 2004-05 DEL season with Augsburger Panther before becoming property of the Frankfurt Lions, a team he eventually played 237 games for between 2005 and 2010.  In fact, he spent the entire 2008-09 and 2009-10 seasons in Frankfurt.  During his time with the Lions, Danner played at the 2006 World Juniors for Germany, winning gold for his country yet again.  Danner played from 2010 to 2012 with another DEL team, the DEG Metro Stars in Düsseldorf. On April 2, 2012, he signed with Grizzly Adams Wolfsburg.  Unfortunately, Danner suffered a concussion in his fourth game of this season and he has been out ever since; his return date is unknown.  Alles gute zum Geburtstag und frohe Weihnachten, Simon!
http://youtu.be/fBpLjqJ4e2k
Tomislav Šulevski was born on Christmas Day 1986 in Zagreb, Croatia.  A defenceman, Šulevski spent the majority of his ten-year career in the system of Medveščak Zagreb, one of his country's best-known hockey programs.  The stay-at-home defender was never one to put up a lot of points either. There were several seasons in which Šulevski would be pointless. That being said, however, he was still quite accomplished. Šulevski appeared at his first World Under-18 tournament in 2003 and he helped Croatia win a bronze medal.  As well, he appeared in two World Juniors, winning bronze in 2005 and silver in 2006.  The best season of Šulevski's career had to be the 2008-09 season where he appeared in a career-best 33 games for Medveščak's team in the Slohokej Liga.  Also that year, Šulevski had the opportunity to play at the World Championships for Croatia.  In 2011-12, Šulevski tied his career high of nine points, this time playing for KHL Mladost Zagreb.  He is currently a free agent. Sretan rodjendan i sretan Božić, Tomislav!