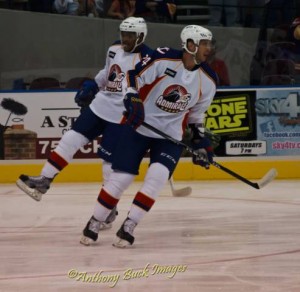 The Norfolk Admirals were victorious against the Albany Devils, defeating the primary affiliate of the New Jersey Devils 2-1.
This match-up was the second of four meetings between the two clubs.  Both teams will square off again Saturday night in Norfolk.
Admirals right winger Devante Smith-Pelly chalked up the game's first goal on the power play when Admirals defenseman Gabe Guentzel fired a shot from the point which was rejected by Devils goalie, Jeff Frazee. However, Smith-Pelly found Guentzel's rebound and followed through, which granted Norfolk a one-goal lead.
Patrick Maroon also found the back of the net on the power play for Norfolk later in the first period. Sami Vatanen blasted a shot from the point that Frazee halted, but a rebound followed the initial save. Maroon found the rebound on his backhand and snuck the puck past Frazee's left pad.
The Admirals over ruled the Devils in the shot department in the period, outshooting them 14 to 10.
The tilt remained 2-0 in the home team's favor until Devils right winger Matt Anderson launched a shot past Admirals goalie Igor Bobkov with only seconds remaining in regulation.  Albany did outshoot Norfolk by six shots as the final shot count was 30-36.
The special teams were firing on all cylinders tonight for the Admirals. The penalty kill ceased two 5-on-3 challenges.
Norfolk head coach Trent Yawney stated, "That was a first. We won a game with our special teams."
The Admirals extinguished all 10 of Albany's power play chances.  The power play clicked tonight for Norfolk with both goals resulting from power play opportunities.
"We kept it simple and we scored," stated Yawney when he was asked about how his team performed on the power play.
Igor Bobkov was the heart of the club last night, weathering 36 shots en-route to the 2-1 victory.
Trent Yawney shared his thoughts on Bobkov's stellar performance declaring, "He made some huge saves tonight on the penalty kill and usually those guys are the difference makers."
The Admirals are looking to sweep the weekend set against the Devils before they embark on their holiday break. The rematch is set to take place at 7:15 Saturday night in downtown Norfolk.
Ted grew up in Virginia. Warren has a passion for the AHL and dishes out articles about the Norfolk Admirals and the AHL. Follow him on Twitter @bauerhockeydude