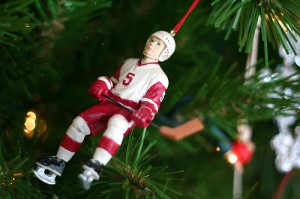 'Twas the night before Christmas, when all through the league,
Not a player was stirring, not even Versteeg.
Their jerseys were hung in their closets with care,
In hopes that Count Gary soon would be fair.
The rookies were nestled all snug in their beds,
While visions of the Calder danced in their heads.
And Donald in his 'kerchief, and Steve in his cap,
Had just settled down for a long winter's nap,
When out on the ice there arose such a clatter,
Sid sprang from his bed to see what was the matter.
Away to the rink he flew like a flash,
Tore open the locker room as though he were brash.
The lights on the crest of the Penguins logo
Gave the lustre of game-day to objects below.
When, what to his wondering eyes should be read?
But a new CBA, and a 48 game sched!
More rapid than eagles the players they came,
And he whistled, and shouted, and called them by name:
"Now, Ovi ! now, Malkin! now, Stamkos and Hall!
On, Suter ! on Parise! on, Nash and the Staals!
From Calgary and Tampa to downtown St. Paul!
Now skate away! skate away! skate away all!"
As he wondered how a deal had been made, Sid heard on the roof
The prancing and pawing of each little hoof.
As he drew in his head, and was turning around,
Down from the rafters St. Nicholas came with a bound.
He was dressed all in gear, from his head to his foot,
And his clothes were all tarnished with Vancouver ashes and soot.
A bundle of skates he had flung on his back,
And he looked like a trainer just opening his pack.
His eyes — how they twinkled! his dimples how merry!
His cheeks were like roses, his voice like Don Cherry!
His droll little mouth was drawn up like Eberle,
And the beard of his chin was bushy and Weber-ly;
The stump of a stick he held tight in his teeth,
And with tape he encircled the butt end like a wreath;
He had a broad face and a little round belly,
That shook, when he Spezza-giggled like a bowlful of jelly.
He was chubby and plump, a right jolly Big Buff,
And Sid laughed when he saw him, in spite of himself.
A wink of his eye and a snap of his stick,
Soon gave Sid to know he had pulled off the trick.
He spoke not a word, but went straight to his work,
And filled all the lockers; then turned with a jerk,
And laying his finger aside of his nose,
And giving a nod, up to the rafters he rose;
He sprang to his sleigh, to the ref gave a whistle,
And away he flew like the down of a thistle.
But I heard Sid exclaim, ere he glided out of sight,
"Happy new season to all, and to all a good-night."
Follow Ian on Twitter for more hockey updates and commentary.