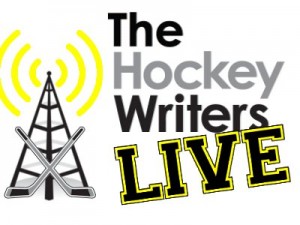 The time has come for our Christmas episode ladies and gentlemen. Josh, Tim, and I are just going to sit back and let you enjoy a special 90 minute edition of THW Live. It is going to just be a nice, easy time to just kick back and be in good Christmas cheer. Please understand it has been a long an interesting year here at The Hockey Writers and our goal is to relax a bit with this show a bit more than the others. There will be the usual serious hockey talk but it will be mixed in with some of the fun including hockey memories of Christmases gone by.
Now what will we do for the night? Let's see. There is spanning the hockey world, that WJC preview, and our Christmas wishes. We may even play a few of our favorites including the "Canadian 12 Days Of Christmas".
What else will we have on tap for the show? Honestly it may go something a little bit like this tonight.
Our normal introductions with a brief monologue. 
Chris Peters joins us so we can talk World Juniors.
What can Team USA do to improve? What do they have to be concerned about?
Predictions from the gang on what may or may not happen.
Obligatory lockout talk. Insert grumbling here.
Spanning the hockey world with Josh!
Then its time to fire back for the Christmas part of the show.
Who wants to hear a Christmas song?
Our Christmas wishes……
A few final departing words…..
And then just like that…we are gone into the night!
It will be a fun episode as they always are with a bit more significance. After all, it's that special time of year where we wait to see what is under tree. Truthfully, the gifts at my house are mostly under the tree except for the ones that I bought. Oops! Let this be a lesson to everyone. Boxes are very helpful and paying extra to have your gifts wrapped for you is a godsend.
At any rate, the number for the show is the same as always at 1-347-826-7358. Naturally, there is probably a lump of coal where the NHL season should be but again that is not our fault. Hopefully there is a season but if there is not, The Hockey Writers will still lead the way in hockey coverage undaunted. I'll see you tonight at 8pm ET for the show.