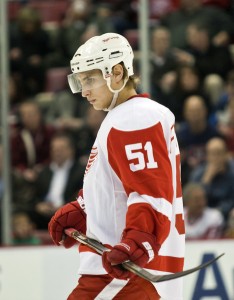 Each day this week leading up to the start of the 2013 NHL season I will profile one returning Detroit Red Wings player who needs to elevate their game to ensure the Wings have a successful season and make the playoffs for a NHL best 22 straight seasons.
Valtteri Filppula
Detroit Red Wings fans have always had high hopes for Valtteri Filppula, we have seen flashes of brilliance, we have yelled SHOOT at the television numerous times, and we have been anticipating a break out year from him for quite some time. I think most would agree that Filppula broke out last season, after scoring anywhere from 34-40 points a year from 2007-2011 Filppula amassed a respectable 66 points in the 2011-2012 campaign.
Filppula has shown Wings fans and the rest of the NHL that he can compete with the best in this league; now the Detroit Red Wings will need and want more from him. He has been often referred to as "The Poor Man's Datsyuk" some might be offended by this but let's face it anytime you are mentioned in the same sentence as Datsyuk it should be considered a complement. It would be unrealistic for Wings fans to expect Filppula to reach the levels of Datsyuk but it would be appropriate for Filppula to become "The Working Man's Datsyuk".
Filppula will be centering the second line in Detroit this season and according to Mike Babcock he would like to have Johan Franzen and Mikael Samuelsson flanking him on the wings. If Filppula wants to become the "Working Man's Datsyuk" he will have to take advantage of his wingers abilities to score by drawing pressure off his line mates and setting them up for goals on a nightly basis.
As reported by MLive.com:
 Valtteri Filppula, who's expected back soon from his sprained knee, will center the second line with Johan Franzen and Mikael Samuelsson. Filppula is coming off career highs in goals (23) and points (66).
We as Wings fans do not want to put unrealistic expectations or pressure on our players, so a modest increase in his statistics is to be expected. If we pro rate his stats for an 82 game season Filppula's production should jump to 25 goals and 50 assists for a total of 75 points. If we adapt these stats to a 48 game season then we could expect Filppula to score 15 goals and 30 assists for a total of 45 points. It would be safe to say that Filppula would have an excellent season by Red Wings standards if he can amass anything more than 40 points this year. I hope I am correct in my assumption because if I am then the Wings will have a very successful one two punch at center this year. I for one believe that Filppula will be a treat to watch this season.