The Montreal Canadiens undeniably need to be better than they were in their season-opening 3-1 win over the Toronto Maple Leafs. However, regardless of how uncomfortably close it was, it was just one game. And they ended up with more goals than their opponents. Call it a win… literally.
Of course, try relaying the fact that it was just one game to members of Toronto's media who were almost universally giddy over the hometown team's defeat following the contest. Apparently, that's what passes for a Maple Leafs job well done these days: a loss.
The Mike Babcock Effect
Everything's clearly aligning perfectly for a Stanley Cup five years from now, don't you know? The way everyone was stroking the ego of Mike Babcock, talking about the effect he has already had on this team, you'd think he was not only playing but scored a triple hat trick, anyway.
Sure, the effort level was there for the Leafs, and the Canadiens squeaked by on a late goal, and, had Max Pacioretty's horrible first goal not fooled Jonathan Bernier, the outcome would have been different… but, the more I think about it, the more I'm remembering last year's first game of the season between the two teams…
https://www.youtube.com/watch?v=6Z76NY9b_4E
…And we all know how that season ended for Toronto… and for Montreal. So, please don't get carried away, here, fans of either team.
A New Montreal Canadiens Season
If last year taught Habs fans anything it's that Carey Price has finally arrived in his prime and for the foreseeable future at least he's capable of bailing out his teammates. In fact, that's probably how head coach Michel Therrien draws up his plays on his whiteboard by now.
"Okay, boys. Up 2-1 with two minutes left. Let's just get pinned down in our own end. Try to cough it up in the slot for good measure. And, for the love of God, don't try to get in front of it. I can't stress that part enough. I don't need anyone screwing up by accidentally tipping it past Pricer. I really only trust him to kill the play."
Of course, add in an accent if it so pleases you, but that's probably the level of faith the Habs have in their Hart Memorial Trophy-winning goalie, especially after Game 1, in which the Canadiens got outshot 37-30 and got outshot-attempted 66-55. If Price can pick up right where he left off last regular season after a few months off, it definitely must instill that locker room with an unparalleled level of confidence.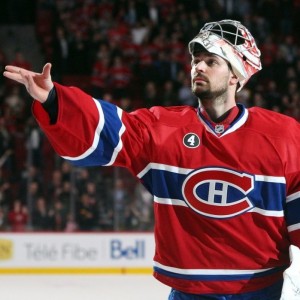 That's what they need to take it to the next level, at least in part… confidence. What they also need? Another plan, because, as has been well-documented, consistently relying on one player (or two, if you count the other goalie giving up a bad goal) will only take you so far. They got away with it almost all of last year. They won't again… certainly not often enough to contend for the Presidents' Trophy. They're only projected to play Bernier three more times after all.
Three Stars
In a way, they didn't even get away with it on Wednesday, with the team's two other star players, captain Max Pacioretty and P.K. Subban bringing it as well. That should at least reinforce the notion that the Habs aren't a one-player team. They've got elite players in their respective primes at each position. So, there's definitely little need for Montreal to panic, even if starting the season off by getting outplayed by the Leafs is far from ideal. It's how the season ends that really matters.
The key is, as much as Wednesday's win was just a game, it had better not end up being a typical game by season's end. Habs fan will get a better idea of whether it will or not Saturday night against the Boston Bruins on the road.