You may not have recognized the name Matthew Wuest before Thursday evening. However, that's exactly how he would have wanted it.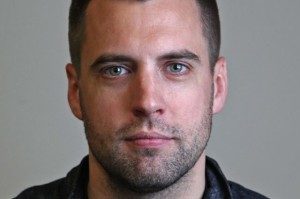 The Metro Halifax sports reporter, known for staying away from the public eye and working his daily grind without complaint, lost a two-and-a-half year battle with colon cancer Thursday morning, leaving behind a legacy that will not soon be forgotten.
Through his tireless reporting efforts, Wuest developed a website that provided viewers with contract information, which included salary, contract length and even how much it would cost to buy out said players. CapGeek.com was the go-to site for anyone seeking salary information, ranging from everyday fans to trusted media sources.
It revolutionized how the game is covered, lending a helping hand to figuring out how trades or free-agent signings could be conducted in a post-salary cap world.
Wuest's stamp on NHL reporting will be sorely missed by many, including those from around the hockey website spectrum.
In our fan-run paper we sell outside every Blues home game, we include every player's salary on the roster page in the middle of the book. We used his information in every edition of the paper while his site was still active. But I realize his impact was much more beyond just providing numbers. As the NHL moved into the salary cap era, fans wanted to know the impact of a trade or a signing. Instantly. He did that. The timeliness showed how resourceful he was. While media and NHL officials lamented his passing, he did his tireless work for the fans of the game and I know everyone who ever visited his site was impressed.
#RIP Matthew Wuest. You made many of us former players smarter with your numbers and diligent work. #CapGeek — Darren R Pang (@Panger40) March 20, 2015
While it's tragic that he is gone, it's even more heartbreaking that it seems his site has gone dark permanently. Before I heard the news on Thursday, I was hopeful the site would somehow return and, hopefully, with the help of another person who could take it over if he wasn't able to. I was hopeful someone could pick up the torch and continue the site as his legacy. Alas, it didn't happen. All that's left is an error message saying the site isn't available. And to me, that's just as heartbreaking.
CapGeek was a gem of a sports-related website: easy to use, thoroughly dependable and deep in content.   It was a go-to resource for all sorts of hockey debates, from trade proposals and buyouts to rants about salary vs. point production and how long until we are rid of this guy.  All three Sens Callups hosts used it constantly;  it made conversations about other teams more interesting, but also provided a solid base of conversation around the trade deadline, free agency and re-signing of players throughout the year.  There are other sites that have parts of the content, but nowhere was it so thoroughly gathered and displayed.
When the site suddenly disappeared we all wondered why, and the tragic news of the founder's passing saddened all who used the site.  Even in the middle of a very exciting playoff berth race game between the Senators and Bruins, it made one pause and reflect that, no matter how much we enjoy sports for the entertainment, there are humans behind the headlines and stories.  A brilliant and innovative mind, who brought hockey fans a marvelous resource and the starting point of many a great conversation, has left us.
I never knew Matthew personally, but know people who did. He'd go the extra mile, even when it wasn't needed. CapGeek was instrumental in many conversations we had on the Jets Hockey Podcast, giving the best numbers quickly and easily with a great search. We even relied on it for stories on Winnipeg Whiteout. It was a shock when it was shut down earlier this year, but understandable as to the reasons why. I highly respect him for taking the site with him even though he likely could have cashed out.

Matthew is a man who left a legacy and made a difference. His early departure will leave a hole in the hockey world forever.
Though I never personally met or spoke with Matthew, I was a big fan of his. CapGeek was an invaluable resource and changed how I covered the sport of hockey. It shed a new light on the financial area of hockey and allowed fans and writers to put on their GM hat in a much more tangible way. Few things have revolutionized the writing and blogging scene in hockey, but CapGeek most certainly did.

My hope is that Matthew's work lives on. The NHL has stated they don't believe fans have an interest in salaries and the salary cap. That's ridiculous and completely false. CapGeek's success (and web traffic) should be a testament not only to what a great service Matthew provided, but also that fans love this type of information. The NHL could (and should) back down from their original comments and do what it takes to make CapGeek – and everything it stood for – live on in a permanent spot on the league's website.
I cannot count how many times I consulted with CapGeek in the nearly four seasons of hosting the Netcrashers Hockey Podcast — at least once per show, and we've done over 120 episodes. The service that Matthew Wuest provided inquisitive hockey minds is absolutely indispensable; the importance of it cannot be underscored enough. The hockey blogging community has made many hockey fans much more discerning and hungrier for knowledge about every facet of the game than perhaps any other time in history, and a huge part of this is all things relating to the salary cap. Those numbers, especially around trade deadline time, could tell a fan how that team might fair down the stretch or if they could afford to improve. Fostering and supporting that curiosity is a tremendous public service, and we as fans of hockey owe Matthew Wuest a tremendous debt.
Is Matthew Wuest eligible to be inducted into the HHOF's media wing? He changed hockey more than any other journalist. — Fear The Fin (@fearthefin) March 20, 2015
CapGeek was an amazing resource to the NHL community. It is rare that a website can come along and be so user friendly for teams, media and fans alike while easily breaking down NHL contract terms, clauses and money. As a blogger for Days of Y'Orr, I used CapGeek and their comparable charts (which showed comparable salary for players) a lot. In CapGeek's absence, I have found that there are sites that have imitated, but never duplicated, the ease and usefulness of CapGeek.
The Griffins extend condolences to the family & friends of Matthew Wuest, founder of Red Wings Central & CapGeek who passed away yesterday. — GrandRapids Griffins (@griffinshockey) March 20, 2015
It is with a heavy heart that Days of Y'Orr sends their thought to the family of Matthew Wuest. His contributions to the hockey world will never be forgotten.
Winnipeg Hockey Talk would like to extend its condolences to the family and friends of Matthew Wuest.  He has left us too soon.  CapGeek was an incredible website with detailed information that hockey fans had not previously had access to.  His work was enjoyed and valued by many; it changed the way the average hockey fan viewed the game of hockey with the wealth of information he provided.
CapGeek was a tremendous source of information used by fans, bloggers and media world wide and you could see the amount of work Matthew poured into this site.
CapGeek, and more importantly Matthew Wuest, will be missed.
The trouble with the internet is that it's made our world so much smaller. Even when we don't know someone, we feel like we've not only met them, but that we're good friends. After all, we've spent hours reading their opinions, sharing their stories, combing through their websites. Who wouldn't feel a kind of intimacy after all that?
I didn't know Matthew Wuest, but his work on CapGeek made a profound impact on me. Years after I became interested in hockey, and even after I began playing myself, I realized I had no understanding of the business end of the sport, and set out to learn everything I could. I sat down to write about fiscally conservative teams and fiscally liberal ones and stumbled across CapGeek almost immediately and was blown away by the sheer amount of information available. Information that Bettman, apparently, would prefer not to disclose.
Matt was a very kind and generous young man, always willing to share info with anyone. Deepest condolences to his family and friends. — Bob McKenzie (@TSNBobMcKenzie) March 20, 2015
But over the days and weeks I spent on CapGeek, crunching numbers, postulating different scenarios for my favorite teams, were among some of the most important I spent on hockey. CapGeek deepened my understanding of hockey to a degree I thought was reserved for people working in the clubs' front offices. I've since learned I was just scraping the surface, of course, but without Wuest's work, I would never have gotten even that far.
The world is small, but the hockey blogging world is even smaller. Wuest will be missed by everyone who frequented CapGeek, and by everyone who missed their opportunity to do so. He made a difference for hockey fans and in doing the work he loved, raised the issue of financial transparency with the league itself. As Paul McLeod wrote on Twitter Thursday, "He changed the sport he loved forever. Who among us can say that?"
There are few instances where the entire hockey community stops on a dime and unites together over a matter. It's even rarer for it to occur during a thrilling hockey game. So was the case Thursday night when, during a wildly entertaining and important Ottawa Senators-Boston Bruins game, the Metro Halifax Twitter account announced that Matthew Wuest passed away after his bout with cancer.
Matthew Wuest is trending in the U.S. But yeah, Gary, it was just the media that used #CapGeek … — Greg Wyshynski (@wyshynski) March 20, 2015
The hockey people who actually knew Matthew spoke of how nice, generous, and helpful he was. Everyone else noted his extensive contributions to the hockey community. His revolutionary website was used by hockey writers and fans everywhere.
It was no surprise that Matthew Wuest was trending Thursday in the United States. His work reached a large audience. Hopefully the NHL recognizes Matthew's efforts and, in the days following his passing, they at least acknowledge his work. His love and passion for the sport was tremendous and he will truly be missed.
I was deeply saddened to hear about the passing of Matthew Wuest as his site, CapGeek.com, was a mainstay for NHL analysts, writers and fans alike. The site was amazing for researching anything salary related for specific teams and players, and even to take a quick peak at depth charts. It was a one-stop shop for gauging which players should be on the trade block, and where a team's money was being eaten up, which made reporting situations involving certain teams and players that much easier for anyone who wanted to check it out. It was a great tool for comparing teams in the present and for their respective futures, and Wuest's passing will keep the site sorely missed in the hockey world for some time. I pray for healing in his family's lives as he will be missed by many around the globe, and I hope someone is able to continue his great legacy for all those who search for salary and team information between NHL teams.
Matthew Wuest changed the art of covering the sport of hockey for everyone. Whether mainstream media or a new media journalist, his creation of CapGeek awarded writers with access to all sorts of numbers that weren't always so accessible.
A journalist in his own right, Wuest's absence in the hockey world will not go unnoticed. His contributions to the sport go beyond the simple creation of the site. He will always be remembered for his revolutionary difference making in the hockey world.
You never really know how much you love something until its gone.
I did not know Matthew personally, nor did I ever have the chance to meet him. The first year that I used CapGeek, I didn't even consider who was behind it. I guess I just figured that it was someone with close ties to the NHL general managers, or maybe even someone within the NHL, leaking out information as it becomes available. In my wildest dreams, I never imagined it was someone like me, writing columns and blogs for a living. After all, it was a tool that I used with nearly every single article I wrote.
Once I learned this information, I instantly garnered respect for Wuest. He was a selfless person who wanted the world to be educated about the business side of the NHL as well as a team capologist. He also didn't want the spotlight shone on him. He was happy to take a backseat and let readers speculate as to who he was and why he cared about player salaries.
It doesn't matter if you're a fan, a radio show host or columnist — without Matthew Wuest's contributions — you are lost when figuring out cap numbers and where a player fits on the salary scale. The hope is that he has paved the way for contract information to be made more publicly available.
You don't have to know a man to respect him. His desire and contributions to my everyday life without ever coming in contact spoke to the man he was.
"The only thing you take with you when you're gone is what you leave behind." -John Allston
I am a former NHL media member and reporter for the St. Louis Blues, working for various media outlets. Currently, I am an NHL News Writer and Editor for The Hockey Writers. I live in St. Louis and work as a freelance copywriter in numerous industries.