With only three teams left in the Stanley Cup Playoffs, many fans have turned their attention to the two most important offseason events: the 2023 NHL Entry-Level Draft that will take place on June 29 in Nashville and the opening of free agency on July 1.
Related: Boston Bruins 2022-23 Season Report Card
After a historic regular season and disappointing playoffs, Boston Bruins fans will be looking ahead to the draft, so now is the perfect time to look back at last year's class.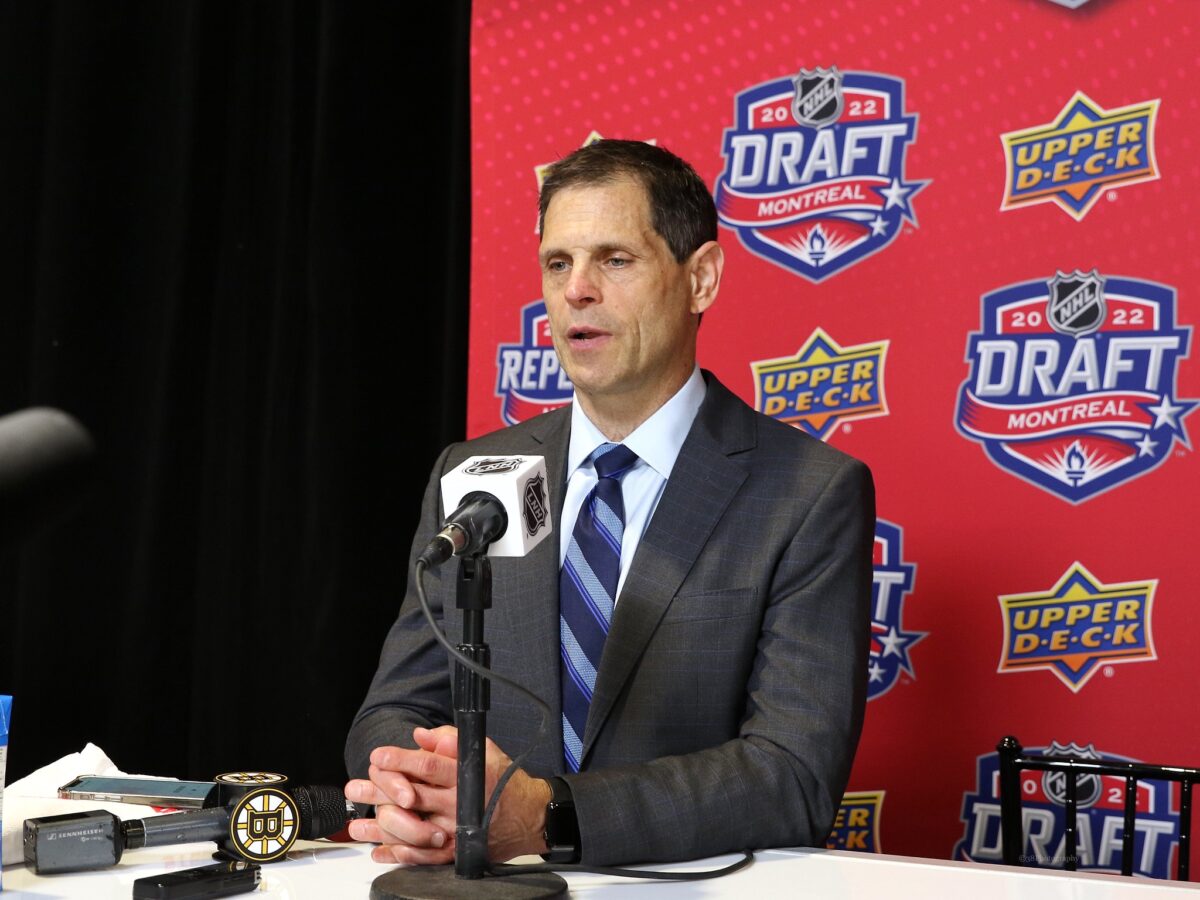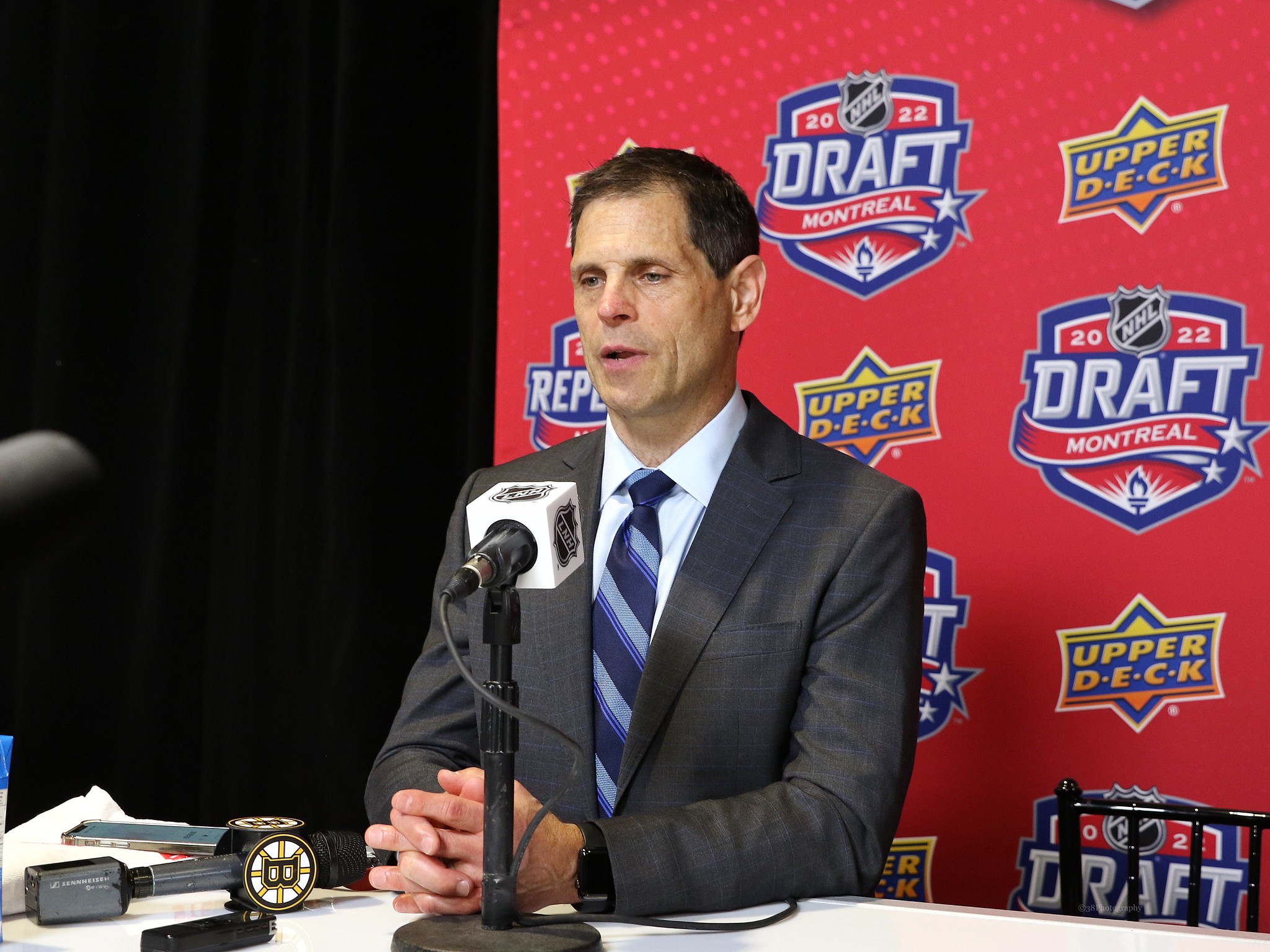 The 2022 NHL Entry Level Draft was an important one for Bruins general manager (GM) Don Sweeney and will be watched closely in coming seasons. Drafting has been his weakest area as GM, giving the Bruins one of the weaker prospect pools in the league. It was a major talking point at the end of last season, particularly after he was given a contract extension. With all the conversation around his drafting abilities, extra eyes were on the 2022 Draft.
At last year's draft, the team's most pressing need was finding a future center, with both Patrice Bergeron and David Krejci turning 37. Still, without a first-round selection, no one selected ws going to be able to make an immediate impact. Still, with another season under their belt, it's a good time to check in on what all six have done in the 2022-23 season.
Matthew Poitras
The Bruins' first selection in 2022 was, as anticipated, a center — Matthew Poitras, taken 54th overall from the Guelph Storm of the Ontario Hockey League (OHL). The 19-year-old put together a great season in 2022-23, building on his performance from 2021-22. In 63 games, he registered 16 goals and 95 points; a huge jump from the 50 points he registered a season ago. With his increased offensive production and the praise he has received for his playmaking skills and hockey IQ, he was recently signed to a three-year, entry-level contract.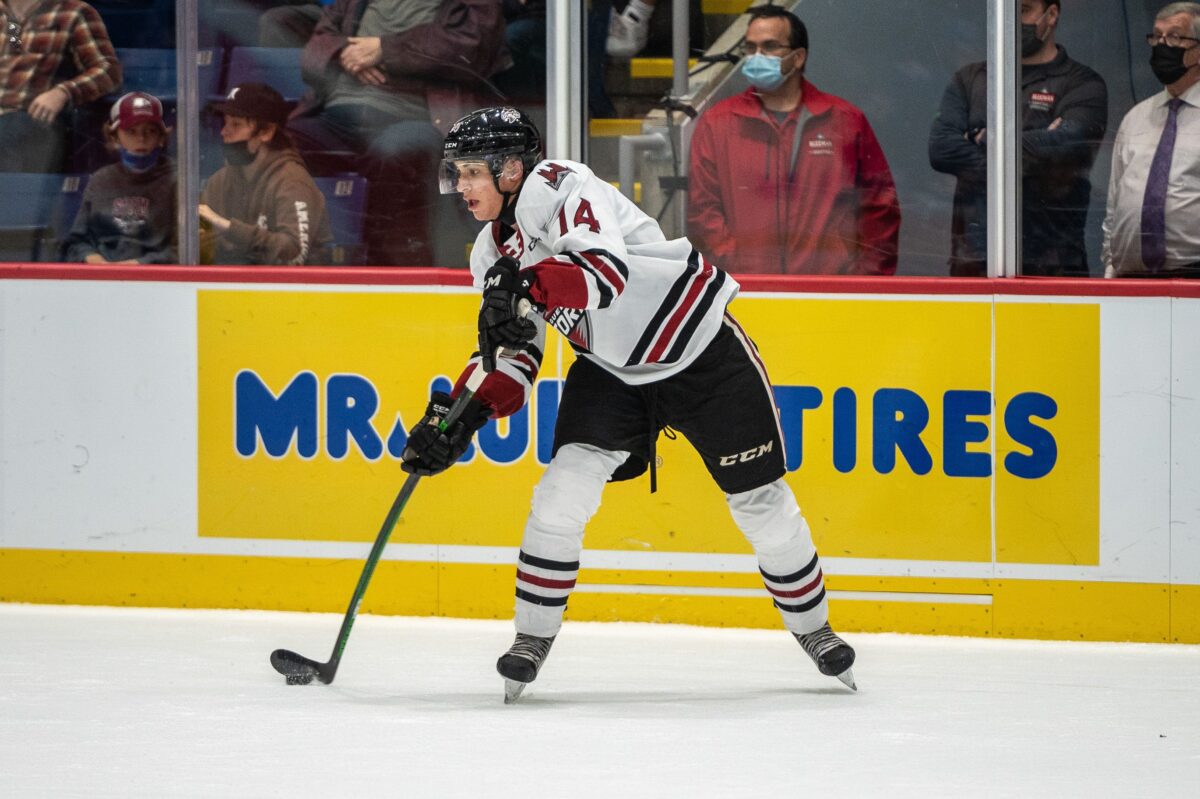 The hope is that he will become the organization's first franchise or second-line center to be drafted and successfully developed under Sweeney's leadership. He'll almost definitely spend next season playing in the American Hockey League (AHL) with the Providence Bruins, gaining important experience playing hockey at a professional level.
Cole Spicer
The Bruins also used their second pick to take another center, Cole Spicer, in the fourth round (117th overall). The United States Development Program product played at University Minnesota Duluth this season, registering three goals and six total points in 32 games.
---
Latest News & Highlights
---
The Grand Forks, North Dakota, native is still in the early stages of his development, and UMD struggled as a team this season, putting up a 16-20-1 record. Hopefully, the organization will continue to monitor his progression with time and patience.
Dan Locmelis
To round out the centers, Dans Locmelis was selected two picks later at 119th overall. The 19-year-old from Jelgava, Latvia, spent this season playing in Sweden for the Luleå team; he's played with the organization since joining their U16 team in 2019-20. This season, he took a step forward, playing in the J20 Nationell league, with 25 goals and 59 points in 44 games — an improvement over his 18 goals and 34 points in 44 games in 2021-22. 
Locmelis also represented Latvia at World Juniors this past winter, scoring three goals in six games. He's a good two-way center but still has some room to grow on the physical side of the game. He'll be making his jump to North America next season, playing for the University of Massachusetts Amherst.
Frederic Brunet
After picking three centers in a row, the Bruins moved to defense, selecting Frederic Brunet in the fifth round with pick No. 132. The team chose a big-bodied, 6-foot-2 blueliner from the Quebec Major Junior Hockey League (QMJHL), adding to their collection of large defenseman prospects, headlined by 2020 Draft pick Mason Lohrei. In his draft year, he put up 12 goals and 46 points in 63 games, which is not bad for a defenseman. 
This season, he was named captain of the Rimouski Oceanic and continued to grow offensively. He scored six goals and 35 points in 36 games before being traded to the Victoriaville Tigres, where he registered another 10 goals and 38 points in 30 games to average over a point per game in the 2022-23 season.
In April, Brunet signed an amateur tryout contract (ATO) with the Providence Bruins, and in his first AHL game, he registered two assists. It's unlikely he'll end up in Boston next season, but he seems to be developing nicely, and in a few years he could be considered an absolute steal in the fifth round.
Reid Dyck
In the sixth round, the Bruins selected young goaltender Reid Dyck. While Jeremy Swayman is very much the team's goaltender of the future, it's never a bad idea to have young goaltenders in the system. Goaltenders tend to take longer to develop, so there are still many years ahead to see exactly what kind of player Dyck will develop into.
Dyck didn't have the best stats heading into the draft, mostly playing as a backup for the Swift Current Broncos of the Western Hockey League (WHL). He played 23 games with a 4.26 goals-against average (GAA) and .884 save percentage. This season, he gained much more experience, playing in 40 games and improving his GAA to 3.62, and slightly increased his save percentage to .887. He is still only 19 and has plenty of time to continue to grow. At 6-foot-4, he is a big body and has been commended for his ability to handle flukey bounces. Now, it's just a matter of putting it all together. 
Jackson Edward
For their final pick, the Bruins selected another blueliner in the seventh round (200th overall), Jackson Edward of the London Knights of the OHL. Last season, he played 54 games and registered six assists. This season, he took great leaps forward, registering five goals and 25 points in 65 games. But offense is not the key part of his game. Last season, he was on The Hockey Writer's list of underrated OHL prospects, where he was praised for his defensive game and his potential to become a true shutdown defenseman.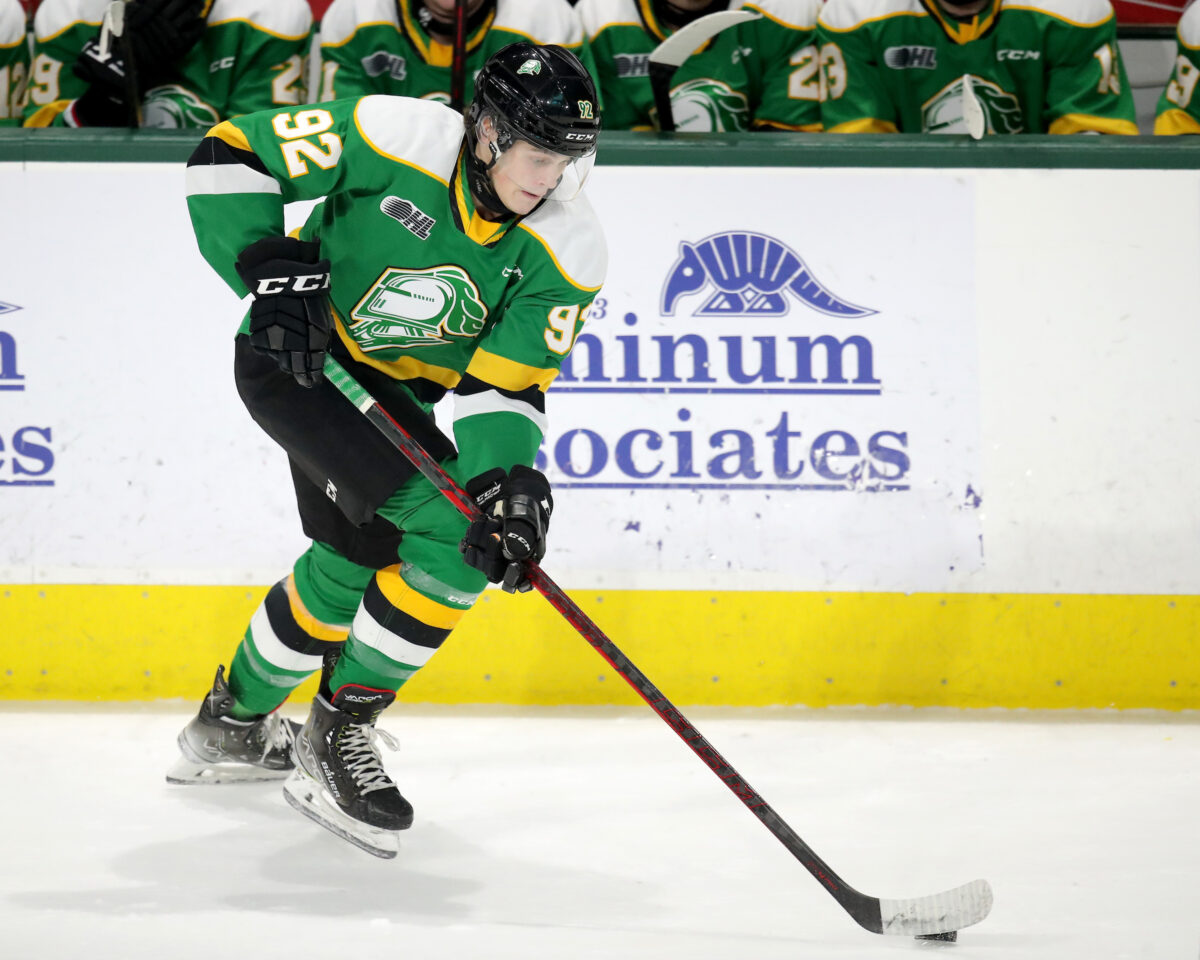 Edward also received valuable experience during the Knights' deep playoff run playing 19 games and registering one goal and six points before they lost to the Peterborough Petes in the OHL Championship.
Looking Ahead to the 2023 NHL Draft
After their deadline deals, the Bruins will be without a first-round pick this year and next, meaning they will not select before the third round (barring any trades before then). Most likely, their 2023 Draft selections will be a gamble and could take some time to develop. But they need to continue to focus on centers to add depth down the middle for the future.
Related: Bruins' Sweeney Facing Franchise-Altering Offseason
The Bruins are lucky to have a core group already locked in for the next several seasons, with David Pastrnak, Charlie McAvoy, Hampus Lindholm, and Pavel Zacha earning contract extensions within the last two years. But Sweeney needs some wins on draft day to improve his reputation as a weak drafter.