It was a terrifying scene in Dallas.
Only 6:23 into the first period of Monday's game between the Dallas Stars and the Columbus Blue Jackets, play was stopped mid-action as cries for help echoed out from the Stars bench: Stars forward Rich Peverley had collapsed.
Amidst a flurry of movement, Peverley was rushed down the tunnel and into the Dallas locker room where he was treated by medical staff. Long moments passed as everyone in the arena – fans, players, and other personnel – quietly tried to process the scary situation.
The video of the incident can be found here:
He was taken immediately to a nearby hospital for treatment. Reports are that Peverley was conscious during the trip, and was even asking about the game, including how much time was left in the period.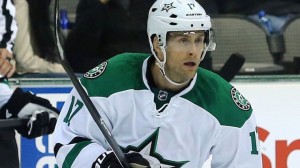 Peverley was diagnosed this summer with an irregular heartbeat, a condition that has caused him to miss two games for the Stars this season, the most recent of which came last Tuesday, also against the Blue Jackets. He had been receiving medication for the illness all season long under the watchful eye of the Stars' medical staff.
Under the severity of the situation, with both teams clearly shaken, play remained paused. Both teams eventually left to the Columbus locker room, and after a long period of inactivity on the ice, it was announced that the game would be postponed.
Peverley took his last shift of the game moments before the incident, skating normally up and down the ice. He was not hit on the play, and skated to the bench at the end of the shift under his own power and under no signs of duress.
Full credit must go out to both the Stars bench and the nearby medical staff for acting instantly as soon as the problem occurred.
Although information is still hard to come by, the Stars are reporting that Peverley is in stable condition and still undergoing treatment.
Rich Peverley remains conscious and continues to be treated. We'll make updates available on his condition as they become available.

— Dallas Stars (@DallasStars) March 11, 2014
Extensive testing will continue over the next day or so. We will update you as soon as we know more.

— Dallas Stars (@DallasStars) March 11, 2014
Thoughts and prayers from all around the NHL are now with Peverley and his family as the situation unfolds.