Rising Star: Curtis Lazar Headlines Impressive Group of Emerging Prospects
The future is bright in Ottawa.
On Monday, Senators prospect Curtis Lazar was named captain of the Canadian junior team.
As per Hockey Canada's Twitter account:
Curtis Lazar will serve as captain for Canada at #WJC2015, Connor McDavid and Sam Reinhart alternate captains: http://t.co/xii3p4PXiz

— Hockey Canada (@HockeyCanada) December 22, 2014
Lazar shone for the junior squad last year and being selected as captain of a team that includes Sam Reinhart, Anthony Duclair, and Connor McDavid speaks volumes about Lazar's talent level and leadership abilities.
But Lazar isn't alone in the Senators prospect pipeline.
Though the Ottawa Senators have been a middling team so far this season, the Sens' prospects pool is surging. Ottawa's forward prospects offer hope for the near-future of the team, as a number of offensive and two-way players are set to make the NHL within the next two seasons.
Here's a look at the best of the Ottawa Senators prospects at each forward position.
Curtis Lazar – Centre, Ottawa Senators
Curtis Lazar was drafted by the Sens in the first round, 17th overall in the 2013 NHL Entry Draft. The 6'0, 196 lbs. Lazar  impressed during the Sens training camp this season, earning a roster spot despite being eligible to return to the Edmonton Oil Kings of the WHL.
During his junior career, Curtis Lazar was solid offensively, registering 99 goals and 70 assists for 169 points in 199 games with the Edmonton Oil Kings of the WHL.
In the NHL this season, Lazar has mustered only 7 points, posting an incredibly unlucky 2.9 percent shooting percentage. Despite the disappointing offensive stats, Lazar's 48.5 Corsi For percentage ranks sixth on the Senators. His puck possession proficiency hints at his puck management and offensive potential.
Hockey's Future describes Lazar as a future leader and bruiser, writing:
[Lazar] will work his way onto a pro roster. A battler, power forward in the mold of a Milan Lucic. Very good offensive skills. Leadership skills in spades.
Ken McKenna at Hockey's Future adds that Lazar is the Senators top prospect and is a player known for his "ever-present smile."
For fans of the Ottawa Senators, there is ample reason to get excited about a power forward with a positive attitude and strong leadership skills.
Prospect Grade: A-
*Curtis Lazar scores first NHL goal
Matt Puempel – Left Wing, Binghamton Senators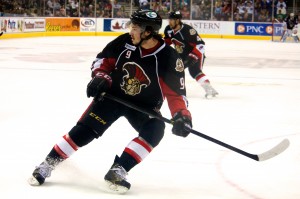 Puempel was drafted by the Senators in the first round, 24th overall in the 2011 NHL Entry Draft. The 6'1, 205 lbs. winger has yet to play in the NHL but played a full season with the Binghamton Senators last year after playing for the Peterborough Petes and Kitchener Rangers in the OHL.
During his junior career, Puempel posted 213 points in 195 games. In 113 AHL games, Puempel has maintained a decent scoring rate, registering 68 points, including 30 goals in 74 games last season.
Hockey's Future describes Puempel as a goal scorer with great vision, writing:
Puempel has high-end finishing skills and exceptional vision which complement his natural knack for scoring.  His passing skills and willingness to get to the scoring areas are underrated plus he has the ability to make his line-mates better. Improved skating, strength and intensity should enable him to move up to the next level.
With one more season in Binghamton, Sens fans can expect Puempel to make a push for a full-time NHL job next season. His goal-scoring touch should eventually lead to a top-six role in the NHL.
Prospect Grade: B
*Puempel considered a pure offensive talent at 2011 Draft
Tobias Lindberg – Right Wing, Oshawa Generals
Lindberg was drafted by the Senators in the fourth round, 102nd overall in the 2013 NHL Entry Draft. The 6'2, 215 lbs. winger split time last season between the Djurgardens IF Sotckholm Sweden junior and Sweden-2 squad. Lindberg scored 22 points in 38 games with the junior side. He also compiled 93 penalty minutes.
This season, Lindberg has skated with the Oshawa Generals, scoring an impressive 39 points in 31 games. Interestingly, he has only accumulated 6 penalty minutes.
While prospects like Curtis Lazar are the offensive future for the Sens, third line talent will be needed to fill out the future roster. Brendan Ross at McKeen's Hockey projects Lindberg as a rough-and-tumble forward who could be a complementary winger at the NHL level:
The Stockholm native is a powerful winger who shows good physicality. He won't dangle through defenders but his speed and ability to drive wide and to the net are difficult to contain. Lindberg projects as a complementary forward for the Generals and will be looking to impress the Senators to earn an entry-level contract.
Tobias Lindberg isn't likely to fill a scoring role at the NHL level. However, his big body and toughness may lead to an NHL role as a third or fourth line crasher-and-banger. At his best, Tobias Lindberg may develop into a utility forward in  the mould of the Toronto Maple Leafs' Daniel Winnik.
Prospect Grade: C+
*Get to know Tobias Lindberg
What do you think, Ottawa Senators fans? Are you excited about the crop of prospects the Senators have accumulated? 
Sean Tierney writes articles about the Sens, working to include analytics whenever possible. He has also written about the Leafs, Habs, Sens, Raptors, and Blue Jays for Fansided and Bleacher Report. He enjoys long walks on the beach and candle lit dinners and definitely isn't the tallest guy in the men's rec basketball league.