As the winningest coach in Sharks history, Todd McLellan has earned a lot of respect. But somehow, at the same time he is criticized heavily for his failures in the postseason. As a head coach, he has a 289-141-61 record (a strong 65% winning percentage) in the regular season. However, he is 30-32 in the postseason and has failed to get his team into the Stanley Cup Final. What is TMac's secret to success and what can he do to get the playoff monkey off his back?
Todd McLellan's Path to San Jose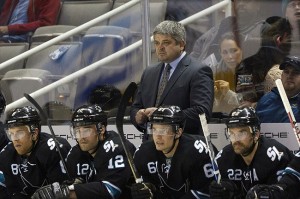 A short playing career that never quite reached the big leagues, McLellan only played five games in the NHL. He was hampered by injuries and never got out of the Islanders minor league system.
But the NHL had not seen the last of Todd McLellan. After success in the WHL as a head coach, where he led his team to the playoffs in each season, McLellan went on to win a Calder Cup with the Houston Aeros in 2003. As mentioned in THW's piece on Mike Babcock, the Detroit boss loved to poach minor league coaching talent for his own assistants. Todd McLellan was one of those picked and subsequently groomed by Babcock to move on from Detroit. He served as the Red Wings forwards and power play coach from 2005 to 2008. That 2007-08 season featured McLellan's first Stanley Cup win as an assistant to Babcock.
It was in the Summer of 2008 that McLellan was snapped up by San Jose. The Sharks had seen three straight seasons end in the second round of the playoffs, including one at the hands of McLellan's Red Wings. A new era had begun in the Bay.
Offensive Specialists
Todd McLellan made an immediate impact for Team Teal. While they were no slouches in the win department before his arrival, McLellan ushered in the Sharks first ever President's Trophy in his first season. The 53 wins San Jose earned in 2008-09 remain to this day a franchise record. Patrick Marleau and Joe Thornton were already established leaders for the Sharks, but prior to the start of the season, Dan Boyle and Rob Blake were brought in. Seven Sharks finished the season with over fifty points. Mind you, this was a only a year removed from a team that only had three players above the half-century mark.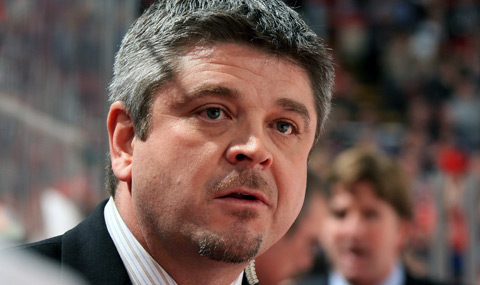 What changed? In the three seasons prior to McLellan's arrival, San Jose was a very top-heavy team. They didn't shoot the puck as much, yet scored more than most of McLellan's teams. From 2005 to 2008, the Sharks only finished a season with 30 shots per game once. Since 2008 (McLellan's first season), the Sharks haven't had a season where they shot less than 31.5 times a game. They finished on top of the league in that category twice as well. Surely, this was a trait that continued from Todd's time in Motown.
While in Detroit, Todd McLellan's forwards led the league twice and came in second in the other season in shots per game. All three of those seasons ended in Red Wings divisional titles. McLellan's other responsibility in Detroit was the power play unit. Again, TMac's influence was received well; they finished in the top 3 power play percentage twice. Surely, Todd McLellan had bought into Mike Babcock's puck possession philosophy.
The San Jose Red Wings
What Todd McLellan learned in Detroit quickly served him when he made the move to the west coast. San Jose, before McLellan was definitely a talented franchise, but was buoyed by only a few star players. Joe Thornton and Patrick Marleau did plenty of scoring and were the mainstays. Guys like Jonathan Cheechoo have gone up and down and left.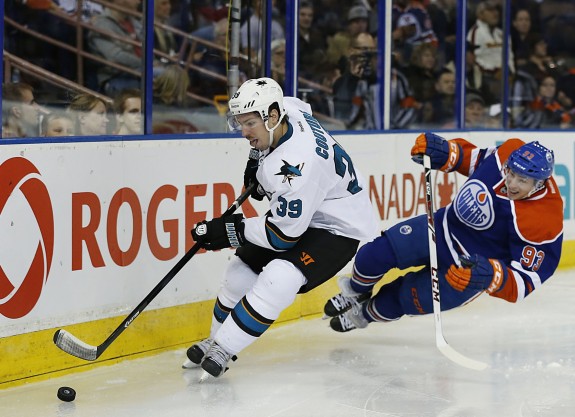 The Sharks under McLellan developed their young talent, such as Logan Couture and Joe Pavelski, and became threats on multiple lines. Now, instead of two scoring lines (on a perfect day), the Sharks have the potential to roll at least three forward lines that can control the pace of play. Thus, the Sharks offensive numbers began to stabilize. With more than four scorers on the roster, McLellan's Sharks began dominating the puck more and more. It seemed as though McLellan had created his own version of Mike Babcock's utopia.
He has also turned into a master strategist. He utilized the aggressive power of his new asset, Brent Burns, and turned him into a forward during the lockout season of 2013. The move turned out to be a critical point in the season; once the hairy skater moved up, the Sharks offense came alive. It was a gutsy move and it paid off huge.
Enduring Rough Waters
It hasn't been all sunshine and roses in San Jose, however. While McLellan has won three Pacific Division titles in his tenure, he has hardly enjoyed that level of success in the postseason. As mentioned previously, he is two games under .500 in postseason play. When he was signed on to lead the Sharks, he was quoted as saying "It's a matter of getting over the hump." So far, he hasn't completed that goal.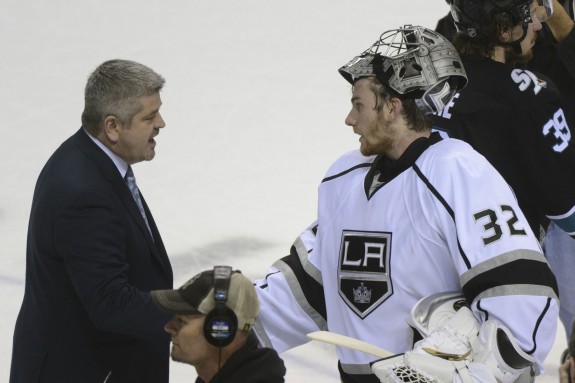 Here's what Sharks correspondent Andrew Bensch has had to say about him:
…it is obvious why he has been on thin ice the past 6 months, he was outcoached in the Kings series and continually plays guys like Brown, Burish and Scott over players with real skill

–Andrew Bensch, THW
Andrew is pointing to many of the factors that got the Sharks eliminated in historic fashion last season. He was coasting in the first three games of the series, but Darryl Sutter was the only coach who seemed to make adjustments. His top D-man (Vlasic) went down and the Sharks were never the same team that dominated Games 1 through 3.
Another thing that seemed to go against him was his demeanor throughout the series. While commendable when up 3-0 in a series, as it slipped away from the Sharks, McLellan's calm and quiet composure looked more like apathy. He failed to ignite a real fire under his men and paid the price in the end.
How ironic would it be if Dallas Eakins' Oilers cost Todd McLellan his job, only to have MacT pull trigger on firing Eakins to hire McLellan

— RCN (@RossCreekNation) December 8, 2014
If it wasn't for the Sharks returning home and reeling off a flurry of wins against mediocre opponents, these shouts for McLellan's job might still be loud.
Calm Under Pressure
Through all of the criticism, however, Todd McLellan has stayed true to his philosophy. Whether under fire about his line combinations, his utilization of Brent Burns and Joe Pavelski, or his team's underperformance, TMac has found ways to turn things around. Only in 2011-12 did his former boss, Mike Babcock, earn more wins with the Red Wings than he did with his Sharks. Again, we turn to Andrew Bensch:
"…when he moved Burns up to forward during lockout shortened year, that was a major success. A success though at that time also probably saved him his job because the sharks were coming off a bad year previously in 11-12 and were struggling again"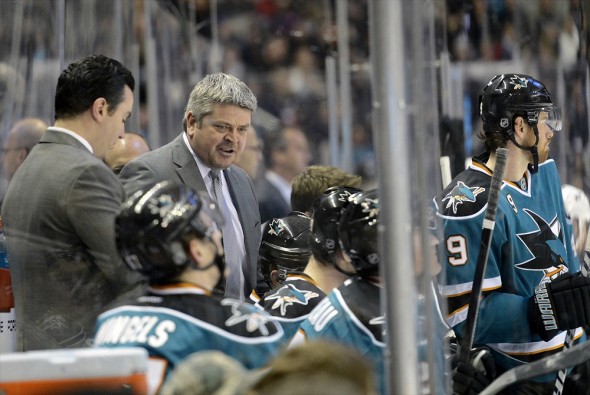 But that final prize has eluded him so far. In order for Todd McLellan to become one of the greats, he has to prove it in the playoffs. The coaches and teams he faces are the best of the best. He is walking the tightrope between greatness and unemployment constantly. If he is fired, McLellan would be a hot commodity in the coaching market. No matter what, at 47 years old, has a ton of time in this league ahead of him.
Kenneth is a graduate of the University of San Francisco in Politics and Chemistry. But his passion in life has always been hockey. He has played since he was four and even coached a few teams. Kenneth writes for the San Jose Sharks at thehockeywriters.com