Do you want to know what the difference is between a Hall of Fame coach and a very good regular season coach is? Go watch the highlight reels from the Sharks/Kings series that just wrapped up. Todd McLellan and Darryl Sutter butted heads again. But as is the norm for a playoff series, the latter came out on top. Why? Because Darryl Sutter is a much better coach.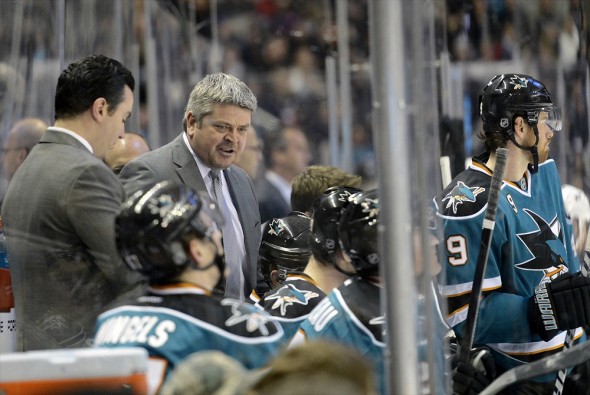 Analyzing Historic Collapse
Game 1 and 2 were anomalies. I don't know what team that was, but it sure wasn't the Los Angeles Kings. Jonathan Quick was tied up somewhere in a basement, Anze Kopitar was a victim of "enhanced interrogation," and Drew Doughty was in a trunk of a car in Compton. Darryl Sutter went and found them. Game 3 turned up half of the Kings squad. But Lady Luck was on San Jose's side as a few bad deflections bit the Kings to put Team Teal up 3-0.
Game 4 was the beginning of the end (at least on the scoreboard). The Kings offense exploded and the Sharks goaltending collapsed. Antti Niemi was chased for the first time and the defense didn't ever recover. Game 5 was the the next red flag: a 3-0 drubbing that chased Nemo again and more importantly, saw the Sharks best defenseman, Marc-Edouard Vlasic, leave with an injury.
Todd McLellan had seen enough. Alex Stalock had come in and been perfect in mop-up duty twice, thus earning his first ever postseason start. The young netminder was phenomenal in the first period and single-handedly kept the Sharks in the game. After a game tying goal, the teams looked like they would take this one down to the wire.
Stalock has been the difference so far. This game could easily be 3-0 #SJvsLA

— Kenneth Laws (@Kenneth_LawsTHW) April 29, 2014
But a controversial goal, one that will be widely criticized for years, was forced on the Sharks. When the time came to respond, Todd McLellan and his Sharks fell apart. They got dirty, they fell into bad habits, and the Kings capitalized.
Game 7 was nearly a forgone conclusion. The Kings were a runaway train and Todd McLellan got caught in their path. The Sharks power play went 0-6. Their penalty kill allowed another goal. Antti Niemi played an average game. The centers went 34 for 77 in the faceoff circle. The Kings won the series in historic fashion.
Todd McLellan Fails to Adapt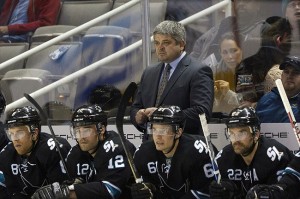 Rewind the clocks back to Game 2. Easter Sunday at SAP Center. The Sharks fell behind 2-0 but bounced back. Mike Brown and Raffi Torres ignited the Sharks and Jonathan Quick was getting demolished. Five goals into the slaughter, the media in the press box started to look over to Darryl Sutter expecting him to yank his "elite" goaltender any second. He didn't. Another goal goes in and Sutter just stood there. He was leaving Jonathan Quick out there. It was a clear message: "Everyone is accountable."
Time and time again, the Sharks were faced with adversity as they tried to close out the Kings.
Niemi was not doing well in net, but he was content to leave him in as the offense controlled the series. But he should have known that the offense was not sustainable. Overall, the Sharks finished the series with a 3.71 goals against per game.
The penalty kill was well below standards. Their 75% PK rate was not helping Antti Niemi's save percentage (which ended at .884).
The transition game, which fell apart all the way back in Game 4, never improved. Antti Niemi and Alex Stalock were berated by odd-man rushes and shoddy defensive play. Losing their best defenseman didn't help that fact, but even Vlasic's abilities couldn't hold back the steamrolling Kings.
Speaking of which, Vlasic's absence allowed Anze Kopitar to run wild over Team Teal. Yet, McLellan seemed content to let Irwin (Vlasic's replacement) take on a responsibility far beyond his abilities.
And perhaps, the biggest one:

When his team needed him most, Todd McLellan laid blame on the refs. The correct answer: "I don't believe it was a good goal, but that's how it was called. We have to move on from it." Todd McLellan has been fantastic at redirecting attention to his team's shortcomings for his entire tenure. He's been the model of professionalism. But in that moment, he chalked up the loss to the universe fighting against him. As a coach, you talk about how your team did not play well enough and you talk about what needs to change. You do not under any circumstances blame the refs.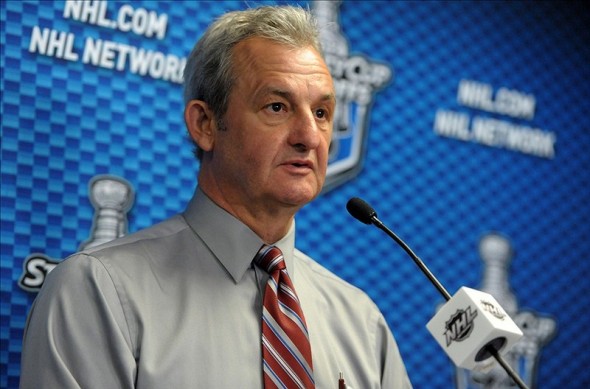 Todd McLellan blinked in the staring contest with Darryl Sutter (I'm not sure that guy's face ever even moves). When his goalie was challenged, Sutter made an example of him. When his defense was being mangled, Sutter made necessary changes to his forecheck to disrupt the Sharks speed. And when his team was down after bad luck in Game 3, Sutter kept saying one message: "take it one game at a time."  McLellan was putting his lines through a blender, he swapped his goalies and then couldn't even stand by his choice after Game Six, his best players were non-factors in the final games, and his penalty kill was eaten alive. TMac was not the rock his team needed and it is time they went their separate ways.
Possible Replacements for San Jose
Reports and rumors have John Tortorella out of a job in Vancouver. Barry Trotz is looking for work after Nashville said their goodbyes as well. Peter Laviollete got dumped by Philadelphia earlier this season, that could be an option. What the heck, Adam Oates had to put up with Alex Ovechkin for two seasons! That has to be worth something.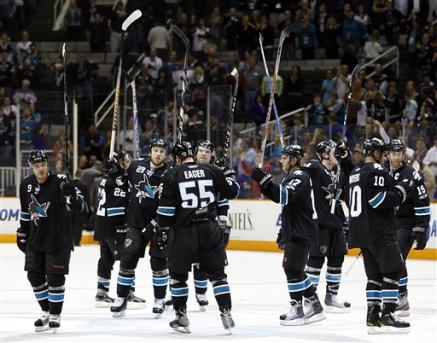 Nobody in San Jose wants to see Trotz coach the speedy Sharks. His product is fairly subdued and defensive-minded. Adam Oates doesn't really have the experience to coach a team as dangerous and capable of contending for the Cup every year. But the other two choices are serious options.
Hear me out, John Tortorella is a good fit with a perennial playoff contender. He has a Cup under his belt. McLellan has been on Cup winning teams, but was not the head coach under Babcock's Red Wings. Torts is a different animal. He is unashamed. He holds people accountable. Sure, he's a little… rough… around the edges, but maybe that's exactly what this team needs. Torts suffered in the hostile and frankly weird environment in Vancouver, he can do very well in a stable place like San Jose.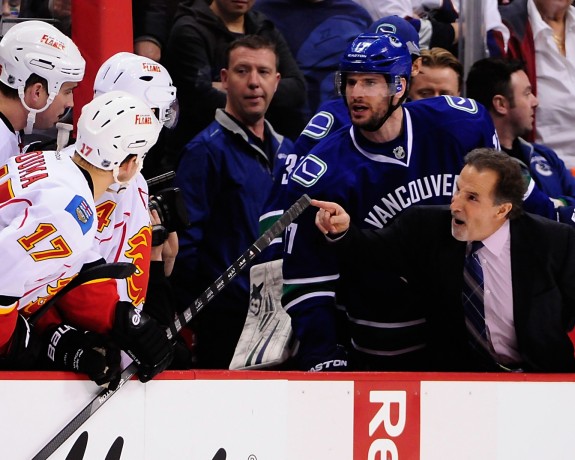 Then, there is Peter Laviolette. Former Flyers head coach and also a Stanley Cup winner with the Carolina Hurricanes, Laviolette would be a nice medium on the road to guys like John Tortorella. He is intense, yet controlled. He will shout and he will fire his team up, but he won't try and break into the opponent's locker room. Laviolette is known for his team's intense play. They loved it in Philly, why not bring it to Silicon Valley? And maybe more telling, Laviolette was the coach of the last team to overcome a 3-0 series deficit. His Flyers have had success in the playoffs and he is more than capable of molding this already built team into winners.
Todd McLellan, Thank You
Todd, I appreciate everything you have brought to San Jose. You created a team that could look unbeatable at some times. You have brought so many banners to our rafters. But not the one that matters. There is no amount of words that can express what you mean to the Sharks as a franchise. But at this point, neither the team or you can grow any further together. You will make other teams better. You will make the entire league better. But you have done all you can with Team Teal. These fans and these players need a Stanley Cup. Go fix the Sabres or maybe make Nashville a fun team to watch.
Good luck with everything. We will always love and respect you.