Way back in October, I wrote an article about the Sharks best defenseman. It outlined a defender that played his position better than anyone ever gave him credit for. He was smart and never seemed to be caught in No Man's Land. The Canadian with a very French sounding name, Marc-Edouard Vlasic earned the league's respect this season. On Saturday night, the Sharks were dealt a major blow. Vlasic left the game early and it is unknown if he will be ready for Game Six. With Vlasic injured, the Sharks' playoff hopes have also been wounded.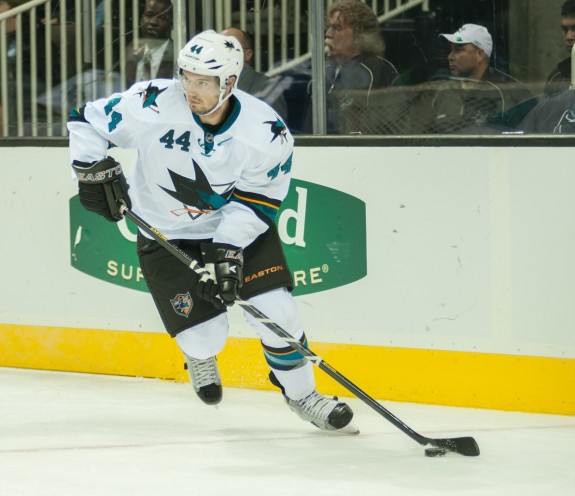 Vlasic Injured on Stoll Hit
Already down 2-0 in a game that had the Sharks asleep in their own building, Jarret Stoll and Vlasic battled in the Sharks defensive zone. After Stoll applied an initial hit, he added an elbow to the back of Vlasic's head. The blue liner seemed shaken up and left the game before he could complete the first period.
The Sharks defense has been hidden by their explosive offense this series. Antti Niemi, who hasn't been sharp in his own right, has been left on his own far too often. The play of Pickles during the season led the Sharks to be one of the best defenses in the league. He was a gaudy +31 through the regular season. Ninth in the league and second best among defensemen in that category, Vlasic was also the leader for time on ice per game on the penalty kill. In the current series, Pickles was leading the Sharks with 9 blocked shots before he was forced off on Saturday. With Vlasic injured, the Sharks depth on defense will undoubtedly be tested.
Problem: The Sharks Have No Defensive Depth
A quick look at the Sharks defensive pairings without Vlasic injured:
Marc-Edouard Vlasic and Jason Demers

Brad Stuart and Justin Braun

Scott Hannan and Dan Boyle
Outside of Justin Braun, the Sharks are in trouble on defense. Dan Boyle and Jason Demers are decent, but are both used to playing the right side of the blue line. But Brad Stuart and Scott Hannan, the remaining left side defensemen, are not exactly what I would call stalwart.
Hannan has enjoyed some very sheltered minutes with Dan Boyle so far in the postseason. His job has been to mark Willie Mitchell, a player with only 12 points for the entire season. So, naturally, with the Sharks offense exploding as it has been, his stats are bloated. Other than his ability to give the puck to Dan Boyle, Hannan is a non-factor.
As for Brad Stuart, his pairing with Justin Braun pits him up against the tougher competition that the Kings can offer. Stuart's Quality of Competition is a full percentage point higher than Hannan's. But he has not coped well with the increase in work load. He has a Corsi relative of -14.3% which is even worse than his -2.7% of the regular season.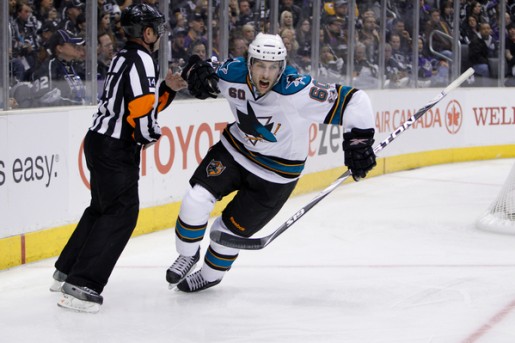 Who Steps Up to Replace Pickles?
Next in line to play defense for the Sharks would be Matt Irwin. The defender played over sixty games this season but fell from the lineup down the stretch. He was a fairly sheltered player as well. Per Extra Skater, over half of his shifts started in the offensive zone. Almost three percent more than Vlasic (who was second to Braun in offensive/defensive zone start percentage). Irwin hardly ever played on the penalty kill either. Just over four percent of the Sharks shorthanded time was under his watch. With Vlasic injured, someone else will have to take up his key role on the penalty kill. How vital was his role? In the regular season, Vlasic occupied over 49% of San Jose's penalty kill minutes.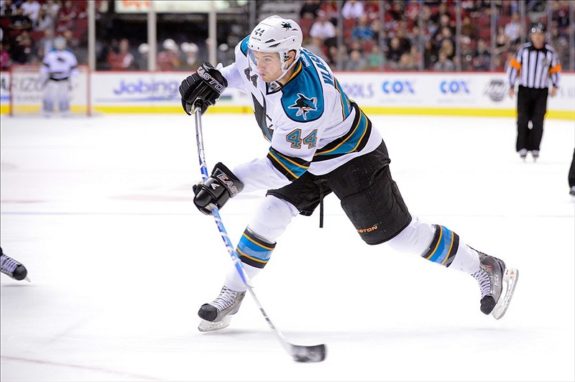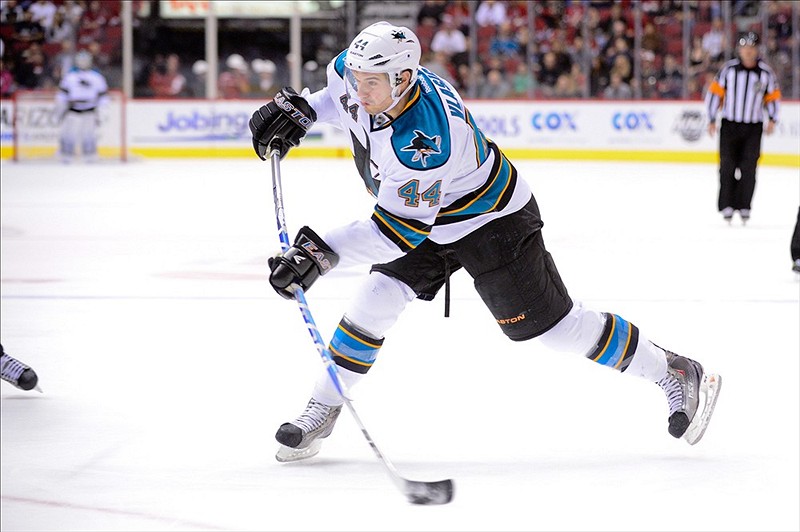 Here's Hoping to a Speedy Recovery
There is no way around it. Without Vlasic, the Sharks are in trouble. The minutes he eats up are far too valuable. He is always matched up against Anze Kopitar. Just like last season's series against LA, he has kept the Kings sharp shooter under control. Kopi is without a single power play point and only has one goal in a series in which each game has at least one team scoring three. Vlasic's contributions will never make headlines outside of San Jose, but without him, be prepared for a very porous Sharks blue line.
The Sharks are still in the driver seat in their current series. That offense can explode for one victory and help them move on. But with Vlasic injured, the Sharks do not have a chance to go far past this round. San Jose can win maybe a single game without their defense, but in these playoffs, you can't expect to score seven goals every night. The Sharks need their Pickles.