A series loss to the Chicago Blackhawks made several things clear for the St. Louis Blues. For one, the team simply doesn't have the game-breaking offensive talent to equal players such as Jonathan Toews and Patrick Kane. This was, of course, known before the postseason began; rather than attempting to "out-talent" the Blackhawks, the Blues placed their hopes in prized trade deadline acquisition Ryan Miller.
This turned out to be a dreadful mistake.
Ryan Miller a Bad Investment for St. Louis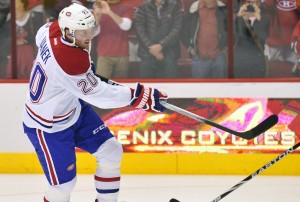 Miller performed well below expectations in the six games against Chicago, but this hardly came out of nowhere. His play had dropped precipitously in the later stages of the season, and Miller finished the year with a .903 save percentage in a Blues uniform — a number which would have ranked 43rd among qualifying goaltenders over the course of an entire season.
Further, acquiring Miller in the first place didn't really address a team need. Jaroslav Halak isn't an elite starting goaltender, but he was serviceable and on an affordable contract. The area of weakness for St. Louis was not in net, but rather at forward. St. Louis rode an array of unsustainable percentages during the first half of the season which made its offense appear much better than it actually was, but these numbers were corrected downward during the second half. St. Louis became an average offensive team, a trait with a foreboding implication: legitimate Stanley Cup contenders almost always excel at both ends of the ice rather than just one.
Marian Gaborik and Thomas Vanek are not perfect players, but they would have filled a need for the Blues far more than Ryan Miller. It seems hard to believe that the Blues could not have offered a better package than what the New York Islanders ultimately received for Vanek.
Expectations Were Too High for Ryan Miller
Players often have reputations that undersell how good they really are, but the opposite is true for Miller. Statistically speaking, he has had only one season in which he was a truly great goaltender… and it was nearly half a decade ago. It seems that his incredible Olympic performance in 2010 elicited a profound league-wide respect for his game that has become as inexplicable as it is widespread. Miller hasn't gotten beyond the first round of the playoffs since 2006-07, and has graded out between 10th and 20th among NHL goalies for nearly every season of his career. He is the prototypical average starting goaltender, but for years has been held in hockey circles to be an elite one.
Thus, the world was expected of Miller when he arrived in St. Louis. He was the missing ingredient to an already-strong Blues team that had fallen to the Los Angeles Kings in the playoffs for two seasons in a row. He was to be the team's primary difference-maker, supplemented by a marvelous group of defensemen and a deep but flawed forward core.
As we know, things turned out completely differently. Miller was a difference-maker for St. Louis against the Blackhawks in the first round, but it certainly wasn't for positive reasons; a terrible goal against in Game 3 and the entirety of Game 6 ultimately overshadowed his brilliance in Game 1. Corey Crawford, perhaps as underrated as Miller is overrated, was clearly the best goaltender in the series.
The ostensible missing ingredient turned out to be nothing more than a representation of the fact that the Blues still have a missing ingredient.
Free Agency
Because there will always be suitors for a #1 goaltender, it's easy to see Miller getting a lucrative deal in free agency this summer. It will be interesting to see whether St. Louis decides to re-sign him or not; the team is in fairly good shape as far as the salary cap is concerned, but would probably be better served pursuing an elite forward like Vanek rather than spending upwards of $6 million on Miller.
Until then, however, there is and will remain a familiar disappointment in the air in East Missouri.
Follow Sean Sarcu on Twitter or add him to your network on Google.