Round 1 of the 2014 NHL Mock Draft – The Next Ones Playoffs Edition is in the books and the result have been posted here.
Note:
This is not an attempt to rank prospects. This is mere a guesstimate at what teams might choose if they were to draft today based on weighing out best player available with team need and past experiences at the draft table, with an obvious dose of influence from my personal thoughts.
***
Constantly updated as profiles are completed, check in with the above link often to get more detailed information on this year's prospect class.
***
Let's get right to the picks of the 2nd round and see what unfolded:
2014 NHL Mock Draft: The Next Ones Playoffs Edition Round 2:
31. Buffalo Sabres – Thatcher Demko, G, Boston College (NCAA)
NHL Draft-NCAA-Thatcher Demko-G-Boston College-Big goalie.space eater.Moves well.good glove.rebound control.poised. Recovers well. High end

— dave cadelli (@davecadelli) April 23, 2014
32. Florida Panthers – Anton Karlsson, RW, Frolunda (Sweden)
https://twitter.com/SCocker11/status/458299140792143874
33. St. Louis Blues (from Edmonton Oilers) – Ryan MacInnis, C, Kitchener (OHL)
Ryan MacInnis — Al's son. Not a D, but huge and DID acquire daddy's slapshot. Maybe hardest in Draft. RT @julesring 33

— The Production Line (@TPLhockey) April 24, 2014
34. Calgary Flames – Travis Sanheim, D, Calgary (WHL)
Elkhorn's Travis Sanheim named one of Canada's top 3 players at U18 WHC. Canada won bronze. #ctvwpg

— Josh Crabb (@JoshRCrabb) April 27, 2014
35. New York Islanders – Eric Cornel, C, Peterborough (OHL)
NHL Draft War Room: Eric Cornel – http://t.co/xRnqchZ2ji #NHL pic.twitter.com/FTMygJRdlo

— THW Hockey (@HockeyLinks) March 18, 2014
36. Vancouver Canucks – Jack Glover, D, USA NTDP (USHL)
#FantasyHockey 2014 U18 Video: Jack Glover, USA http://t.co/VhpRdlIJ6A via @HockeysFuture

— NHL Fantasy Hockey (@DSE_Hockey) April 24, 2014
37. Carolina Hurricanes – John Quenneville, C, Brandon (WHL)
Apr 16, 1996 – Happy 18th b-day to @bdnwheatkings John Quenneville (@jaquinder88), who more than tripled his pts total this season over last

— WHL Facts (@WHLFacts) April 16, 2014
38. Anaheim Ducks (Toronto Maple Leafs) – Brendan Lemieux, LW, Barrie (OHL)
Who would @blemieux22 play with if he could be on a line with any two NHLers? Read my interview with him to find out: http://t.co/cX6LPtOApG

— Todd Cordell (@ToddCordell) March 10, 2014
39. Buffalo Sabres (from the Winnipeg Jets/Minnesota Wild) – Jack Dougherty, D, USA NTDP (USHL)
https://twitter.com/AndyJohnsonB5Q/status/458594593924079616
40. Ottawa Senators – Spencer Watson, RW, Kingston (OHL)
Looking at Spencer Watson's split stats and season data, only five of his 33 goals were scored on the PP. Did a lot of damage at evens.

— Todd Cordell (@ToddCordell) April 20, 2014
41. New Jersey Devils – Brycen Martin, D, Swift Current (WHL)
http://t.co/TMB326PEad
#29 Brycen Martin @Brycen_Martin
Slows the game down on the puck… simplifies game. IQ on display in all situations.

— ISS Hockey (@ISShockey) February 13, 2014
42. Nashville Predators – Vaclav Karabacek, RW, Gatineau (QMJHL)
Vaclav Karabacek (@VaclavKarabacek) for @LesOlympiques. 11 points so far in his first career playoffs. @CraigJButton

— QMJHL (@QMJHL) April 9, 2014
43. Arizona Coyotes – Ryan Donato, C, Dexter HS (USHL)
Ryan Donato defines production at Dexter. Since freshman season in 2011-12, has 57 goals, 66 assists, 123 points in 63 games and counting.

— Kirk Luedeke (@kluedeke29) December 24, 2013
44. Washinton Capitals – Alex Nedeljkovic, G, Plymouth (OHL)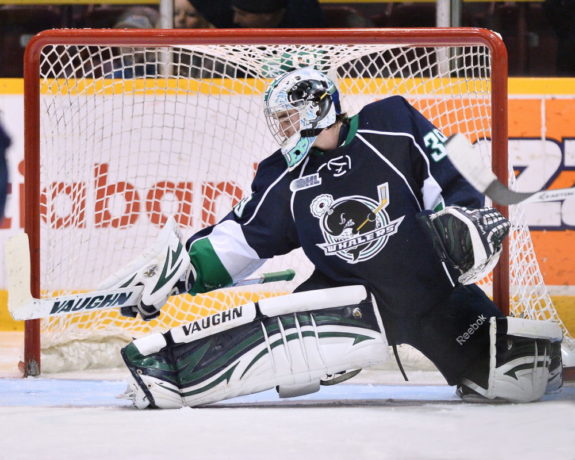 U.S. Wins Gold at U18 World Championship !@PWhalers goaltender Alex Nedeljkovic (Parma, Ohio), who made 15 total… http://t.co/25rRIHue5D

— @BoWithNoFlow (@bobbywmurray) April 28, 2014
45. Dallas Stars – Julius Bergman, D, Frolunda (Sweden)
#2014NHLDraft Profile: Julius Bergman http://t.co/QL8Ebzph8T

— michael repertorio (@MikeRepertorio) April 24, 2014
46. Nashville Predators (from Detroit Red Wings) – Jayce Hawryluk, C, Brandon (WHL)
Congrats to Roblin's @JayceHawryluk and Carlyle's Haydn Fleury on winning World U18 Bronze with win over Sweden. #IIHF

— Benny Walchuk (@BennyGX94Sports) April 27, 2014
47. Columbus Blue Jackets – Dysin Mayo, D, Edmonton (WHL)
Goal stands, credited to Dysin Mayo who is having a superb postseason. 4-6-10, a team high +15 in 10+ GP. D-man doesn't turn 18 til August

— Bruce McCurdy (@BruceMcCurdy) April 20, 2014
48. Philadelphia Flyers – Hunter Smith, RW, Oshawa (OHL)
IMO one of @neatebuzzthenet's top Draft Tracker segments. Oshawa's Hunter Smith reflects on his breakout season. https://t.co/5ULOKH8Fqb

— OHL Prospects (@BrockOtten) April 22, 2014
Biggest jump on @NHLCentralScout final ranks goes to No. 39 Hunter Smith of @Oshawa_Generals. Tough 6-6, 208-pound RW was No. 140 at midterm

— Mike Morreale (@mikemorrealeNHL) April 8, 2014
49. Tampa Bay Lightning (from New York Rangers) – Chase De Leo, C, Portland (WHL)
"He's able to consistently display his hockey sense and talent while playing at top speed." http://t.co/d28HPssiLa #NHLDraft

— FCHockey (@FCHockey) February 12, 2014
50. Buffalo Sabres* (from Minnesota Wild; may transfer to St. Louis Blues if conditions of Ryan Miller trade met) – Vladislav Kamenev, LW, Magnitogorsk (Russia)
http://t.co/dTmaEKMf2A
#26 Vladislav Kamenev
Good development curve this season… strong shot & good protection to dominate along the wall.

— ISS Hockey (@ISShockey) April 9, 2014
51. Los Angeles Kings (from Buffalo Sabres; may transfer to Columbus Blue Jackets if conditions of Marian Gaborik trade met) – Marcus Pettersson, D, Skelleftea (Sweden)
You see the tools of SWE D Marcus Pettersson. He's big, very mobile, skilled but his D zone work little cringe worthy.

— Corey Pronman (@coreypronman) April 26, 2014
52. New York Islanders (from Montreal Canadiens) – Joshua Jacobs, D, Indiana (USHL)
NHL Draft-USHL-Joshua Jacobs-D-Indiana.#41 by ISS.good offensive tools.Good skater w/ speed. Good hands. Has a great shot. good hockey IQ.

— dave cadelli (@davecadelli) April 23, 2014
53. Tampa Bay Lightning – Brayden Point, C, Moose Jaw (WHL)
@Szaf @Bob_Stauffer I love Brayden Point. I think he's an excellent prospect. A Ray Whitney type?

— Craig Button (@CraigJButton) February 20, 2014
My newest 'From the Dub' is out. This month I discuss the games of Julius Honka and Brayden Point: http://t.co/NgtlqtOd2H #WHL @FCHockey

— Zenon Herasymiuk (@ZenonHerasymiuk) December 14, 2013
54. Arizona Coyotes (from Chicago Blackhawks) – Brett Pollock, C, Edmonton (WHL)
A scout at the @EdmOilKings @tigershockey game compared Brett Pollock to Logan Couture. Pollock is playing lights out right now @TPS_Guy

— Dean Millard 🎙🦆🎧 (@DuckMillard) April 27, 2014
55. San Jose Sharks (from Pittsburgh Penguins) – Alexis Vanier, D, Baie-Comeau (QMJHL)
#2014NHLDraft prospects from the @QMJHL are discussed w/ HP Scout @Jerome_Berube on NHL Network Radios prospects show http://t.co/7tB5mHJPNn

— HockeyProspect.com (@ScoutingService) December 7, 2013
56. San Jose Sharks – Justin Kirkland, LW, Kelowna (WHL)
WHL: Kelowna rookie Justin Kirkland fills versatile role for Rockets – http://t.co/kR8Ju5gE7t via @KelownaCapNews #Kelowna @Kelowna_Rockets

— Black Press BC (@BlackPressMedia) April 2, 2014
57. St. Louis Blues – Juho Lammikko, RW, Assat (Finland)
https://twitter.com/SCocker11/status/458245064549224448
58. Calgary Flames (from Colorado Avalanche) – Oskar Lindblom, LW, Brynas (Sweden)
http://t.co/TMB326PEad
#18 Oskar Lindblom @oskarlindblom
Strong puck presence & explosive driving stride to scoring area w/ strong awareness

— ISS Hockey (@ISShockey) January 3, 2014
59. Anaheim Ducks – Alex Peters, D, Plymouth (OHL)
http://t.co/dTmaEKMf2A
#26 Alex Peters @alpeters96
Incredibly reliable, shutdown defender w/ confidence. Physically imposing on the backend.

— ISS Hockey (@ISShockey) March 11, 2014
60. Boston Bruins – Adam Ollas Mattsson, D, Djurgarden (Sweden)
2014 U18 Video: Adam Ollas Mattsson, Sweden http://t.co/pr1hUd0Wni #got500

— Peter Lindsay (@ArchitectWeb) April 24, 2014
***
In what might be the most unpredictable draft in years there are still quality players left to be had in subsequent rounds even though it has been dubbed as many to be a weaker draft. How do you think your team did in THW's two round mock draft?
Comment here, send me a tweet @ChrisRalphTHW and/or take part in the discussion at THW's NHL Entry Draft Google + Community for limitless draft discussion.
Chris is THW's senior draft/prospect analyst and a Managing Editor. Watch for "The Next Ones" Prospect Profile series, exclusive rankings, mock drafts, as well as the annual THW NHL Entry Draft Guide. Follow @ChrisRalphYQ on Twitter as he infiltrates, dissects and analyzes all happenings of hockey prospects and the NHL entry draft. Email: cralph[at]thehockeywriters[dot]com