The St. Louis Blues and Chicago Blackhawks have been bitter rivals since the Blues first broke into the NHL in 1967.  They've had countless battles between the regular and post season, and this year's 1st round Stanley Cup Playoffs match-up should be no different.  Here, fellow THW writers Jeff Ponder (JP) and Franklin Steele (FS), join me (MP) to discuss what fans can expect from their Blues in this 1st round battle royale.
What To Expect from Your Round 1 St. Louis Blues
The Blues may be going through the most adversity in the entire league right now, but it's playoff time, and excuses aren't allowed.
What Type of Play Can Fans Expect to See in Round 1?
JP: The Blackhawks play an up-tempo, fast-paced style that puts opposing teams in a hole early. The Blues have to dictate the play to stop any bleeding before it starts. If they can do that in Games 1 & 2, it will set the tone for the rest of the series.
However, the Blackhawks players thrive off their boisterous fan base at the Madness on Madison. I would fully expect a defensive battle in the games at Scottrade Center and a game of trading chances in Chicago.
FS: Chicago and St. Louis are two teams that were built from the ground up to be versatile. The 'Hawks haven't won two Stanley Cups in four years because they cram their style of play down the opposition's throat. They can adjust and still be dangerous.
The Blues have a similar setup and the ingredients are there for things to get nasty, which bodes well for the Blues. Last season the Detroit Red Wings had a lot of success against Chicago by getting in their grills. Toews was a non-factor and their forwards made life miserable for the top players at the other end of the ice. It might be sacrilege to say that St. Louis needs to take a page from Detroit's play book, but they ought to.
MP: Fans can expect to see a gritty all out battle. This is going to be a true test of determination from the Blues standpoint, and a test of will from Chicago's.  Both teams will come out determined to set the tone early, which favors the Blackhawks at this time, but could shift dramatically by the series' end (if St. Louis can get some stars healthy and back in rhythm).
look for the focus to shift from heavy hitting, to strategic plays that create prime scoring opportunities as the series drags on.  Also, don't be shocked to see the Blues scoring woes continue over the first few games, as they are once again trying to find their stride.  Hopefully the recent practices have refocused the team, which will give them an edge in the 7 game series, if they can survive long enough to make it there.
St Louis Blues have won their last 2 playoff series vs Chicago Blackhawks. 1993 4-0; 2002 4-1 #stlblues

— STL Blues History (@STLBlueshistory) April 13, 2014
What Will Be the Blues Biggest Struggle in Round 1?
JP: The Blues have been known to possess solid team chemistry since Ken Hitchcock took the helm in 2011. This will be the first time this season that the usual core of players will see this part of their game tested. The Blues saw a plethora of injuries before the season ended and struggled mightily just before that (remember that disastrous Colorado and Chicago back-to-back weekend?).
Each player on the roster will instantly need to get back to what made the team so effective earlier in the year: puck control and understanding the tendencies of their teammates. When the team hasn't played together in awhile, the relearning curve could prove to take longer than a game. St. Louis is hoping it can be regained in practice.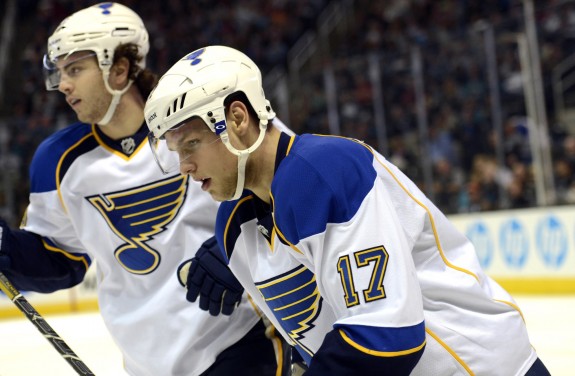 FS: Finding the "on-switch." St. Louis has struggled with injuries down the stretch here—they were missing eight regulars against the Detroit Red Wings to close the season out this weekend—but that's just not an excuse that is going to fly during the playoffs.
On the whole, this has looked more like a preseason team than a playoff one for the last 10 days or so. We all know that the Blues are better than this, but will they be able to gain enough momentum early on? Losing home-ice advantage to the Blackhawks would be disastrous, so taking Game One off to find chemistry against isn't an option.
MP: The Blues will have to focus on their team cohesiveness.  They will have guys coming in and out of the line-up on a game-by-game basis, which can cause a lot of confusion on the bench and the ice.
If they can mesh back together into a single cohesive unit, they will be able to not only play with, but beat the Chicago Blackhawks despite missing some top key performers.
Of Those injured Players, Who Will Return and What Will Their Impact Be?
JP: It will take much more than a sore foot to keep David Backes off the ice in the playoffs. I fully expect to see the Blues' captain back in action for Game 1 on Thursday night. He is the team leader in more ways than one and having him in the lineup will greatly increase the Blues' chances of getting past the Hawks.
T.J. Oshie should also make a return this series. The 2014 Olympic icon trailed only Steen for the team point lead (60) and has proven to be vital to the Blues' power play. He will need to improve on his playoff numbers, though, as the 27-year old has just two goals in 19 playoff contests.
FS: As of last week, Tarasenko hasn't been able to shoot consistently. Berglund's injury seems serious, so I'm not sure if he'll be able to bounce back or not. Shoulder issues and collarbone problems can really have a negative impact on players that thrive in the face-off circle like Berglund. If the Blues get either guy back before Game 4, that could be huge.
MP: As we have seen practices unfold over the past few days, we have seen the resurgence of talented Blues players on the ice.  Though their presence in the line-up will be a game time decision we should see all of the injured Blues players return at some point in Round 1.
This is good news, as the leadership given by players such as David Backes, TJ Oshie, and Alex Pietragelo has been missing since injuries took them out of the final regular season line-up. Fans should expect to see their favorites wreaking havoc, but don't get too excited as they won't be at 100%, and their offense could struggle as a result.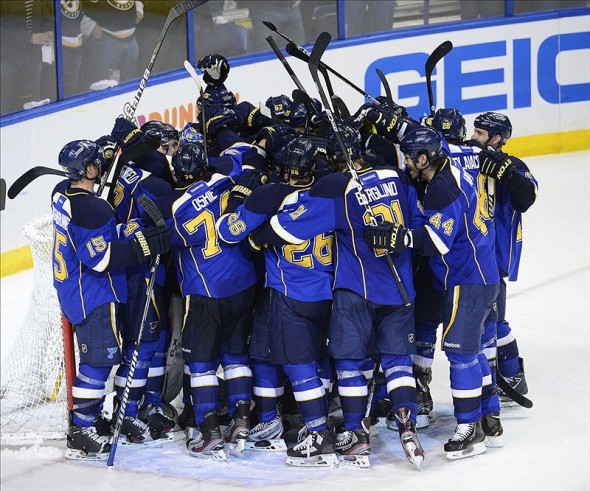 What to Hope For Out of the Blues Team in Round 1
Though the situation may be far from ideal in this tough series against a bitter rival, the Blues still have plenty of firepower to pull off the win.
Who (Realistically) Needs to Step Up the Most to Give the Blues a 1st Round Victory?
JP: If Blues star players fail to return, the Blues will have to fall back on their goaltender. Management went out and made a splash at the trade deadline for a reason; Miller is a big-game goaltender who has the ability to steal games. If the 2010 Olympic hero shows up this playoff round, the Blackhawks are in a heap of trouble.
To go along with Miller is the Blues' defense, which has been nothing short of disastrous to close out the season.  This has to change in order for the Blues to advance.
As of yesterday TJ Oshie still had not been cleared for contact. #stlblues

— Andy Strickland (@andystrickland) April 16, 2014
FS: The guy that could really make a difference as a bottom-six forward is Max Lapierre. Mostly because fans are done waiting for Derek Roy to show anything more than random flashes of brilliance while games are either put away or out of reach.
Lapierre scored all of nine goals this season, but two of them have come in his last seven games. Is he going to lead the Blues in playoff scoring? No. Yet one big game from him could turn the tides for sure. If he has a two-point outing, throws five hits and gives Kane four facewashes without taking a penalty… that's playoff hockey, and it's the kind of game that Lapierre lives to play.
Which player could be the X factor for the @StLouisBlues in the playoffs? @NateLatsch says @jschwartzy9 ->> http://t.co/fZ1iur3zfh

— FOX Sports Midwest (@FSMidwest) April 16, 2014
MP: Overall (and due to injuries) I think the team will need everyone to step up their play in order to secure the series, but in particular it will be guys like Derek Roy, Kevin Shattenkirk, and Jaden Schwartz who will need to step up the most.  These players can give the Blues the scoring they need to edge the Chicago Blackhawks in this intense Stanley Cup Playoffs match-up.
Schwartz in particular will need to find the net to aid his returning veterans and the team in their quest for the Cup.  If Shattenkirk can play shutdown defense, and add some secondary scoring, the Blues will once again be sitting pretty in the Central.
Can Ryan Miller be the Shutdown Goalie the Blues Need in Order to Advance Past Round 1?
JP: All past history points to yes. The famed goaltender was a key component to the Sabres' 2006 and 2007 runs, amassing a combined 20-14 record with a 2.39 GAA and a .915 save percentage in both years. He seems to really focus when the game is on the line and comes up big when called upon.
However, his accolades as of late are not as impressive. The American netminder has been far from stellar, posting an 0-5 record with an .832 save percentage. He will need to find the next gear in order to be an unbeatable presence in the postseason.
FS: Can he be? Sure. Will he be? That's the million dollar question right now. The good news for the Blues is that they've still been able to win the possession and shot battles despite taking loses. The goals that Miller has typically given up haven't always been his fault. Fancy stats are one thing, but the fact that Miller hasn't won in his last five starts is staggering.
Will he improve as St. Louis gets healthy? He has to. The Blues aren't getting by Chicago with Brian Elliott in goal, and by the time that change would be made, St. Louis would already be in a hole. You're not climbing out of a deficit against the defending Champs.
MP: Ryan Miller's playoff history is successful, but has never garnered him the coveted end prize.  Whether it be a Gold medal or a Stanley Cup, Miller hasn't been able to capture either.  The good news is, he has shown he can play a ridiculously great brand of hockey in the playoffs, and he can be consistent enough to get his team necessary wins.
He will be able to settle in early in the series, and while he may let in a couple of questionable goals, overall he should give the Blues a fighting chance to move past Round 1.
Series Predictions
Though this series would have been predicted much differently a month ago, that's what makes the sport so great.
JP: Blackhawks in 5. Even with the injured players making a return, I just do not see this club overcoming its dreadful end to the season. I have never been a believer that any club can just "flip a switch" when the playoffs begin and this year will be no different.
The Blackhawks wrapped the month of April up with a 4-2 record while captain Jonathan Toews and superstar Patrick Kane were shelved; with them in the line-up they will be too powerful for the Blues to endure.
FS: I have a personal vendetta against predictions, and I'm not going to curse the Blues by picking them to win. Instead, I will state that I think this series has seven-game classic written all over it, and it's going to be can't-miss hockey over the next two weeks.
MP: As much as I want to go with my Blue Blood on this one, unless the Blues roster can regain it's missing components, I don't see the club pulling out a victory over the defending Stanley Cup Playoffs Champs.  The Blackhawks will probably close out the series in a max of 6 games, unless the Blues stars really step up, in which case the Blues have an excellent chance in 7.
Like what you've just read?  Follow us on Twitter: @pep30, @jponder94, @franklinsteele