The Penguins kicked off the Mike Sullivan era with a 4-1 loss to the Washington Capitals on Monday night. But the game took a backseat to the news of a trade involving Rob Scuderi breaking during the contest. Many were surprised when Scuderi was a last-minute scratch and now it makes sense as to why. The trade, which sent Scuderi to the Chicago Blackhawks in exchange for Trevor Daley, also includes a hair over $1.1 million of retained salary on Pittsburgh's part.
From a dollars standpoint, Scuderi will cost the Blackhawks $2.25 million against the cap, while Daley will cost the Penguins $4.425 million when you account for the salary that they retained. It's also important to note that if Scuderi is assigned to the AHL while in Chicago, the Penguins do not receive cap relief on that retained salary. So, one might ask themselves, is that a steep price to pay to unload the veteran?
I don't believe so. Lets look at how this breaks down for both sides.
Daley is Useful, Rob Scuderi Was Already Dead Money
The Penguins needed to add a puck-moving defenseman and Jim Rutherford was very clear in saying that he planned to do so sooner rather than later. Daley's name has been floating around the rumor mills for a few weeks, as he hasn't been able to find his game in Chicago thus far. So, it only made sense that the Penguins would be interested but most thought the price would be too steep for what Daley offers. While this isn't necessarily an ideal situation for the Penguins, it's definitely a best-case scenario from the perspective of unloading Scuderi.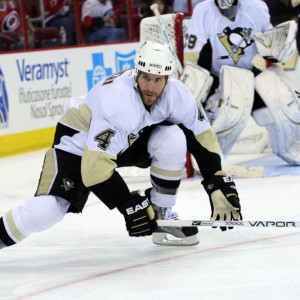 Rutherford passed on buying out Scuderi this past summer, citing that it would leave too much dead money on the books. He was also confident that he could find a taker for the veteran defenseman. If no one took him up on his offers and he ended up buying him out next summer, the Penguins would have been on the hook for his buyout cost of $833,333 for each of the next two seasons, plus a cap hit of $1.7 million in 2016-17 and $833,333 in 2017-18 (via waronice.com). With this trade, the Penguins will have a cap hit of roughly $1.15 million on the books through next season and then they're free and clear of Scuderi's contract. So, while it sounds like they're now overpaying a player like Daley, they're at least getting a player that may be serviceable in this system.
Daley likely isn't the top-four defenseman that the Penguins planned to pursue. In fact, he likely isn't going to be a top-four defenseman, unless he can truly find his niche in Pittsburgh. But, he is a capable puck-mover that can help this team much more than Scuderi did. He posted 38 points last season with the Dallas Stars. Should he find a way to put up those types of numbers in Pittsburgh, chalk this up as a great deal for the Penguins.
The Blackhawks Created Cap Flexibility
I wrote about trading Rob Scuderi on multiple occasions this summer and how it could make sense for another party if the Penguins retained salary. Chicago cleared roughly $1.05 million in cap space with this deal, giving up a defenseman that was struggling to find his place on the Blackhawks. And, Chicago can bury Scuderi in the AHL to clear another $950,000 if they deem it necessary, which would also give them roughly $2 million in cap space and some flexibility for future moves. So, while a lot of folks are wondering what Stan Bowman was thinking when he acquired the struggling Scuderi, it actually isn't a terrible move on his part.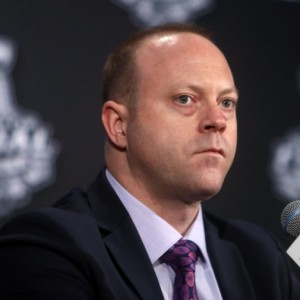 On the downside, the Blackhawks essentially turned Patrick Sharp into Rob Scuderi when it was all said and done. While Bowman had his hands full this past summer with Chicago's cap crunch, that's still a hard pill to swallow. Now, they're left with a less-than-useful veteran that will most likely end up in the press box or playing minor league hockey.
Both the Penguins and Blackhawks were in peculiar situations with these players. The deal makes sense for both sides, surprisingly, though many will criticize Chicago for taking the lesser player. However, looking at this from a higher level, you can see why Chicago was willing to pull the trigger.
Also, according to our own Mike Colligan, Scuderi did not have to waive his no-trade clause for this deal to take place. There were reports that surfaced in the past which stated that he was unwilling to do so, which put Rutherford in a tough situation. During his press conference following the trade, Rutherford stated that there are no other impending deals on the horizon right now. He's going to give his new coach time to settle in and see where he stands with this roster. That doesn't mean they're done, though. The Penguins will still be on the lookout for a top-four defenseman and with tonight's injury to Beau Bennet, another winger isn't out of the question either. I wouldn't look for anything to happen in the near future but I can almost guarantee there will be at least one more new face added prior to this season's trade deadline.