When Buffalo Sabres' general manager Tim Murray acquired goaltender Robin Lehner just hours before the 2015 NHL Entry Draft (along with David Legwand) in exchange for the 21st overall pick in that draft, fans of the blue and gold were skeptical. The (at the time) 23-year-old goalie, who Murray had a hand in selecting in the second round of the 2009 draft as the Ottawa Senators' assistant general manager, had yet to prove himself as a starting goaltender, leaving many Sabres fans to question whether or not the 6'5″ Swede was worth a first round draft pick.
Fast forward to today and the fans who were initially unsure of the trade are seeing their reservations become reality. Lehner played just 21 games in his debut season with the Sabres after going down with an ankle injury in the team's first game, an injury that would keep him out of the lineup until January 2016. Lehner's ankle would continue to bother him, and in late March he underwent season-ending ankle surgery.
After an off-season of rehabilitation, Lehner had a rather lack-luster start to the 2016-17 season, coming out of the gate with a 5-7-3 record, and a goals against average of 2.40. His relatively disappointing season took a turn for the worse recently, as Lehner left the November 29th game against his former team, the Ottawa Senators, in the first period. Despite returning to the Buffalo bench for a brief moment in the second period, Lehner eventually returned to the Sabres' locker room, where he was diagnosed with a hip injury.
Coach Bylsma says Robin Lehner has a hip injury & is day-to-day.

— Buffalo Sabres (@BuffaloSabres) November 30, 2016
Despite being described as "day-to-day" by Sabres head coach Dan Bylsma, Lehner's injury raises a number of questions. Is he the long-term answer to the team's goaltending problem? Do the Sabres have enough goaltending depth in the organization? These are all questions that a simple hip injury should answer.
Is Lehner Injury Prone?
Lehner's recent injury, despite being minor, officially labels him as injury prone. His injury history dates back to before his time with the Sabres, as the Gothenburg, Sweden-native suffered a concussion in February of his last season with the Ottawa Senators. A collision with former-Sabre Clarke MacArthur gave both players concussions, causing Lehner to miss some time. During his recovery, Lehner lost his role as backup to Andrew Hammond, who would eventually lead the Senators into the playoffs. He then became expendable, and Ottawa GM Brian Murray shipped the promising young goaltender to his nephew on the border.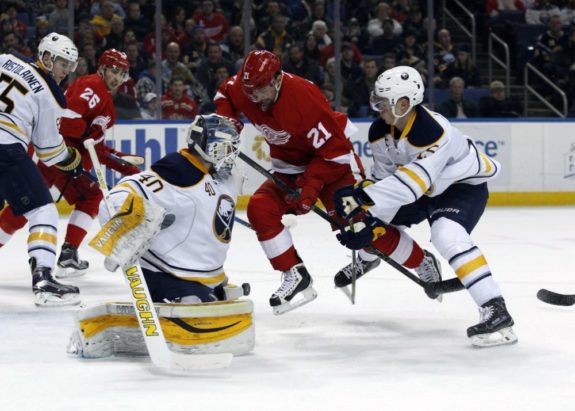 Lehner's time with the Sabres has been plagued by injuries. An ankle injury kept him out for the majority of the 2015-16 season and a hip ailment has already caused him to miss time as of late. While he hasn't been able to play many games, he hasn't proven himself as a reliable starting goaltender in the games he has played.
Lehner finished last season with a 5-9-5 record, posting a 2.47 goals against average and a .924% save percentage. This season, he has a record of 5-7-3 with a comparable goals against average and save percentage. While the team playing in front of him last year wasn't that strong, and the team playing in front of him this year has never been 100% healthy, Lehner has been part of the problem more than he has been the solution.
As a Sabre, only a handful of games Lehner's played in stand out, while the rest of his performances are forgettable. Lehner has never stood out as the team's weakest link, but there have only been a few instances where he has stood out as the team's shining star.
His recent injury along with those that came before have severely hindered Lehner's ability to prove himself as Buffalo's franchise goaltender. If he continues to miss more games than he plays, the Sabres may need to look elsewhere to answer their goaltending problem.
Nilsson's Time to Shine
When Tim Murray acquired Anders Nilsson from the St. Louis Blues in the offseason in exchange for a 2017 fifth round draft pick, many fans didn't know what to expect from the 6'6″ goaltender. The 26-year-old had all of the tools to succeed in the NHL, yet, had only served as a backup goalie throughout his career. Fortunately for the Sabres, Nilsson seems to be coming into his own as a solid NHL-caliber goaltender this season.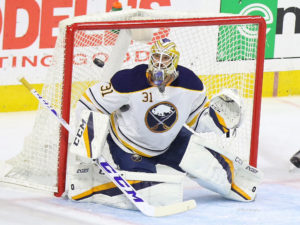 Nilsson has played eight games, posting a record 4-2-2 with a goals against average of 2.30 and a save percentage of .934%. Statistically speaking, he's is having a stronger season than Lehner, as his GAA and SV% are actually better than his counterpart's (2.40, .921%).
Nilsson's performances as of late have actually led some to believe that he should be the team's starting goaltender. He has stepped in for Lehner in his absence (coming into the November 29th game against the Senators late in the first period and actually starting the December 1st game against the New York Rangers), earning two wins. While Nilsson had the advantage of playing on a Sabres team led by Jack Eichel, who recently returned from injury, the goaltender wasn't a slouch in the team's two wins, stopping 26 shots against the Sens and 22 against the Rangers.
Nilsson was having a strong season before Lehner went down with a hip injury and an injury to the team's starter has allowed him to prove that he can be a solid goaltender in the NHL, also proving that the Sabres have depth at a position most thought was their biggest question mark.
Down on the Farm
While Lehner and Nilsson are the only two goalies Sabres fans have seen this season, Buffalo has a number of solid goaltenders in their system that could lead the team in the future.
Linus Ullmark is a goalie that many feel will be on the Sabres' roster soon. The 23-year-old Swede played many games for Buffalo last year while Lehner was out with his ankle injury, posting a record of 8-10-2 as a backup. Ullmark has been the starting goaltender for the Rochester Americans, the Sabres' AHL affiliate, this season, posting a 7-7-1 record with decent statistics. Should anything happen to Lehner or Nilsson that could keep them out long-term, Ullmark would likely be the one to become Buffalo's backup.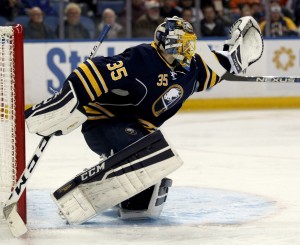 Perhaps the Sabres' most promising young goalie is Cal Petersen, a 22-year-old that Buffalo selected in the fifth round of the 2013 Draft. He is currently the starting goaltender for the Notre Dame Fighting Irish and has been making a name for himself in South Bend. Last season, Petersen started all 37 of the team's games, finishing with a record of 19-11-7. Petersen, who is just a junior, could be a full-time member of the Sabres' roster as soon as next season.
While Lehner's injury will only cause him to miss one or two games, his short time away from the team has actually answered a couple of questions many have had about the team's goaltending situation. Fans now know that Nilsson has what it takes to be a serviceable goalie in the NHL and that the team has depth at the goaltending position.  Fans also now know that Lehner may officially be injury prone. Hopefully, he will return stronger than ever and take this Buffalo roster to new heights.