Carolina Hurricanes General Manager, Ron Francis has found the checkbook, and Ron's gone wild.  In the past two days, he has signed Ron Hainsey (D) to a 3-year deal.  Hainsey is set to receive $3 million for the 2014-15 and 2015-16 seasons, and $2.5 million for the 2016-17 season.  With the checkbook open, he went ahead and signed forward Nathan Gerbe to a 2-year contract, worth $1.5 million in the 2014-15 season and $2 million in 2015-16.  And before putting the checkbook back in the drawer, he inked forward Chris Terry to a 1-year, 2-way deal.  Terry will earn $600,000 on the NHL level or $300,000 on the AHL level in 2014-15.
Whew!  I wonder if Peter Karmanos is hiding all the pens in Ronnie's new office?  Or maybe Ron has carte blanche with the team's wallet?  But before any further signings or re-signings cause the price of beer in the PNC Arena to go over the $20 a cup level, maybe the new GM should pause and reflect, at least momentarily.
Hainsey is a nice guy to have on the team, but 3 years?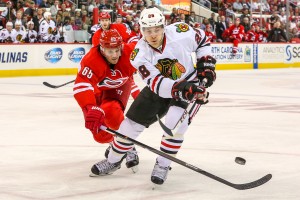 He likely will not be the team's top defenseman.  At 33, he's already played with Montreal, Columbus, Atlanta, Winnipeg and of late, Carolina.  He is a sound player, no doubt.  He is a likeable guy and has good chemistry with his teammates.  And he is a grinder, having played in every game last season.  That speaks volumes about his heart and is physical stamina.
Yet, this signing seems a little off-kilter to me.  A big a hat-tip for sure goes to Ron H.  He has obviously impressed the new coach, Bill Peters, and Canes management as worthy of a big, multi-year commitment.  As they say, "Get it while you can!"
On the other hand,
I love the Nathan Gerbe deal. He's 26, and for my money, brings it hard every night on the ice.  When the team was playing poorly, looking totally done, Nathan was out there banging and checking and hustling all over.  I think he is definitely a piece of the Hurricanes' playoff puzzle, an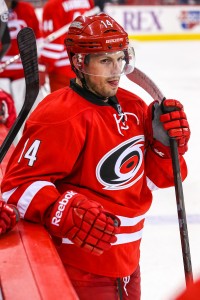 d at 2 years, a fantastic signing.  I would have been happy with 3-5 years for this guy.  He's fantastic!
I really don't know enough about Chris Terry to comment about his deal.  He had an above average season last year with the Charlotte Checkers of the AHL, but has not been able to get a foothold in the NHL since being drafted in 2007.  Maybe this will be his year to breakout and into the Canes' roster on a more regular basis.
Tomorrow's the Big Day
The NHL Draft is tomorrow and the Hurricanes have the 7th pick. Will Ehlers, Kapanen, or Virtanen be on the board when they pick? (Click here for The Hockey Writers Full Mock Draft Guide)   Will Ron go wild and trade up?  Will he go off the board and draft a complete unknown?  We will know in a few hours.  Let's hope that Ron goes wild…but, not too wild.