There's no understating what Ron Francis means to the Hurricanes' franchise. Canes fans love Ron Francis, to the point where the nickname "Ronnie Franchise" still holds true. When they were the Whalers, Francis was basically a god incarnate, if only because he stuck around and led some really terrible Hartford teams without the slightest hint of impatience or indignation. Even when he was traded to Pittsburgh, everyone knew it wasn't because of any ill-will between Francis and the organization, but rather an opportunity to find success in his career.
After a very successful run in Pittsburgh, which including two Cup wins and some time spent as captain of the team, he signed with the Carolina Hurricanes in 1998. Carolina fans have a different appreciation for Francis. They only got a taste of the Francis the player, the Francis that Hartford knew. He finished his career in Carolina, and outside of one surprise run to the Finals in 2002, he spent his time doing the same thing he did in Hartford: Acting as a leader for teams that were going nowhere fast.
Carolina fans know Francis more for his work off the ice. He, along with Rod Brindamour, were key factors in growing the game in North Carolina. After retiring, he took a position with the Raleigh Youth Hockey Association. According to statistics from USA Hockey, North Carolina had 2,149 registered members in 1998, the year after the Hurricanes inaugural season, with the majority being adults. In 2012-2013, that number has grown to 6,209, with a large portion being under the age of 18. After spending many years helping the game develop, he took a role as Director of Hockey Operations for the Hurricanes. Since then, he's been groomed for the role of general manager and his first big test less than a month away.
The Moves Thus Far
Francis officially took over as general manager in the offseason, and his first big move was firing former coach Kirk Muller and hiring former assistant coach of the Detroit Red Wings, Bill Peters. Along with Peters, Steve Smith was hired as an assistant coach for the team. It's hard to argue those two moves have been anything but successful. Under Peters, the team has shown a clear sense of identity for the first time in years. He's also shown that he's not afraid to bench underperforming or slumping players, regardless of their paycheck. Given the inconsistent nature of many players on the team, a coach willing to do that is a godsend. Steve Smith has turned a defense of spare parts into one that's ranked near the top of the league in many defensive categories.
His signings in the offseason were underwhelming at first. After two offseasons that saw the organization grab Jordan Staal and Alex Semin, signing the likes of Tim Gleason, Brad Malone and Jay McClement were a bit of a let down. However, Francis did manage to sign the three players for a little under $3 million total, and in hindsight, those signings certainly weren't the worst moves to make. Malone and McClement are part of a really strong 4th line for the Canes, and Gleason is a much better signing at $1.2 million than his previous $4 million.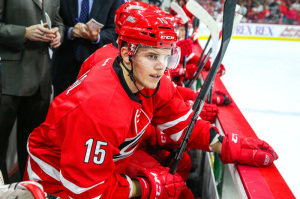 In season, Francis has made two moves: Grabbing Andrej Nestrasil off waivers on November 20th, and trading Jay Harrison to the Winnipeg Jets on December 18th. The first move was, by far, the more impactful one. No doubt influenced by Peters, who was familiar with Nestrasil while with the Red Wings organization, the move has paid dividends for the Hurricanes of late. The Czech winger has 3 goals and 5 points over the last 5 games, providing some much needed depth scoring to the lineup. His play for the rest of the year could be a deciding factor in whether Nestrasil can fill in a role that may be opened by Jiri Tlusty's absence.
A Game of Chicken
Of course, the trade deadline is one of the key times that general managers earn their paychecks, and Francis has plenty of opportunity to strut his stuff this year. Defenseman Andrej Sekera is considered one of the biggest pieces on the market at the moment, and role players like Jiri Tlusty and Jay McClement are always desired by teams hungry for a Cup run.
Francis is allegedly asking for a 1st round pick and a prospect for Sekera, a value that isn't too out of line with the market that has already been set. Cody Franson earned a 1st round pick for the Toronto Maple Leafs, so asking for a minimum of that is the least Francis can do. However, he also must consider the market conditions. While it's true that Franson being off the market means one less defenseman available for teams to bid on (and therefore, a theoretical higher price for Sekera), a 1st round pick is a rare commodity in today's NHL, and the Franson trade means there's one less pick available as well.
Ultimately, it comes down to a game of chicken between Francis and opposing general managers. It's public knowledge that Francis doesn't believe the organization can meet Sekera's asking price for a new contract. They wouldn't be trading him if they could. And the last thing the Hurricanes can afford is letting Sekera walk to free agency without getting something for him. Other GMs know this and will lowball Francis because of it. That, in combination with Francis' new status as general manager, could lead to a low return for the defenseman. Francis should stick to his asking price for as long as he can, but if the clock is winding down, and push comes to shove, he should simply get what he can for the coveted defenseman.
A New Chapter
There's very little that Francis can do to tarnish his reputation for Hurricane fans. His time as a player, within the Raleigh community, and in the Hurricanes organization has earned him a lifetime of goodwill. He's got his number hanging in the rafters of the PNC Arena, and holds the honor of being the first hockey player in the North Carolina Sports Hall of Fame (surrounded almost entirely by basketball players). Even now, as general manager of the organization, most Canes fans realize he's simply trying to sort through the mess than Jim Rutherford left behind. It will take years to see a team that is exclusively his own.
However, that doesn't mean he won't be scrutinized for the moves he makes or doesn't make when the trade deadline rolls around. He's taken over an organization that hasn't seen the playoffs since Avatar and The Hangover competed for box office numbers. Patience is quickly running thin in Carolina. How Francis begins this new chapter to his life and, more immediately, faces his first big test as GM, will determine whether "Ronnie Franchise" can save the team once again.
Jonathan Gardner currently lives in Raleigh, NC and covers the Carolina Hurricanes.