"I think we're the best team. We have a lot of speed up front, we're great defensively, and we have good goaltending, so I think we have all the pieces to win the gold medal."
A bold statement from a bold kid. Some might even go so far as to call him 'cocky'. But Nashville Predators' defenseman and rookie Seth Jones – known around the internet as American Hero Seth Jones after the 2013 World Junior Championship performance that backed up that quote – is able to make bold statements because he supports them with a work ethic and a dependability that is beyond his nineteen years.
No one is suggesting that Jones hasn't had his struggles in his first NHL season. He spent a large chunk of games playing on his off side because of Nashville's surplus of right-handed shots on defense. This situation was eventually resolved by the deal that sent Kevin Klein to New York in exchange for defenseman Michael Del Zotto, allowing Jones to return to the right side, but this trade happened at the end of January, well into the season.
Early in the year, he was thrown onto a pairing with captain Shea Weber when Roman Josi suffered a concussion against the Colorado Avalanche. Playing with Weber, who draws top assignments against the league's best players night after night, can be intimidating and tough for anyone, much less an inexperienced player like Jones.
You could, of course, argue that Jones is a rookie, only nineteen, and struggles are to be expected.
You could. Jones won't.
A Higher Standard
In November, the Predators went through a five-game stretch with a team record of 1-4. Jones was a minus player in all five. It didn't sit well with the team or their rookie.
"That's unacceptable and not to my standards," Jones said of his play at the time. This would be another statement from Jones that he backed up with his game; Nashville followed the losing skid with a three-game win streak, and Jones was an even or plus player in all three, recording a point each in two (Jones currently has 23 points on the season, including 6 goals and 17 assists).
The fact that Jones holds himself to such a high standard of play is something that his coaches witness every day, and it has an impact.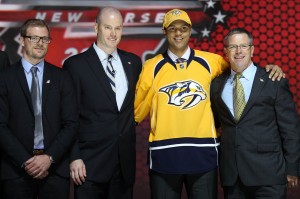 "There's not many 19 year olds who are getting put — especially on defense — getting put head to head against the best in the business every night without us even thinking twice about it," head coach Barry Trotz said earlier in the season.
A time when Trotz and assistant coach Phil Housely didn't "think twice" about putting Jones out against the best in the business? When Shea Weber was out in the fall for two games after taking a puck to the face, they had no reservations about putting Jones on the ice for absolutely insane minutes for a rookie defensemen, his totals topping 30 minutes against the Flyers on November 30th and hitting 29:40 against the Canucks on December 3rd.
Jones is large, hitting 6'5" and 210 lbs, but he is agile, quick in a way that one wouldn't expect from a teenager as lanky as he still is. At the Predators' development camp in July, to the eye of a bystander he appeared twice as fast as any other prospect on the ice, and entirely in control of his body. Assistant coach Phil Housely, who had a chance to coach Jones pre-draft at the 2013 World Junior Championships, noted that his skating ability is a large part of the reason the coaching staff feels they can depend on him they way they do.
"You have to be a good skater to play on both sides," Housely explained. "In today's game, you see a lot of defensemen who can pivot very well. Some pivot well better to one side than the other. It was good to see him be able to throw that rope because we needed somebody to play left who was a right handed shot….His escapability, to be able to spin and get away and create some space for himself is an asset to the way he skates."
Jones Developing Consistency
Trotz has described the pattern of a promising rookie as his play following an upward arc until he hits a wall, where it drops off. The arc begins rising again, and the next time the player hits that wall, he doesn't drop as far. This pattern repeats until the player achieves the desired end: consistency.
That's the direction that Seth Jones is heading. Without a doubt, he's had his setbacks this season. But because he holds himself to that higher standard, demanding more of himself than anyone else demands of him, Jones is on the path to becoming the franchise player that the Predators saw in him when they selected him in New Jersey.
"You can't get too high or too low (if) you have a stretch of good games or a stretch of bad games. It's normal but like I said it's a long season, it's 82 games," Jones said. "You've got to stay as consistent as possible."
Jones' focus on remaining consistent have paid off, both for the team and for Jones himself. It is that effort that established the trust necessary for Trotz to put him on the ice in overtime against the Ottawa Senators Monday night, and it was Jones who scored the game-winning goal.
"I was just kind of backing it up," Jones said. "Ellis is great at shootouts, so I kind of knew he was going to do that move actually and he set himself up for it and it was just kind of laying there, so I just kind of tapped it in."
Though Jones uses the phrase "just kind of" to describe the positive events that happen when he is on the ice, he is simply being humble. None of those events "just kind of" happen. Jones makes them happen.