It is rumored that there are four potential teams giving their first-round draft picks to the Vegas Golden Knights as part of their plan to protect as many of their current roster as possible. Those teams are the New York Islanders, Columbus Blue Jackets, Anaheim Ducks and Tampa Bay Lightning.
The New York Islanders may be in a bit of a different position as they try to not only protect players but shed salary in the hopes they can bolster their roster before the 2017-18 regular season. Part of their decision making stems from a plan to keep superstar John Tavares happy and in the organization.
Islanders Protected List Demonstrates Plan
The New York Islanders took an interesting approach when preparing their protected list for the 2017 NHL Expansion Draft. Instead of protecting seven forwards and three defensemen, they protected five defensemen leaving a number of talented forwards exposed.
Interestingly, the Islanders protect 5 D and 3 Forwards. Source indicates Isles will give up a 1st round pick to keep Vegas off forwards.

— Darren Dreger (@DarrenDreger) June 18, 2017
General Manager Garth Snow elected only to protect forwards John Tavares, Andrew Ladd and Anders Lee. Among those he's left exposed are 56 point player Josh Bailey as well as Brock Nelson, Ryan Strome, Casey Cizikas and Cal Clutterbuck. It makes sense in many respects that Snow would need to use a draft pick or prospect as bribery not to dent his productive forward corps.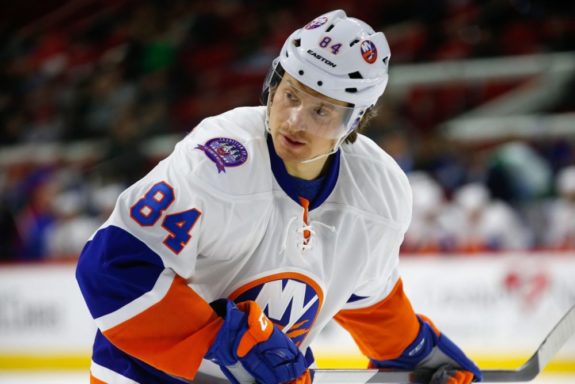 Multiple sources are reporting that a deal would include Mikhail Grabovski, who suffered a concussion in March of 2016. Grabovski's $5-million cap hit is on the books for one more season for the Islanders and moving out Grabovski's contract would help tremendously in giving the Islanders flexibility to make moves for players like Matt Duchene or Jordan Eberle. Without the move, the Isles don't have the cap room to make such trades.
Islanders' Wanted to Pick Available Blueliners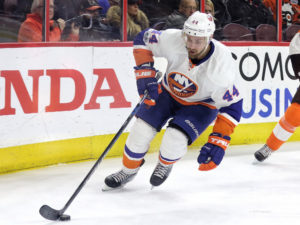 On the defensive end, the Islanders have left Calvin de Haan, Thomas Hickey, Scott Mayfield and Dennis Seidenberg free for Vegas. This proposed deal and the Isles protected list sends a clear message that the team knew which blueliners they wanted to keep and which they were willing to let go.
Perhaps surprising is that Snow decided to protect Adam Pelech over Calvin de Haan. It's not that there wasn't a chance the Isles would lose de Haan, it's just that many assumed it would be as a result of protecting forwards which the Islanders appear to be doing using trades.
If Snow has a deal worked out to save his forward group and remove larger contracts, it appears the Islanders have decided that Pelch is more their future than de Haan is.
Matt Duchene and Jordan Eberle
In the end, what all this appears to suggest is that when the NHL Expansion Draft comes and goes, the Islanders will be in a position to go fishing. Duchene and Eberle have been rumored to be on the team's radar and if Snow's plan falls into place, we could see the Islanders as one of the busier teams in this NHL offseason.
Grabbing a player of this caliber is sure to give Tavares a reason to stick it out and when all this maneuvering is said and done, that may have been the ultimate play all along.