This is a collaboration between Vegas Golden Knights writers Thomas Conroy and Shayna Goldman analyzing the 2017 Expansion Draft by division. The Metropolitan Division predictions can be found here and the Central Division preview can be found here.
All NHL teams submitted their protected and exposed player lists to the National Hockey League on June 17. The Vegas Golden Knights have until 5 p.m. EST on June 20 to make their selections from each of the 30 franchises and submit them to the league. On June 21, the Golden Knights will reveal their draft choices that will make up their first iteration of a roster – although that roster could transform before their inaugural season begins between free agency, trades, and the NHL Entry Draft.
2017 Expansion Draft Rules
As it was outlined in the Metropolitan Division predictions, along with requirements for teams in how they protect and expose players, there is a structure that general manager George McPhee and the Golden Knights must abide by when making their selections, including selecting at least 14 forwards, nine defensemen, and three goaltenders. This leaves the Golden Knights with four other selections that can be of any position.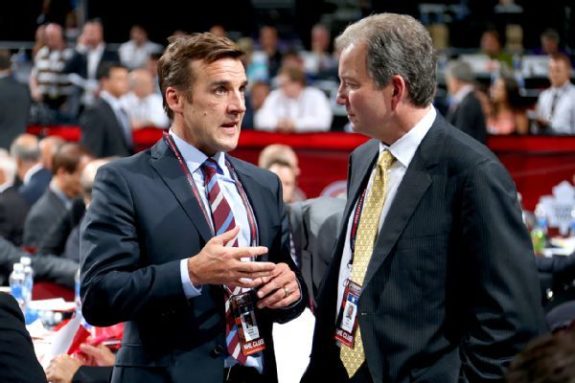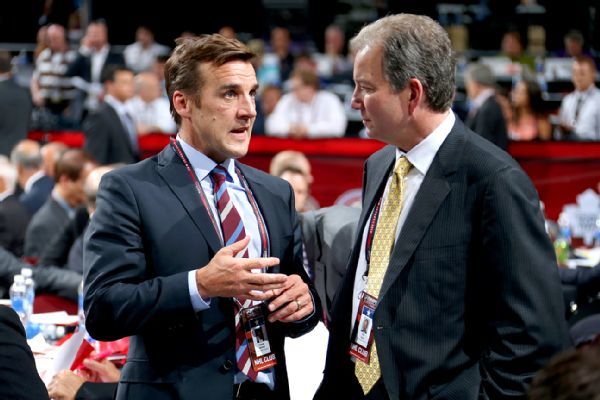 Additionally, the Golden Knights are limited to selecting a total of 10 free agents – any combination of pending unrestricted and restricted free agents. Also, the cumulative cap hit of all the players selected in the expansion draft must fall between $43.8 million (60 percent of the 2016-17 salary cap) and $73 million (the 2016-17 cap ceiling). Even if the Golden Knights select an unfavorable contract in the draft, they may not buy out a contract they selected for at least one year.
Some teams were constrained by the protection and exposure requirements of the expansion draft, which is why some valuable players were left exposed. Leaving certain assets exposed though does not necessarily mean that a team will lose those players, as McPhee could be bribed with assets such as draft picks and prospects to not select a certain player. On the other hand, McPhee could also be bribed to draft a particular player – such as the Chicago Blackhawks dangling Trevor van Riemsdyk on the condition that they acquire Marcus Kruger as well.
McPhee has also made it clear that he is willing to trade exposed players to a team for more than the players they left available. For example, the Golden Knights could select Matt Dumba from the Minnesota Wild in the draft and flip him to a team for a protected player after the draft concludes.
Chicago Blackhawks
The Blackhawks are rumored to have a deal in place with the Golden Knights revolving around Trevor van Riemsdyk. The 25-year-old defenseman, who carries a cap hit of only $825,000 for another season, is thought to be a commodity around the league. Since teams expressed their interest in van Riemsdyk, who was inevitably going to be exposed if not moved prior to the draft (due to the no-movement clauses of Brent Seabrook, Duncan Keith, and Niklas Hjalmarsson), the Blackhawks dangled him to the Golden Knights.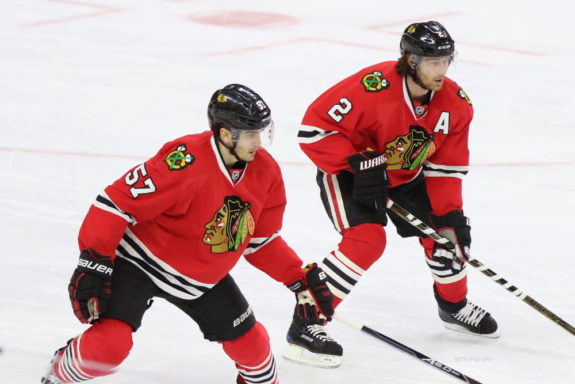 According to the rumors, van Riemsdyk will be attainable in the condition that the Golden Knights also acquire Marcus Kruger and his cap hit of $3,083,333. If the Golden Knights are low on their cumulative cap hit, then they could draft Kruger and trade for Van Riemsdyk after as well.
Predicted Player Selected: Trevor van Riemsdyk
Colorado Avalanche
The two most attractive options to the Avalanche may be 23-year-old center Mikhail Grigorenko and 25-year-old goaltender Calvin Pickard.
Once starting goaltender Semyon Varlamov's season ended due to injury, Pickard was given the opportunity to showcase his skills. Unfortunately, the dismal team in front of him did not do him any favors. Still, the young goaltender is a low-risk option (with his $1 million cap hit for one more season) with high upside – whether the Golden Knights retain him or flip him for other assets.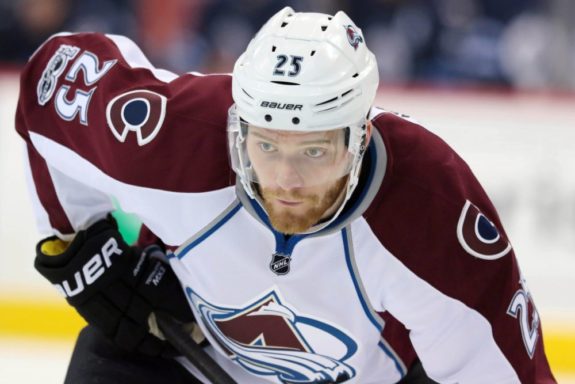 Grigorenko, on the other hand, is a pending free agent (as his one-year, $1.3 million contract is expiring). He too is a low-risk option as a bottom-six forward on the Golden Knights. With the number of valuable goaltenders available, Grigorenko may be the more likely option to be selected by Vegas.
Predicted Player Selected: Mikhail Grigorenko
Dallas Stars
Ideally, the Stars unload a goaltender (since they have over $15 million in cap space dedicated to three of their goaltenders, Ben Bishop, Kari Lehtonen, and Antti Niemi) on the Golden Knights. While they could offer McPhee assets to convince them to absorb one of those contracts, with the number of talented goaltenders available, this seems like a challenging task for the Stars.
Instead, the focus may shift to a forward or defenseman for Vegas. Cody Eakin could be one of those options. The 26-year-old center is under contract until 2020 with a cap hit of $3.85 million. Since his play slipped this season (only earning 12 points in 60 games), Eakin was exposed instead of forwards like Brett Richie and the contract of Valeri Nichushkin. If not to be a part of the Golden Knights, Eakin could be flipped to a team in need of a depth center.
Predicted Player Selected: Cody Eakin
Minnesota Wild
Before the trade freeze, the player to watch was Jonas Brodin. Rumors swirled about the Wild trying to move him before the expansion draft so they could protect one more defenseman. Since he was not moved, both Marco Scandella and Matt Dumba were exposed.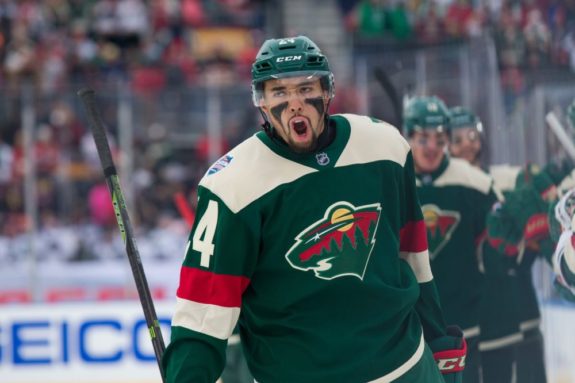 Unless the Wild have a deal in place to protect Dumba, he is the top option for the Golden Knights to select. The 22-year-old defenseman only carries a cap of $2.55 million. Dumba looks to have high potential, which is why he is the obvious choice for McPhee.
But if the Wild do have a deal in place to keep Dumba protected, the next option for Vegas to look at may be Eric Staal. After spending his career in Carolina, he was dealt to the New York Rangers last season before signing as a free agent with the Wild. After his production dipped in recent seasons, he rebounded with the Wild and made himself a valuable asset again.
Predicted Player Selected: Matt Dumba
Nashville Predators
The Predators decided to protect eight skaters in order to protect their core defensemen of P.K. Subban, Roman Josi, Mattias Ekholm, and Ryan Ellis. This leaves a number of skilled forwards available to the Golden Knights, like Colin Wilson, Craig Smith, James Neal, and Pontus Aberg.
The marquee name left exposed is Neal. While Neal's performance in recent seasons was not one that merited being exposed, his $5 million contract expiring in a season justified the decision. The Predators have managed to maintain cap space by balancing the costs of their contracts. The 29-year-old Neal will look for a raise at the conclusion of next season that the Predators may not be able to afford. If the Golden Knights want a player that will perform right now, but will require a costly cap hit, then Neal is the player to select.
On the other hand, there are less expensive options that could become long-term fixtures in Vegas, like Pontus Aberg. Aberg, who is only 23 years old, has just finished his three-year entry-level contract (with a cap hit of $780,833). While he is a lesser known commodity than Neal, he emerged this postseason and looks to have a bright future ahead of him – whether it is in Nashville or Vegas. If the Golden Knights can afford to acquire another pending free agent, then Aberg may be the wiser option, especially if they are looking to build a team around young talent.
Predicted Player Selected: Pontus Aberg
St. Louis Blues
The Blues predictably protected seven forwards, three defensemen, and one goaltender. The surprising aspect of their protection list, though, is that they protected Ryan Reaves. If exposed, Reaves looked like an unlikely target for the Golden Knights, so to use a protection spot on him rather than a younger, more skilled option (like Jori Lehtera, David Perron, Dmitrij Jaskin, and Ty Rattie) may prove costly.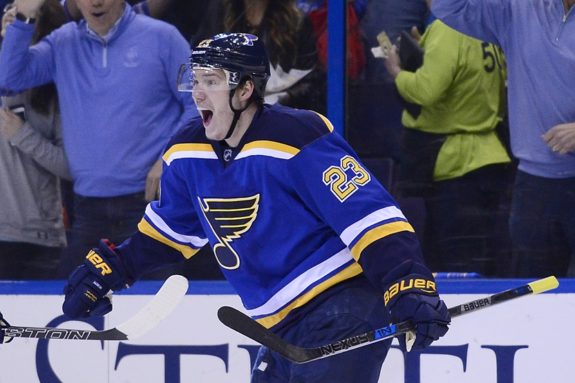 Jaskin was one of these younger, skilled options left available. He is one of the least expensive available options from the Blues' exposed list who is actually signed through next season. The 24-year-old right-winger only has a cap hit of $1 million next season, giving McPhee more flexibility in their salary cap elsewhere. In the few games he played in the postseason this year, he impressed and may have created a lasting impression for the Golden Knights.
Predicted Player Selected: Dmitrij Jaskin
Winnipeg Jets
Before the Jets submitted their protected player list, they re-signed Marko Dano to a one-year, $850,000 contract. If Toby Enstrom approved waiving his no-movement clause, the Jets would be able to protect seven forwards, three defensemen, and one goaltender instead of eight skaters. Prior to re-signing Dano, the Jets only had seven forwards under contract for next season, meaning that one pending free agent would have to be re-signed if they were going to protect all of those signed players.
By exposing Shawn Matthias, though, the Jets met that requirement. Still, Dano, a 22-year-old center, was exposed to the Golden Knights, and now the Jets risk losing him to the Golden Knights. This season, Dano impressed despite his limited role. He has demonstrated how his play is worthy of a larger role, which he may find in Vegas since he is one of the most appealing options for McPhee to select.
Predicted Player Selected: Marko Dano