This is a collaboration between Vegas Golden Knights writers Thomas Conroy and Shayna Goldman analyzing the 2017 Expansion Draft by division. The Atlantic Division preview can be found here and the Metropolitan Division preview can be found here.
2017 Expansion Draft Rules
As it was explained in the Metropolitan Division preview, all 30 NHL franchises must abide by a number of parameters set by the National Hockey League for this expansion draft. There are requirements for both exposing and protecting players.
All first and second-year professionals are exempt from the draft, as are players on long-term injured reserve (LTIR). Players with active no-movement clauses (NMC) must be protected as well, unless they were asked to waive the clause. Teams face a deadline to buy out players (which can be used to avoid protecting a player with a NMC) on Thursday, June 15.
First, all teams must meet the exposure requirements or face sanctions from the league. Teams must expose at least two forwards and one defenseman that are signed through the 2017-18 season and that played at least 40 NHL games in the 2016-17 season or 70 games in the last two seasons. At least one goaltender that is either under contract for next season or is a pending free agent (that received his qualifying offer from his team before the protection lists are submitted) must be exposed as well. Golden Knights general manager George McPhee does not have to select these players that are exposed to fulfill the requirements, but he must have the option.
Along with meeting those requisites to be exposure-eligible, teams must follow rules for protection as well. Teams have to submit a protection list to the league by 5 p.m. EST on June 17. Those protection lists can follow two structures: protecting seven forwards, three defensemen, and one goaltender (7F/3D/1G); or a combination of eight skaters and one goaltender (8FD/1G).
Chicago Blackhawks
The Blackhawks have eight NMCs to consider in their expansion plans. On offense, Patrick Kane, Jonathan Toews, Marian Hossa, and Artem Anisimov all have to be protected. Defensemen Brent Seabrook, Duncan Keith, and Niklas Hjalmarsson, and goaltender Corey Crawford, all must be protected due to their NMCs.
As much as the Blackhawks worked with the expansion draft in mind by re-signing defenseman Michal Rozsival and forward Jordan Tootoo, they still are at risk of losing a key piece. The piece the Blackhawks are most likely to lose is Trevor van Riemsdyk. Since van Riemsdyk is thought to be an asset by other teams, the Blackhawks were rumored to have ensured van Riemsdyk is still available to the Golden Knights by the expansion draft on the condition that they acquire Marcus Kruger as well – since the Blackhawks could use the cap relief.
Colorado Avalanche
The Avalanche could follow either protection scheme. If the 7F/3D/1G method is chosen, the forwards protected would include Nathan MacKinnon, Matt Duchene, Gabe Landeskog, Mikhail Grigorenko, and Sven Andrighetto. Then on defense, the third defenseman to be protected alongside the two with NMCs (Erik Johnson and Francois Beauchemin) would likely be Tyson Barrie – unless he is moved, since there has been speculation on whether he will remain on the Avalanche.
If the Avalanche prioritize protecting a fourth defenseman, like Nikita Zadorov, they could limit themselves to four forwards (MacKinnon, Duchene, Landeskog, and a fourth forward). A number of forwards on the Avalanche have also been featured in trade rumors, so this all depends on who is still on the team come the expansion draft.
Semyon Varlamov had season-ending surgery this past season and should be healthy for next season. Since the organization believes he can return to the number-one goaltender they hoped for when acquiring him, he is the more likely choice to be protected. This would leave 25-year-old Calvin Pickard (who is signed through 2018) exposed.
Dallas Stars
The Stars have three NMCs to keep in mind: Jamie Benn, Jason Spezza, and Ben Bishop. They only have seven forwards signed through next season, so they cannot protect all of them because of the exposure requirements. However, since they have unsigned options to protect, they should be able to meet the requisites without issue. With four signed defensemen, the Stars have the flexibility to protect whichever three defensemen they choose.
Where the Stars have a challenge is in net. Recent acquisition Ben Bishop will be protected by the Stars. This leaves them with five other goaltenders – Kari Lehtonen (signed through 2018 with a cap hit of $5.9 million), Antti Niemi (signed through 2018 with a cap hit of $4.5 million), Maxime Lagace (pending restricted free agent), Henri Kiviaho (pending restricted free agent), and Justin Peters (pending unrestricted free agent).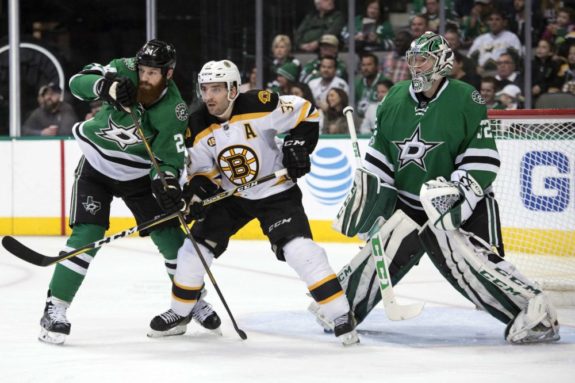 With over $15 million in cap space dedicated to their three NHL netminders (Niemi, Lehtonen, and Bishop), the Stars have to move at least one of their goaltenders. Since the Golden Knights have expressed their willingness to absorb more significant contracts for the right price, they could try to move either Lehtonen or Niemi to Vegas ­­– possibly by offering a prospect or draft pick (since the Stars have all of their draft picks for the next three seasons, plus the Anaheim Ducks' 2017 first-round pick and Blackhawks' 2018 fourth-round pick).
Minnesota Wild
The Wild are going to be challenged at the expansion draft since they have a number of assets on both offense and defense. Three forwards have NMCs (Zach Parise, Mikko Koivu, and Jason Pominville), but general manager Chuck Fletcher has not commented on whether Pominville was asked to waive his clause.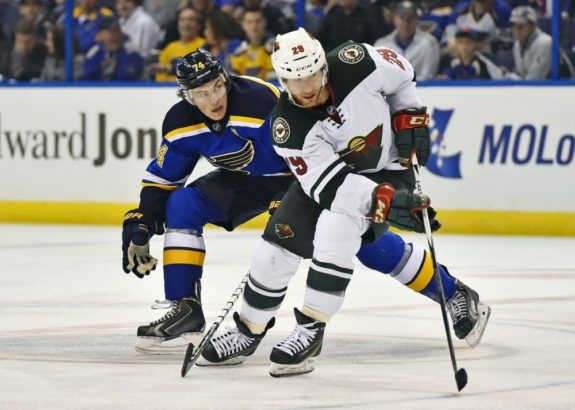 Jason Zucker's impressive season forced him into the conversation for protection. Mikael Granlund will be protected as well. Nino Niederreiter has been involved in trade rumors, but as long as he is still a member of the Wild he will be protected too.
Along with Ryan Suter, who has a NMC, the Wild will have to decide between Jared Spurgeon, Jonas Brodin, Marco Scandella, and Matt Dumba for the other two spots on their protected list. The Wild certainly need to be cautious in their decisions, since the Golden Knights could pursue any of the defensemen they leave exposed.
Nashville Predators
Unless the Predators trade a defenseman, it seems more likely they protect 8FD/1G. Their easiest decision comes in net, with Pekka Rinne and his NMC. In front of Rinne, the Predators could protect their top four defensemen: P.K. Subban, Roman Josi, Mattias Ekholm, and Ryan Ellis. As for the four forwards, Viktor Arvidsson, Ryan Johansen, and Filip Forsberg are the most obvious choices. The fourth choice spot could go to James Neal. However, his contract expires in a season and could be costly for the Predators, so they
As for the four forwards, Viktor Arvidsson, Ryan Johansen, and Filip Forsberg are the most obvious choices. The fourth spot could go to James Neal. However, his contract expires in a season and could be costly for the Predators, so they could look to move him. If so, they give themselves the option to protect a younger forward like Pontus Aberg instead.
On the other hand, they could move one of their defensemen to give themselves the flexibility to protect seven forwards – increasing the chance of forwards like Calle Jarnkrok, Colton Sissons, Craig Smith, Colin Wilson, and Aberg being protected.
St. Louis Blues
The Blues are likely to protect 7F/3D/1G. With 10 forwards that are signed through next season that meet the exposure parameters (Vladimir Sobotka is signed, but did not play enough games to fulfill the requirements) and no NMCs, they can protect whichever players on offense they choose.
Vladimir Tarasenko will definitely highlight their protection list. Players like Jaden Schwartz, Dmitrij Jaskin, David Perron, and Sobotka are all considerations as well. Alexander Steen, despite being an important member of the Blues' offense, could find himself exposed since he is already 33 years old with a cap hit of $5.75 million through 2021.
In addition to not having any NMCs on offense, they do not have any on defense or in net. Also, they have five defensemen signed through next season and three goaltenders that are exposure-eligible, giving the Blues the latitude to protect any combination of players. The most definite choice on defense is captain Alex Pietrangelo. Joel Edmundson is the youngest defenseman and least expensive of the Blues' core defensemen, so he may find himself protected as well.
Winnipeg Jets
The Jets have two players with NMCs, both of whom are on defense (Dustin Byfuglien and Toby Enstrom). It was questioned whether or not Enstrom was asked to waive his NMC, but no conclusive answer has been announced yet. If Enstrom was not asked, then the Jets may prefer to protect 8FD/1G to ensure both Tyler Myers and Jacob Trouba can be protected. However, that leaves a number of valuable forwards exposed.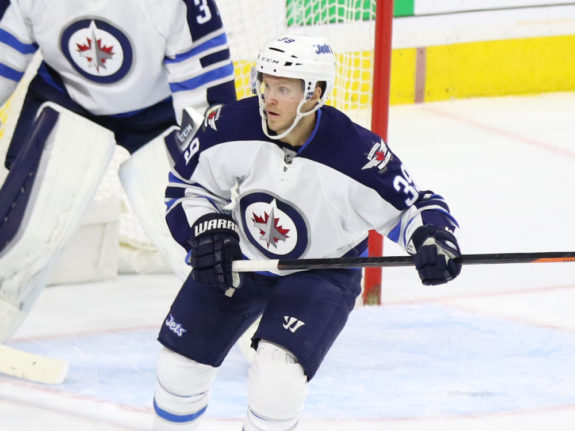 On the other hand, if the Jets did get Enstrom's approval to waive his NMC, then they could instead protect 7F/3D/1G. Rather than being limited to four forwards (that would likely be Mark Scheifele, Blake Wheeler, Bryan Little, and Mathieu Perreault), they would have the option to protect forwards like Marko Dano, Adam Lowry, and Andrew Copp as well.