There are reports that the Chicago Blackhawks and Vegas Golden Knights might be working out the final details of a deal that could send both Trevor van Riemsdyk and Marcus Kruger to Vegas in conjunction with the 2017 NHL Expansion Draft. TSN's Frank Seravalli got the ball rolling with a tweet and the word has started to spread with Vegas GM George McPhee acknowledging that the franchise might consummate its first trade as early as next week.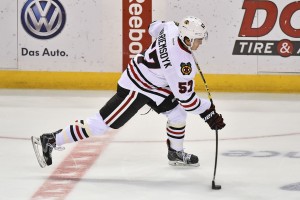 What most are suggesting is that Vegas would select van Riemsdyk in the draft and Chicago wouldn't put up a roadblock if the Golden Knights agreed to also take Kruger and his $3.08 millon cap hit for the next two seasons. Fellow THW writer Scott Kline has a much more in-depth look at the optics of the trade here.
Blackhawks Salary Dump
With the Chicago Blackhawks well over the salary cap ceiling, handcuffed by players with no-movement clauses and needing to shed salary, this move would clear up approximately $4 million. It's not an ideal situation for the Hawks but it's a necessary sacrifice and this type of move may not be the last of its kind in Chicago.
For the Golden Knights, Kruger's salary isn't ideal but it's not a huge concern with only two years remaining on it.
Marcus Kruger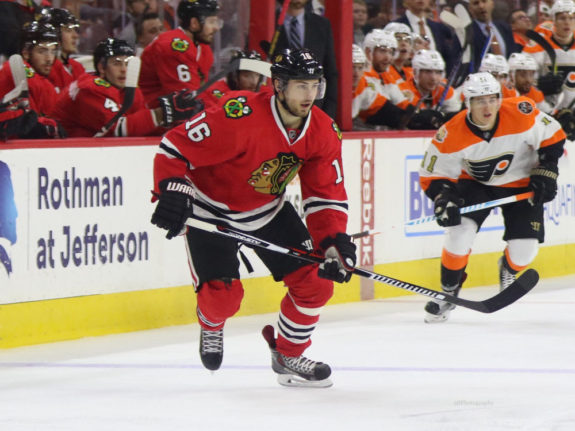 At this stage, Kruger is a depth forward likely best suited in a fourth line role in Chicago. In Vegas, he might be a third line guy. He has usefulness and could likely be much productive in Vegas than Chicago. Kruger finished the 2016-17 regular season with five goals and 17 points and he's the most logical choice for the Blackhawks to try and clear out.
Kruger has been rumored as a player the Hawks have been shopping all the way back to June of 2016. If Chicago can move him, they solve essentially two problems at once. They know who Vegas is taking in the draft and they move out some cap concerns at the same time.
Why Would Vegas Do This?
Some are suggesting that this move doesn't make a lot of sense for the Golden Knights and that the Hawks would be better served to protect van Riemsdyk in the expansion draft or trade him elsewhere. Perhaps McPhee knows this and if the Hawks elect to do so, Vegas would be left to select from some pretty underwhelming options in Chicago's organization. Ensuring they get van Riemsdyk might be worth taking Kruger.
Likelihood of This Deal
Seravalli hasn't suggested this deal is set in stone, but he does think it will be the first of many deals the Golden Knights might make in not-too-distant future. Others have suggested the Golden Knights have an offer on the table that includes a first-round draft pick.
Lots going on with Vegas. I also hear they might net a 1st RD pick from a team for taking on a bad contract… fun few weeks ahead https://t.co/il6PNEcurf

— Pierre LeBrun (@PierreVLeBrun) May 31, 2017
Teams like the Detroit Red Wings, Los Angeles Kings and a couple other teams all qualify as candidates for such a move.
There is usually some quiet time in the NHL around the Draft Combine and the Stanley Cups Finals. That said, expect there to be lots of talks. Chicago and Vegas may be at the forefront of most of those conversations.