Later this month the Vegas Golden Knights roster will finally take shape with the Expansion Draft. A great primer on the rules of the draft from The Hockey Writers is here. For the San Jose Sharks, general manager Doug Wilson's planning has been excellent. The flexibility he crafted into the Sharks' roster leaves a lot of flexibility for San Jose and not nearly the conundrum that faces, say, the Chicago Blackhawks or Columbus Blue Jackets. But even the best-laid plans will mean one current player in the organization will be headed to the southern Nevada desert this summer.
Taking a look at the availability of players listed at PlanMyTeam.com, the Sharks still have some challenging decisions to make. Wilson already said that Martin Jones would be the netminder that San Jose will protect to the surprise of no one, so that is settled. The signings of Melker Karlsson and Joonas Donskoi earlier this summer likely took the most aggressive protection list off the table for the Sharks, but what could have been still is an interesting exercise.
Exposed No Matter What
Let's get the easy list out of the way first. Aaron Dell will be exposed as will Joe Thornton, Paul Martin, Joel Ward, Patrick Marleau and Micheal Haley. Dell is exposed because, well, he has to be. Ward and Haley are replaceable easily from within and Paul Martin due to his advanced age and $4.85 million annual cap hit for the next two years. Dell had a stellar first year in the NHL, but other goalies available make him extremely unlikely to move.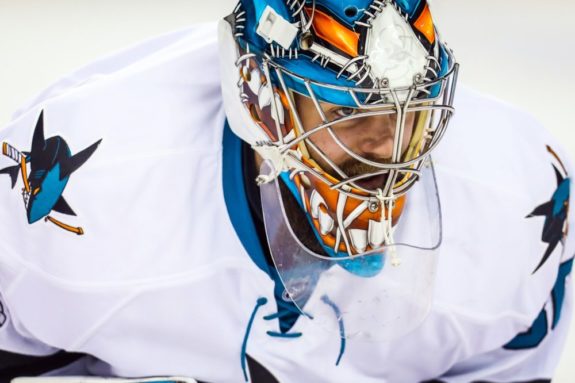 Some might be surprised to see Marleau and Thornton here but as unrestricted free agents for the first time in their illustrious careers, in addition to having 37 trips around the sun under their belts, Vegas likely looks to them, if at all, after July 1. A small bet could be made on Thornton having a handshake deal already in place, surgically repaired knee and all.
From the San Jose Barracuda, you can add Barclay Goodrow, Buddy Robinson, Ryan Carpenter and Zack Stortini as well. The last three names there are unrestricted free agents on July 1.
Protection Plan 1
Starting with what is likely off the table, had the Sharks left Donskoi and Karlsson unsigned until later in the summer, the Sharks could have protected their coveted defensive corps. Locking down the defense would mean an eighth skater and one goaltender scheme.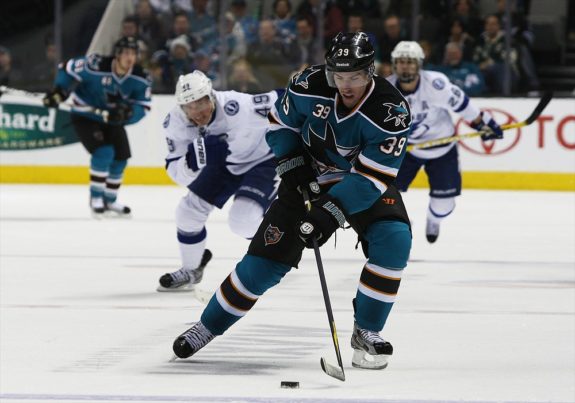 The only three forwards that the Sharks would have protected under this plan are Joe Pavelski, Logan Couture and Tomas Hertl. The other five skaters would all be on the blueline: Brent Burns, Marc-Edouard Vlasic, Justin Braun, David Schlemko, and Brenden Dillon.
The forwards available would be tantalizing for the Golden Knights. Karlsson would be a solid player in the middle-six, and Mikkel Boedker might be best in more arid environments. Maybe Vegas thinks the dry air would help him find his groove again? Also available would be Paul Martin and Dylan DeMelo, two very different players. Martin brings veteran leadership to a new club and still is a dependable NHLer. DeMelo is a restricted free-agent after the 2017-18 season that the Sharks brought along slowly, but a right-handed defender that can run the second-unit power play is an asset all teams covet.
How this Plan Pans Out
Verdict: This plan is likely a thought exercise more than anything. It is more aggressive than the track San Jose generally takes, but you never know.
Vegas Golden Knights Selection: Mikkel Boedker and pray he returns to form in a big role on a team that likely will struggle for goals.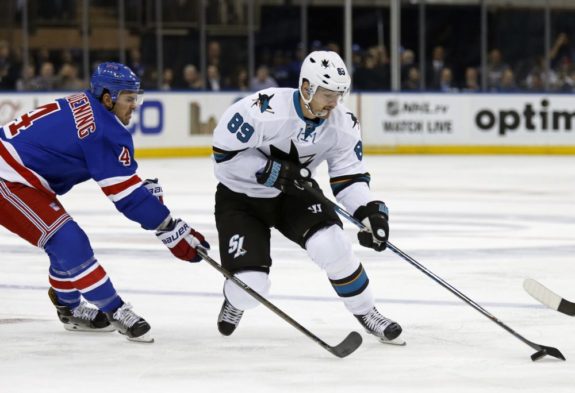 Sharks Fallout: Boedker was a bust in his first year in San Jose, so there is not a lot of production to replace. Depending on where Timo Meier or Kevin Labanc fit into next season's planning it could be absorbed from the current roster.
Protection Plan 2
Now, a more reasonable look at the eight skaters that could land on the protection list from above. This iteration has four forwards and four defenders and protects Boedker, who the Sharks seem to think can regroup over the summer. San Jose then exposes Dillon who, at $3.27 million for the next three years, is a lot to pay for a bottom pairing defender however you slice it.
How this Plan Pans Out
Verdict: Of the two plans protecting only eight skaters, this is the more likely one. It leaves a lot of talent out there, but four NHL defenders off the block mean a protection list like this will get careful consideration.
Vegas Golden Knights Selection: Dylan DeMelo is taken to provide youth, a right-handed shot and reasonable contracts (he is a first-time restricted free agent this summer) for the foreseeable. DeMelo is an NHL ready defenseman looking for a regular defensive job, and Vegas has seven of them. Dillon is tempting, but the cap hit and term prove too much for Vegas general manager George McPhee.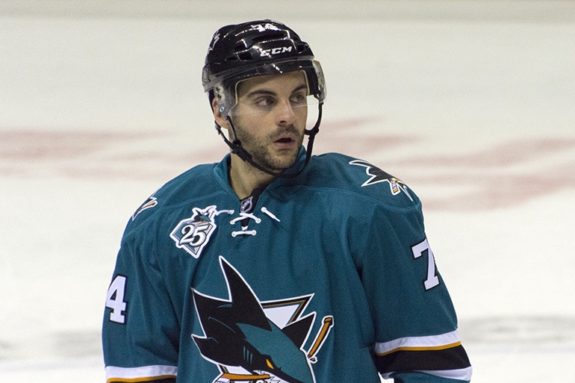 Sharks Fallout: Losing the seventh defenseman is the best possible outcome for the Sharks. Tim Heed and Joakim Ryan (both restricted free agents this summer and exempt from the expansion draft) can battle it out for the vacated spot in training camp.
Protection Plan 3
The most likely of scenario puts San Jose at the traditional model of seven forwards, three defenders and Martin Jones on the protection list.
The seven forwards will include of course Couture, Hertl, Karlsson and Pavelski, all players from the first plan that protected the defense. The two more expansion spots are likely the two Danes on the roster: Boedker and Jannik Hansen, the later is an affordable $2 million cap hit next year on the third line. Chris Tierney can be a dependable center in the bottom of the lineup card and takes the last forward spot available.
The trick then becomes the defense. Burns and Vlasic are surefire locks, so the decision becomes who is the last defender protected. The choice then comes down to Braun or Schlemko. Braun struggled last season but has chemistry with Vlasic. That said, it's likely easier to find a defensive defender that can ride the sizable coattails of Vlasic than it procures an affordable two-way defender like Schlemko even if the former Devil did taper off to end the season.
How this Plan Pans Out
Verdict: This is both the safest and riskiest plan for San Jose. Even the mid-level talent up front is off the table but as likely as the sun is to rise in the east, a defender is selected. But that's an area of organizational depth.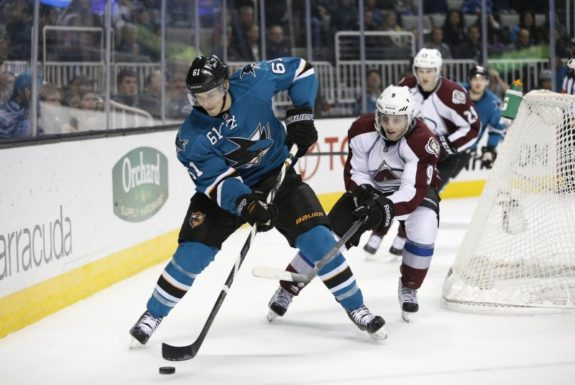 Vegas Golden Knights Selection: Justin Braun heads to the desert to anchor the middle pairing for Vegas. Right-handed Dylan Demelo remains and Tim Heed, who lead all Barracuda defenders in goals, assists and points last season, shoots right as well. Braun's $3.8 million coming off the books helps as well.
Sharks Fallout: Taking the fourth-best defenseman off any NHL will hurt, but DeMelo looks ready for regular minutes. Ryan and Heed still battle it out for a seventh defender role with the big club if Wilson does not go shopping with the nearly $4 million he saves with Braun heading to Vegas.
Closing Thoughts
The wildcard in all of this is Vegas likely picks at least seven or eight prospects or nearly NHL ready players from the expansion draft. They will have to start stocking the prospect cupboard and send a handful of players to the AHL's Chicago Wolves for call-ups during their inaugural season. Picking 30 one-way NHL contracts is not something McPhee is even considering.
For Sharks fans, it is best if you start working through the emotions of losing a defenseman. The most reasonable protection list still leaves tried and true NHL regulars exposed for Vegas and likely better than what else can be had in a shallow July 1 free agent market this summer. The Hockey Writers will have more in the coming days of the Sharks moves between the Expansion Draft and free agency.
Part 1: Three San Jose Sharks Expansion Draft Strategies
Part 2: Draft Pick Targets for the San Jose Sharks
Part 3: Trades, Free Agents Sharks Should Be In On
Part 4: San Jose Sharks Have Contract Decisions Aplenty
Covering all manner of hockey on the West Coast, including the San Jose Sharks, San Jose Barracuda, Stockton Heat, WHL, and random prospect news and notes with random SM-Liiga coverage tossed in as well.