At the end of the NFC Championship in Seattle last Sunday, I immediately thought of one man: Russell Wilson. This man singlehandedly blew the game, but then won the game, all in the same game! When you have a quarterback rating of zero in the first three quarters, you might as well just sit out the rest of the game and call it a season. But in the end, he and the Seattle Seahawks cliched the game in overtime (really, won it by a lucky coin toss), and booked their ticket to the Super Bowl XLIX in Phoenix against the New England Patriots.
The most improbable comeback in the history of football was made here:
The Quarterback position is the most skillful and most stressful of all football positions. When the ball is snapped, the pressure is on the QB to deliver. QBs like Unitas, Bradshaw, Montana, Aikman, Roethlisberger and Brady have made their own legendary status. This guy, this Wilson guy who was a third round draft pick (75th overall), is making his second Super Bowl appearance in only his third full season in the NFL. How great is that?
When it comes to pressure, you could argue that the goaltending position in hockey equal to the QB position, perhaps alongside the pitchers in baseball. When the fate of the game comes down to one guy, very few will stand tall. You can be the hero of the city, or the goat of your miserable sporting career.
Roberto Luongo has seen both the highs and lows. In his 832-game NHL career, he has racked up impressive seasonal numbers, has recently passed Dominic Hasek to sit eleventh on the all time wins list, and is on pace to surpass Chris Osgood, Grand Fuhr and Glenn Hall before season's end. He has notched 68 shutouts so far, sitting atop that stat with the Rangers' Henrik Lunqvist not far behind.
Luongo's playoff highlights have been few and far between. As a Florida Panther twice in his career, he has never made the postseason. In Vancouver however, he had marginal success. In eight seasons there, he has won just six playoff series, the last one being against the San Jose Sharks in the Western Conference Finals four years ago. His last three seasons in Vancouver ended badly. His #1 spot was given to Corey Schneider (who was then traded by GM Mike Gillis to New Jersey), and then Eddie Lack before Lou was traded out of Vancouver after the Heritage Classic debacle. While fans gave Lou a well-deserved standing ovation at his first game back in Vancouver, many are left to wonder how will be his legacy be defined when his career ends.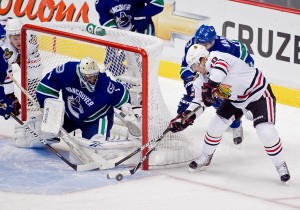 You can't discount Luongo's work ethic. He is the hardest working goalie to date, and his toughest critic is always at himself. When called upon to play the big game, Lou will be there to give his team a chance to win. In two notable games, he has clearly demonstrated that.
Gold Medal Game – Canada vs. USA, 2010
On the biggest stage at the Winter Olympics, Team Canada and Team USA faced off for the Gold Medal in where else, but Vancouver, Lou's turf. Canada was up 2-0 thanks to goals by Jonathan Toews and Corey Perry, but then gave up goals by Ryan Kesler and Zach Parise. Heading into overtime, the North American teams were dead-even. Luongo did what he could, but he was up against a stacked American team that played just as well as the Canadians. The Americans had Ryan Miller who could match up to Luongo mano-e-mano. How ironic that Miller is now in Vancouver and earning his loot, backstopping the Canucks in an impressive first season run so far.
Just a few seconds before the Golden Goal scored by Sidney Crosby, watch as Luongo made the biggest save of his International Career…
Had it not been for Lou's miraculous save, Joe Pavelski would've been the one to score the Golden Goal for Team USA.
Game Seven – Vancouver vs. Chicago, 2011
In the first round of the 2011 Stanley Cup Playoffs, the best team of the regular season played the defending Stanley Cup Champions. In the first three games, Roberto Luongo was ever the more cool and composed goaltender. With a Chicago roster that was depleted due to free agency and trades, many would've thought the Canucks would sweep their way easily. Not so fast.
The Blackhawks stormed back in a big way by winning 7-2 in Game Four, 5-0 in Game Five, and 4-3 in OT in Game Six with Schneider starting in net instead of Roberto.
Just like at the Gold Medal match, the game was a tight one. Once again, Luongo faced his toughest test. Before Burrows scored the OT/Series winner, Lou made the biggest save of his NHL career, against future Olympic teammate Patrick Sharp…
Russell Wilson and Roberto Luongo are alike in some ways. They've both faced doubts at the beginning of their careers, they've been able to face all their critics head on, and they've been able to bounce back from adversity in some of the biggest games. Both men have won championships in some form (Wilson's Super Bowl in 2013, and Lou's two Gold Medals in 2010 and 2014.)
What are some differences? Wilson went from zero to hero in one game. Luongo took three seasons against Chicago (2009 to 2011), and six games after taking over from Martin Brodeur to go from goat to golden. It's all in how you look at pacing yourself to become a credible sports athlete, to which both men clearly are.
And while Wilson's career has just started, Luongo's is starting to wind down. Will Luongo win his elusive Stanley Cup? With Florida, there may be a shot if he and the Panthers can squeeze into a wild card spot in the Eastern Conference. That won't be known until the end of April.
For Wilson, he's gearing up for his second Super Bowl appearance in less than two weeks.