The Chicago Blackhawks have taken over the 2015 All-Star roster and it's not at all surprising after seeing here just a little more than a month ago where they were standing with votes. Some of their biggest named players made the five spots out of the First Six All-Stars list and with over five million votes all together, they definitely deserve their places with all of the talent they've shown.
1. Patrick Kane
The right winger took first place between his team for the amount of votes he received and let's face it, is it really an All-Star team without Kane? It wouldn't be in a million years. So far this season, he's Chicago's leading scorer with 21 goals in 45 games and is tied with his captain in the assists department at 27. He won't be playing on the same side as Toews but he can handle his own just for one game without his sidekick. He's quick and tricky on the ice and will be able to help his teammates stack the goals up if he doesn't score any himself.
Jonathan Toews and Patrick Kane are already debating All-Star Game selections during #Blackhawks' practice. pic.twitter.com/kHi47QnsaY

— Chris Kuc (@ChrisKuc) January 14, 2015
2. Jonathan Toews
A game without Kane and Toews together would be like Hall & Oates trying to perform separately but they're still going to be pitted against each other. It's like another fight between the North and the South and it doesn't really matter who gets the "W" in the end between them but with someone as competitive as Toews, he won't be going down easy in his fourth All-Star Game appearance. He's been named captain for his team and with his tough playing style, Nick Foligno and his side won't know what's coming to them.
3. Duncan Keith
Keith always manages to impress the crowd on and off the ice and this year's All-Star game is just another chance for him to show what he's made of. He's in seventh place within the Blackhawks with a total of 26 points. The defenseman doesn't score too much with his six goals out of 44 games but he sure does try to help his team out and it shows with his 20 assists. The hard hitter was a great choice with the voters as he has proved that he deserves his spot. Even if he doesn't score any goals, he'll make sure to clear the path just like a freight train so his teammates will be able to try their hands at shooting.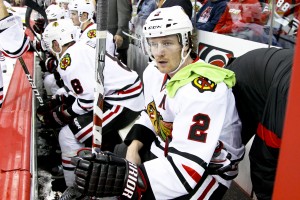 4. Corey Crawford
Crawford hasn't played every game this season and has had a few rough patches but he manged to beat out fellow goaltenders like Carey Price and Marc-Andre Fleury for one of the Top Six spots. The 2015 game is going to be a career-changer for him because this is actually his first one, which means he'll go above and beyond to prove that he really is one of the best. Crawford is one of the league's leaders in goals-against average with a 2.28 and a save percentage of .920 and since coming back from an ankle injury, he'll be just as valuable as any of the other goalies who are also league leaders in the NHL list for the All-Star game.
5. Brent Seabrook
Seabrook was voted in last place in the Top Six category but don't let that fool anyone, this is finally his time to shine. He's right behind fellow defender Keith in the points category with a total of 24. He has seven goals in 45 games and is also a lot higher in his assists with 17 all together but his overall career is something that is often overlooked until now. Seabrook has been with the Blackhawks organization for the last decade and even has two Stanley Cup wins and a gold medal under his belt. If Keith is going to be a freight train, then Seabrook is going to be a Mack Truck. He has a little more of a size advantage over Keith at 6-foot-3 and well over 200 pounds and will be perfect for also getting players out of his way to earn the win.