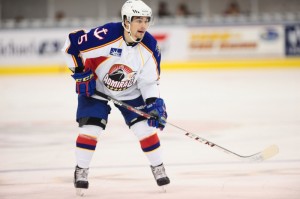 During the months of November and December the Norfolk Admirals, the American Hockey League affiliate of the Anaheim Ducks, were plagued by injuries and call-ups leaving positions to fill.
To fill one of the voids, Norfolk's coaching staff relied on 22-year-old defenseman Kevin Gagne, who filled in as a forward last year under the tutelage of Trent Yawney who is now an Assistant Coach with the Anaheim Ducks.
Current Norfolk Head Coach Jarrod Skalde has inserted Gagne into the lineup as a forward multiple times this year. "It keeps you on your toes. I show up and see where he (Skalde) is going to have me and try to do the best with it," said Gagne explaining how he is handling the transition of moving back and forth between offense and defense.
Gagne's offensive abilities allow him to excel when he is on a forward line, but sometimes he still thinks as a defenseman when he is playing on an offensive line. "Offense is apart of my game on the back end, but obviously I wouldn't say I'm thinking fully as a forward. Sometimes I still think as D even when an offensive position. I try to create some offense and just try to use my speed," said Gagne on his ability to play offense.
The undrafted free agent who signed with Anaheim in 2013 is often moved mid-game from offense to defense by the coaching staff, a transition that the left-handed shot called different. Gagne noted, "It's different I would say. It takes a shift or two when I get back on D to get back into the groove and then I can play my game. When I go forward I use my speed and get out on the forecheck and get myself involved in the game the quickest way I can."
Gagne feels at ease when he's back on the blue line playing D, the position he's played since he first laced up the skates. But the 5'8" Edmundston, New Brunswick native will play wherever he is needed. "I'm a defenseman first, that's where I feel the most comfortable playing, I've played there my whole life. If I could get a choice I would play defense. If forward will keep me in, I'll play anywhere," he clarified.
Admirals Captain Dave Steckel admires the fact that Gagne can play forward and defense. "He's a pretty smart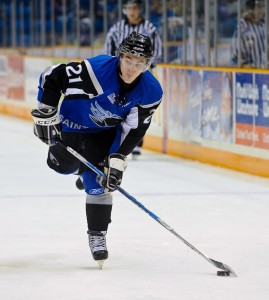 player, not a lot of people can do that the way Kevin can," noted Steckel. He went on to say, "First and foremost he's speed. He brings an element to that line where he is going to be the first guy on the puck or he's carrying it up. He sees the ice very well."
For the past two games Gagne has been a healthy scratch for the Admirals and Head Coach Jarrod Skalde.
This past weekend Skalde talked about Gagne's versatility calling it a luxury. "It's a nice luxury to have and we've used it throughout this year and now it's just a numbers case for Kevin," he noted.
At the moment the Admirals seem to have all healthy skaters, but given Gagne's versatility he'll be back in the lineup sooner rather than later.