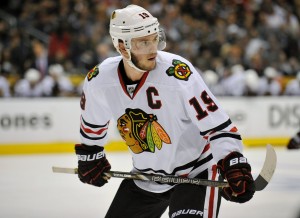 Is it really all too surprising to see four Chicago Blackhawks members claiming the All-Star ballot? Out of the top 10 positions, they currently took over five of them. Forwards Patrick Kane and Jonathan Toews take the lead at the fourth and fifth spot.
Top Contenders
Defensemen Duncan Keith and Brent Seabrook took over the end of the list at places six and nine while goaltender Corey Crawford is eighth, just after fan-favorite Montreal Canadiens goalie, Carey Price. Forward Patrick Sharp is hanging on by a thread at 19th place, just right before Dallas Stars shiner Tyler Seguin.
Just in the first week, more than 3.2 million votes were cast. Canadiens defenseman, P.K. Subban, was the the star with the votes with 100,133 votes while teammate Price had 83,612 to claim third but have since moved to second and seventh place. Pittsburgh Penguins forward Sidney Crosby held on to second place with with over 87,00 but now is in third now as Buffalo Sabres forward Zemgus Girgensons took over the lead. Penguins Teammate Kris Letang scrimped by with enough votes for ninth place but had his position taken over by Seabrook.
#Blackhawks dominate Week 1 of NHL All-Star Voting — http://t.co/e12P52K9WO #HawksTalk pic.twitter.com/im8L5jDiF8

— NBC Sports Chicago (@NBCSChicago) November 26, 2014
The Kane/Toews Factor
Kane and Toews obviously are at the top for their great performance so far this season even if the Blackhawks are 11th in the league overall. Both players have 10 goals in the last 24 games played and Toews is barely trailing behind in the assists department at 13-9 compared to Kane. If they do make it to the All-Star game, the dynamic duo will be a great game changer just all on their own.
The deadline is coming quick to get votes in now with less than a month to go. On Jan. 1, the top six voted candidates by position – three forwards, two defensemen and one goaltender – to be able to play at the 2015 Honda NHL All-Star Game.
I'm from the sunny sides of Anaheim, CA. I currently go to college and am majoring in journalism. I talk hockey in other places so check out my Twitter.