The 2014 IIHF World Championships in Mink (Belarus) has been closed by Russia winning the golden medals. Their rivals, the Finnish team, could keep the pace with the future champs only in the first half of the game. Then the Finns roughed, got lots of penalties and let the Russian stars score and shine.
This year's final game has to a great extent been a battle of the goalkeepers: Sergei Bobrovski vs Pekka Rinne with the former getting the upper end this night.
The game started with a surprise: Russian head coach Oleg Znarok was not allowed to be with his team behind the bench. He watched the whole match from the VIP-stands. The first goal was scored by Russia while in power play – although Rinne was like a wall in the Finnish goal he failed to deflect a sharp angle shot by Sergei Shirokov (pass by Danis Zaripov) and thus Russia was put into the lead at the eleventh minute of the game, 1:0.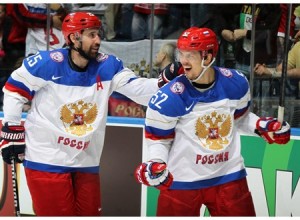 The Finns have managed to score even only three seconds before the close of the first period. Incredible passing combination of Iiro Pakkarinen and Jori Lehteraa ended in the former's shot into Bobrivski's five-hole, 1:1.
In the seventh minute of the second period the Finns managed to put themselves into the lead. While in power play Lehteraa and Jarkko Immonen have exchanged few tremendous passes and the latter shot strongly on the Russian goal. Bobrovski deflected. Olli Pallola was quick on the rebound and he left the Russian goalie no chances.
That was the moment when the Finns could increase their advantage and do decisive steps towards grabbing gold. Instead the blue-and-white team has decided to shoot only secure shots and this resulted in nothing for them. Moreover, the Finns started roughing a lot and got penalty after penalty. The Russians simply had no moral right to spoil the power play opportunities.
In a mere minute after Pallola's goal Alex Ovechkin scored and equaled the score to 2:2. Ovi received a beautiful pass from Vadim Shipachov and outwitted Rinne putting the puck into his goal.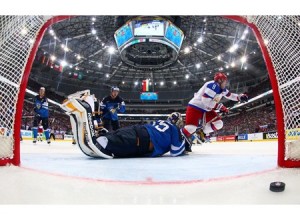 No matter how useless, the Finnish team went on roughing and earning penalties. At the very end of the second period they played 3 against 5 Russian forwards and Yevgeni Malkin brought his team into the lead (3:2).
In the third period Russians scored twice. Zaripov shot precisely from a sharp angle after the pass by Shirokov at 4:24 of the third period. With just 4 minutes left in the game Viktor Tikhonov deflected a shot made by Alexander Kutuzov making the score 5:2 for Russia. Afterwards there were no doubts that Russians would become champions shortly.
The Russian team has showed tremendous results in this tournament: it won 100% of its matches in the regular time and thus can be baptized true champions!