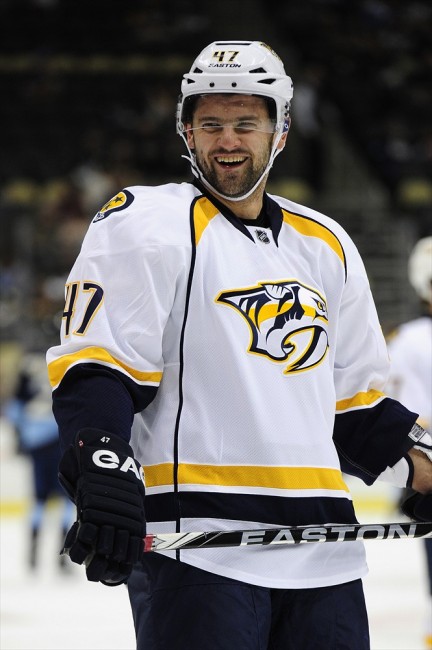 Regardless of whether they return to the lineup in Game 5 or ever this season, the Russian Left Winger Alexander Radulov and the Belarussian Left Winger Andrei Kostitsyn have cemented the decline of the NHL's Russian contingent into obscurity.
Or at least that's the thesis being pushed by some of the hockey media's most serious talking heads in Canada, like the CBC's Elliotte Friedman and the Globe and Mail's James Mirtle. There are less Russians being drafted into and playing in the NHL than there have been at any point in the last twenty years, a point we would be amiss not to link with the falling stock of players from Russia due to commitment/dedication issues.
And this latest musing is not just because of some stupid isolated clubbing incident in Arizona, even though that's what started it. The subtext on this, every time, is that there is something wrong in Russian culture that manifests itself in hockey. Look at Ovechkin and Semin's 4th-line minutes on the Washington Capitals, they say. There's a reason Russian players suffer, or have been known to suffer, from underachievement, lack of commitment, lack of toughness, a spoiled-brat mentality, unreliability and, who knows, maybe even shady mafia connections.
Put aside the fact that if these reporters, who I'm sure are otherwise enlightened individuals, wrote about a different religion or race in relation to hockey skills, their careers would be over. Let's presume innocence and forget this lazy stereotyping about men from a certain country who happen to be white. Are Russians are now really going to be considered radioactive by the NHL's GMs at the draft and trade tables, for the reasons I listed above? Or is that just a convenient story angle when we see some bad behaviour?
The Russians' numbers have been going down in the NHL mainly for one reason. No, it's not that their hockey academies have turned into vodka-drinking schools. It's that there is a league across the ocean in their country, in their language, that pays competitive salaries and has elite talent. What is so strange about that? Think of any great NHL players from the last 20 years who were Russian: Mogilny, Brylin, Kasparitis, Federov, Kovalev – where are they now? They are all involved, as players or personnel, with KHL clubs.
Of course North Americans see own their league as the "real deal" and rise up its ranks as players and often, after illustrious careers on the ice, as personnel. So why would Russians see their league any differently?
Or, to put it another way, if the NHL was some amateur roadshow lucky to get 5,000 spectators to a game, and there was talent, spotlights, and money to be had across the ocean, where would North America's best skaters go?
Then, a few years later, that middling obscure league in North America has become rich and powerful. What thoughts do you think enter the North American who's a star in Eastern Europe's mind first?
The first Russian players in North America, like Larionov and Mogilny, had to defect from the Soviet Union i.e., basically renounce their citizenship. Those were extreme circumstances. Today's Russian players age thirty and under did not live through or remember very little of the iron curtain. There is a league here and there is a league there that pays better earlier. The cold war does not loom large anymore.
But the KHL and its draw do not provide the whole explanation to the spotty performance of certain players who, seventy years after Churchill's famous quote, are again annoyingly being described as "enigmas". The answer to that is a lot less dramatic than these commentators have been insinutating.
Yes, Russian players are less likely to drop the gloves. They often display tremendous skill but then seem absent from entire games. They are usually (Ovechkin notwithstanding) quieter, more soft-spoken, and less fiery in media scrums than North American skaters. Now ask: How exactly does this make them any different from players from all the other European countries?
Hockey has evolved into a truly team game and we should be thankful for that. The reasons the Russians don't dominate any more are the same reasons that nobody dominates any more. Hockey is a 20-man game and that's how it is played now. The goalies are better than ever, the defencemen held to ever skyward standards on the amount of mistakes permitted, and most players with any lasting impact in the NHL now finish quality bodychecks on every shift. This just isn't a league where one guy, even a talented one with great speed and top-notch puckhandling, shooting, and passing abilities, can be expected to win games for you night in and night out.
Who is rising to the top of the pile in the 2012 playoffs? Teams with a lot of good players, almost all competent players, but no real star standouts. The Los Angeles Kings. The Phoenix Coyotes. The New Jersey Devils and New York Rangers. You only had to witness the frustration of Sidney Crosby in the first round to see that no forward in today's league takes their team all the way. The only explanation commentators had was that Claude Giroux must be "the best player in the world" now. And look what's happened to him now in the 2nd round. Pavel Datsyuk, Evgeni Malkin – all-world, explosive players both, failed to make little if any impact in the first round. Oh, but those two happen to be Russian.
My main point is, players are not lacking in finish or commitment – the game has simply evolved. The greatness of the Orrs, the Gretzkys, the Lemieuxs is unquestioned – but watch some old footage. Do you see any goalies standing still or falling on their behinds while trying to make a save these days? People's memories of the past are distorting their view of the lay of the hockey land in the present.
After the halycon sixties, seventies, and eighties came the nineties, and for the first time, a lot of the NHL's memorable talent was coming from Russia. Stuff was happening that was unparallelled. Mogilny's unforgettable 76 goal campain in '91. Pavel Bure's multiple 60 goal seasons. Scotty Bowman himself, referring to the Detroit dynasty of those years, called Sergei Federov one of the most reliable and easiest players he had ever coached. How many forwards today can be moved back to defence like #91 on Detroit was by Bowman on occasion?
It is unfair to hold players to these past standards in the 30 team parity world we live in today.
In the NHL today a different group of guys steps up every year. Corry Perry and Ryan Getzlaf were unstoppable five years ago. This year the team they still lead came in 13th. Kane and Toews have lost the unbeatable lustre they had when they led the Hawks to the cup in 2010. Even Zdeno Chara and Tim Thomas, considered insurmountable last year with Chara's stick covering the whole defensive zone like a windshield wiper, were on a losing team this year. But any team would still take these duos if it could have them.
So yes, it was stupid of Radulov and Kostitsyn at their salaries, in their positions, with the situation their team was in, to do what they did. If the well in Nashville was poisoned (which it appears to have been, as they were benched for game 4 as well), they'll find work elsewhere. But don't frame this as a "Russian" problem. The most consistent thing in the game now is inconsistency. All the stuff asking if players' hearts and minds are in it because of their lack of success or ethnicity is just written to attract eyeballs, nothing more. Any Russian or Belarussian or player from anywhere with proven talent is still going to be coveted by NHL teams.
This generalized Russian-baiting is misguided. Dainius Zubrus is playing really well right now. If he goes into a slump or does something dumb, are Lithuanian players damaged goods? Of course not. But he's the only one in the league.
This year, the three top forwards in this draft are all Russian. And unless you've experienced the extreme bad luck of the Columbus Blue Jackets (whose draft history is a nightmare, KHL deserters and otherwise) or now, Nashville, I'd suspect as a GM you'd still be glad to have them.