The Pittsburgh Penguins were out to acquire a top-six wing and they did just that. They sent Kasperi Kapanen, Nick Spaling, Scott Harrington and first and third round picks in the 2016 NHL entry draft to Toronto to acquire the services of Phil Kessel.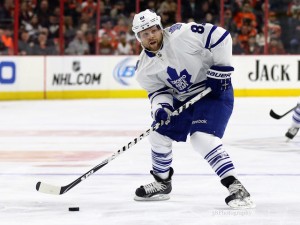 Why did they need a top-six wing? Because the Penguins could not score enough goals. Yes, the Pittsburgh Penguins, with Sidney Crosby, Evgeni Malkin and Kris Letang were unable to score enough. At the same time, the issue that plagued the Penguins wasn't that they did not have enough firepower, but that their players out with injuries or playing hurt.
Blake Comeau played through a terrible wrist injury which nullified his shot, Malkin played with an ankle injury, Patric Hornqvist had a broken rib, David Perron had a bruised rib and Chris Kunitz played through a foot injury the entire season.
Penguins Are Going In Circles
The irony of this entire season is that the Penguins are going in circles. Last offseason, the story was that the team wanted to be deeper and they made a poor trade in an attempt to try and do so. At the 2014 NHL entry draft, the Penguins traded James Neal to the Nashville Predators for forwards Patric Hornqvist and Nick Spaling. The acquisition of Hornqvist was great, but he's not a sniper; Spaling is a viable depth player, but not at $2.2 million a season. Pittsburgh had lost their "trigger man" by sending Neal away.
Then during the season, Pittsburgh couldn't score enough goals and were right back where they started. Trading for Kessel is a good thing, if they can get him to play more two-way hockey. However, there's a problem with this move: the salary cap. The Penguins already were a top-heavy team and now it's actually worse with the addition of Kessel.
Here's a quick figure I whipped up comparing Neal and Kessel and the production per dollar.

Yes, Kessel played in Toronto without a quality center, but the Penguins had a player producing at the same rate for $3 million dollars less ($1.8 when you account for the Leaf's retained salary).
Hornqvist could have been acquired in a different trade, but the Penguins simply would not have had trouble scoring goals with Neal still on the roster.
The New Regime's Toughest Test
Here's a first stab at the Penguins line combination and salary cap hits (Only with players already on the roster)
Kessel – Crosby – Hornqvist: $19.75 million or 28% of the salary cap
Kunitz – Malkin – David Perron: $17.162 million or 24% of the salary cap
Sergei Plotnikov – Brandon Sutter – Pascal Dupuis: $7.675 million or 11% of the cap
No one under contract
The top two lines make almost $37 million or a little over 50% of the salary cap. With nine forwards on the roster, the Penguins have spent $44.5 million or 62.36% of the cap.
Add on Letang, Marc-Andre Fleury, Rob Scuderi, Sutter, Dupuis and Ian Cole and the Penguins are virtually out of salary cap space with an incomplete lineup.
With nine forwards, six defensemen and two goaltenders, the Penguins have spent over $67 million of the $71.4 million salary cap. That leaves less than $1 million per player and would not give the Penguins any room for injuries or trade deadline moves.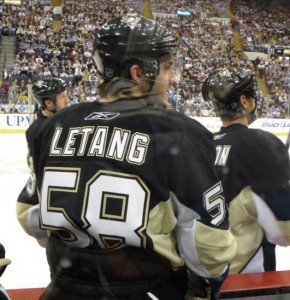 The Penguins can't play their top two lines for the entire game. Rutherford has a vision of "four lines that can score" and it's hard to see how they will achieve this. He needs to start trading off bad contracts in the form of Sutter, Dupuis, Kunitz and Scuderi.
Sure, the Kessel deal looks good at first, but the salary cap is going to make the next few weeks very interesting. It's also time to give Rutherford some credit, he's made a lot of questionable decisions in the last year, but the moves in the last week really have given some inspiration for a fan base that was starting to lose hope.
Rutherford's first few hours of free agency were a success, but his toughest test is ahead.