What an interesting off season this has been for the Columbus Blue Jackets.  This summer has been full of surprises.  The thing that wasn't expected to happen (the Scott Hartnell trade), has been a bright spot.  The thing that was expected to happen (signing Ryan Johansen to a new contract), hasn't happened yet, to the surprise of many.  Fans are nervously waiting to see when Johansen will sign a new contract.  The question has to be asked now: Is now the time to worry about his contract situation?
I have said all along this summer that you shouldn't worry about it.  I still don't think that you should worry about the situation, in the sense of him playing this season.  Ryan Johansen will play this season.  But, with that said, I think it's time that we all keep a very close eye on how this transpires.  Most fans thought this situation would have ended months ago.  The Blue Jackets acknowledged publicly that Johansen was their top priority.  Many didn't think too much beyond this as a result.  But, here we are, later in the summer, still waiting for an agreement.  And it's not like the two sides have been talking diligently about this recently, they haven't talked at all since exchanging their latest proposals.  That was almost a month ago now.
Dispatch: #CBJ, Johansen's agent no closer to deal, with training camp looming less than one month awayhttp://t.co/CudMTTzXtJ

— Aaron Portzline (@Aportzline) August 19, 2014
What's Holding Up Johansen's Contract?
The holdup, as with most contract negotiations, is money.  Reportedly, the sides are roughly $3 million apart per season in salary.  That is a wide gap.  The thought is that the Blue Jackets are offering $3-4 million per season, while Johansen is seeking around $7 million per season.  Both 2 and 4 year deals have been discussed.  The Blue Jackets would prefer a bridge contract, so that they could retain negotiating rights after the contract expires.  Johansen would want a longer term deal, so that when it expires, he would be an unrestricted free agent.  Each side also believes that they have the power in these negotiations.  Johansen's situation is unique.  He went from being benched in the AHL, to scoring 33 goals almost out of nowhere, in the NHL.  What would a fair contract be for Johansen?  The Union Blue asked this question, and wrote an article comparing Johansen to similar players.  It sheds some light on what he should get.
Johansen's situation is unique for another reason as well.  There are elements of this that are good, meaning that there would be no need to worry.  There are also both bad and potentially ugly elements to this, that could drive the two sides apart.  We are going to look at all of the potential elements to this story.  Again, in terms of Johansen playing this year, there is no need to worry.  He will play for the Columbus Blue Jackets this season.  But, the things that could be worrisome are the longer term effects of these continued negotiations.  How this is handled could go a very long way in determining what happens later on.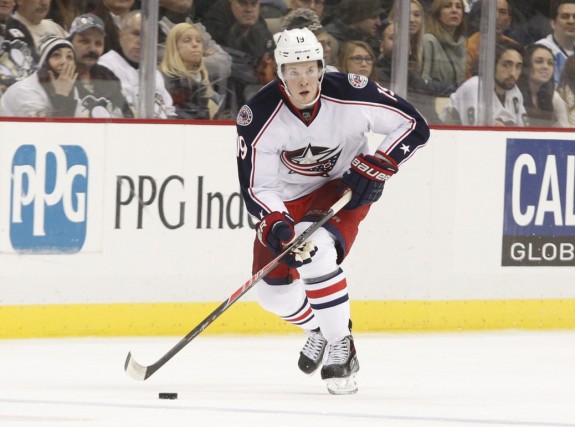 The Good
Even in the midst of this potential stalemate, there are good things to keep in mind.  From the very beginning, both sides have expressed a strong desire to work with the other to get a contract done.  Johansen wants to remain a Blue Jacket.  The Blue Jackets want to keep Johansen.  This hasn't changed.  In the sense of standard business negotiations, there is nothing unusual happening here.  Both sides make their offer, and then negotiate from there to see if an agreement can be reached.  The Blue Jackets continue to view Johansen as a big part of their future.  With that said, there are potentially negative things that could develop as a result of these negotiations.
The Bad
With both sides holding firm on their offers, the possibility of a training camp hold out is definitely in play for Johansen.  This is the last thing Blue Jackets fans want to hear.  But at this stage, it must be discussed.  For an agreement to be reached at this stage, that $3 million gap will have to be addressed.  Ideally, the sides could meet in the middle.  If that happens, a realistic contract could be around 2 years/$10-12 million.  At this point however, given where each side is at now, one of the sides would have to come off their number by $1.5-2 million in annual salary.  When each side thinks they hold power, that is a big difference to overcome.  Could it happen?  Absolutely it could happen.  But it's an unlikely result.  Think of this: when you believe you have power in negotiation, you can sit back and let the other side come to you.  In other words, there is no real rush to adjust your offer, because you think you can get what you are asking for.  Now, because both sides feel this way, you're starting to see why this could turn real bad.  Both sides think a hold out would quickly lure the other back to the negotiating table.  This is where things could turn potentially ugly.
Yesterday was the first time either side would discuss the possibility of a training camp holdout by Johansen, and Overhardt has history.

— Aaron Portzline (@Aportzline) August 19, 2014
The Potentially Ugly
The reason that we need to pay attention to how this situation unfolds is the future ramifications of how these negotiations turn out.  Reaching an agreement before training camp starts would certainly limit the damage.  But let's just say that training camp begins and there is no contract signed yet.  Think of how both sides would view this in a long term sense.  Each would actually think the same thing, but for different reasons.  The Blue Jackets will think that Johansen is not as interested in playing for them as first thought.  Johansen will think that the Blue Jackets don't value him as much as first thought.  Now the sides are doubting each other.  Those feelings could grow over time, to the point of possible resentment.  That could get very ugly.  So even if an agreement is reached, they will both remember that there was a hold out.  To add to this, Johansen's agent, Kurt Overhardt. has been in situations like this before.  Overhardt is also the agent for current Ducks forward Ryan Kesler.  Prior to Kesler resigning with Vancouver, Philadelphia dropped an offer sheet on Kesler, the day before training camp opened in 2006.  Vancouver matched the offer sheet 2 days later.  Offer sheets can be viewed as an ugly situation.  Just ask John Davidson and Mike Gillis what they think of offer sheets.  Although it is not likely, Johansen could, in theory, be offered an offer sheet from another team.  His agent has a history of this.  Bottom line is this.  The longer these negotiations last, the uglier the end result could potentially be.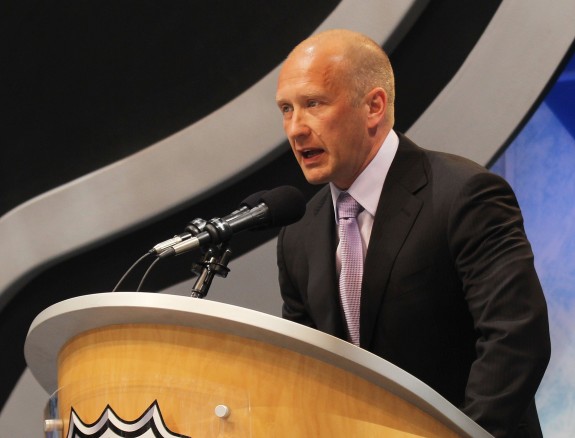 What Can We Expect?
Blue Jackets GM Jarmo Kekalainen has said that there is "plenty of time" to get a deal done.  He has also said that their focus has always been what helps the team first.  The time is ticking until camp opens.  We can expect to see more talks start up again as camp gets closer.  We can expect a deal to be signed at some point.  However, it may take a hold out before it gets signed.  In the event Johansen does hold out of camp, the two sides do have until December 1st to sign a contract, or else Johansen would be lost for the season.  Just imagine for a quick moment how ugly that would be.
Pay attention to how the next month or so unfolds in these negotiations.  The news here isn't the fact that Johansen will eventually sign a deal.  Our focus should be on the steps that lead to the contract, how long it takes, and what the final numbers are.  This situation will eventually be revisited the next time a contract is discussed.  What happens now, will directly impact in some way, what happens in a couple of seasons.  Johansen's future as a Columbus Blue Jacket will depend on how this all unfolds now.