Ryan Johansen has collected 167 points in 271 games with the Columbus Blue Jackets.
Since being selected with the fourth overall pick in the 2010 NHL draft, the blue-chip prospect has turned into an NHL All-Star – living up to every bit of his pre-draft expectations.
But the Johansen that takes the ice each night at Nationwide Arena may just be the tip of the iceberg. Back-to-back stellar seasons just could be the opening act to a main event that has yet to start.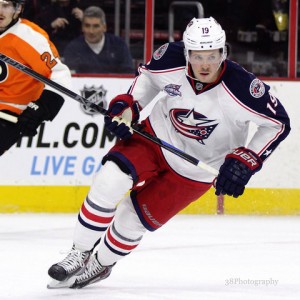 Johansen has the tools to become a premier center in the National Hockey League. Skills that have been often overlooked by many outside of Columbus are drawing attention across the league; recently drawing comparisons to Ryan Getzlaf.
Johansen is a good skater, has excellent playmaking ability and on-ice vision. Perhaps most importantly, he's developed consistency that was questioned by NHL scouts prior to his selection.
The Vancouver, British Columbia native is also surrounded by a deepening pool of talent.
Johansen will likely be flanked by the newly acquired Brandon Saad, capable of creating his own offense and possessing a finisher's touch. It gives Johansen an asset he's never had before. Barring any on-ice chemistry issues, the Johansen-Saad combination lays a foundation for an electric and scary first line.
Asked a member of Pens' front office about how good Columbus could be next season. The answer: "Scary."

— Josh Yohe (@JoshYohe_PGH) June 30, 2015
Opposite Saad could be anyone from leading scorer Nick Foligno to Cam Atkinson. In 2014-15, Johansen was paired with Foligno and Scott Hartnell 5.6 percent of the time. Atkinson and Boone Jenner joined Johansen 2.9 percent of the time. Any of those options are fully capable of filling out the Jackets top line.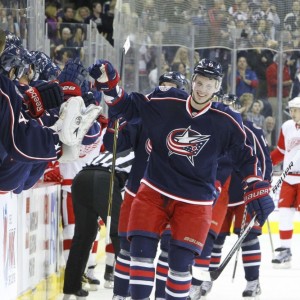 Johansen had a breakout campaign in 2013-14  and as an encore, exceeded those numbers last season.
The 23-year-old rattled off nine-game points streak that coincided with one of the team's best stretches. He also scored two goals and collected four points on the way to being named the 2015 NHL All-Star game MVP in front of his home audience in Columbus.
It all foreshadows seasons like the previous two becoming the rule and not the exception.