Washington Capitals' fans know all about Henrik Lundqvist; they know that he's the best current goalie in the NHL never to have won a Stanley Cup. The Capitals have certainly tried to assist 'King' Lundqvist over the years – you know, by making sure they nearly always lose to the New York Rangers every postseason – but still the big prize has eluded the big Swede.
Last season, during his Stanley Cup Conference Semifinal series against the Capitals, Lundqvist allowed just 12 goals over the seven-game series. However, during the first three games of the Eastern Conference Final against the Tampa Bay Lightning, he let in 13 goals. His form picked up during the seven-game series (that the Rangers ultimately lost), but it's that kind of inconsistency that the remarkable goaltender hopes to eliminate this season.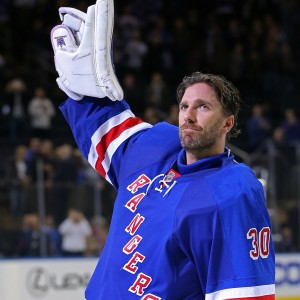 So, Lundqvist is confident that the 2015-16 season will take him to the Promised Land, surpassing his previous losses in three Eastern Conference Finals and one Stanley Cup Final over the past four seasons.
"If I look back at the last four years, we've had a lot of great moments, especially in the playoffs," Lundqvist told the New York Daily News Sunday. "You learn from it and you appreciate it, but obviously the main goal is to take that final step."
Will Lundqvist and his Rangers take that final step next spring and hoist a Cup? If I were a betting man (which I am, when in Las Vegas), I'd put money on it happening. I'd also lay out some cash on the Rangers facing off against the Capitals in the Eastern Conference Final in 2016. Yes, the Caps will reach a new height for them (in recent history) but the Rangers will reach a bigger height.
Lundqvist: 'The Core is Still Here'
Lundqvist's stats last season were average for him – although other NHL net-minders would be excited to have such numbers on their resumes. He went 30-13-3 with a 2.25 GAA and .922 save percentage. In the postseason, he recorded a 2.11 GAA and .928 save percentage for the Rangers who went 11-8 in the playoffs. He missed 25 regular-season games with a neck injury – which paved the way for his backup (Cam Talbot) to prove his worth as a starter. Talbot was snapped up by the Edmonton Oilers during the offseason.
"I definitely think we have as good of a team as last year, but it's up to us to prove it, obviously," stated Lundqvist. "Changes will always happen for different reasons, but I like the fact that the core is still here. It's a group that's been playing together for a lot of years. We've been through the ups and downs, we know what to expect from each other. I think that's going to help us again this year."
Yes, it's August; yes, it's a low NHL news period; and yes – what else would Lundqvist say in regards to him winning the Stanley Cup? However, he's the kind of goalie who can walk the walk next season. He's 33 years old, he knows that time is running out, and he knows he should be up there with the other goalie superstars with Cup wins. I'll go out on a limb and say that I agree with Lundqvist –  he'll take the elusive 'final step.'
In the coming years, I hope to write a similar account of current Capitals' goalie Braden Holtby. He's another one destined for greatness. For now though, I'll live vicariously through the King.
Glynn Cosker is based in the Washington D.C. area. A professional writer and blogger, Glynn brings insightful news and information on all things related to the Washington Capitals for THW. Follow Glynn @DCPuckDrop