Remember when the Canucks goaltending was going to be one of its weak spots?
Ryan Miller didn't get the memo.
Sure it's October, the prime month for premature assumptions, but no one can ignore the fact that Miller is red hot to start the season.
His October success unofficially makes him the anti-Luongo.
Miller has taken the Canucks by storm with his torrid start to the season. He has led the team to a 3-0-1 start with key divisional wins over the Calgary Flames, Anaheim Ducks and Los Angeles Kings. He recorded his first shutout of the season against an awful-looking Kings team on the second night of back-to-back games.
He didn't register a win against either the Ducks or the Kings in four tries last season.
#Canucks Miller's numbers: 3-0-1 with 1.21 GAA & 955% and a shutout

— Jeff Paterson (@patersonjeff) October 14, 2015
The Canucks play their next game against the St. Louis Blues on Friday. With Jacob Markstrom injured and Miller on top of his game, he should get his fifth consecutive start on Friday, with the Blues probably wondering where this Miller was during the 2014 playoffs.
Ryan "Mr. October" Miller
OK, maybe it's too soon to get this nickname trending, but it's rather unprecedented for a Canucks goaltender to play this well in October.
That is except for last year when Miller did the exact same thing for the Canucks. He grabbed our attention by going 7-1 with a 2.27 goals against average and a .917 save percentage.
Live shot of Ryan Miller. pic.twitter.com/Y1GDTO5r1o

— Dave (@YLWNucksFan) October 14, 2015
Unfortunately, the world of sports is a "what have you done for me lately" kind of place, which is one of the reasons why Canucks fans were so sour to see to Miller as the starting goalie again once Eddie Lack left town. Miller was stellar in the Canucks crease for many games last season, but it was the inconsistency that heralded criticism.
Before the All-Star break, Miller went 23-10-1 with a 2.30 GAA and a .918 save percentage. However, in the 11 games he played after the All-Star break, he went 6-5 with a 3.26 GAA and a .886 save percentage.
After Miller returned from injury for a couple playoff games, our short-term memory on him wasn't very positive. Not to mention he was in net when the Canucks unforgivably lost 7-4 to the Calgary Flames in Game 6 after they held a 3-0 lead.
Despite the fact that he is the second-oldest starting goalie in the league (behind Roberto Luongo), he had to come out and prove to Canucks fans that he could still be the starter.
Maybe we shouldn't be surprised to see Miller's success in the early going. He's now had a season and a half to get accustomed to the Western Conference and its travel schedule. He's gotten used to the pace of the Western Conference, and he's had a year to work with Canucks goalie coach Rollie Melanson.
So far it's paid off. His stat line won't remain that golden, but he will have to remain solid if the Canucks are going to be in contention for the playoffs in 2016.
The Anti-Luongo
When Luongo first came to town, it was always disappointing to see him stumble out of the gate in October. During his last few seasons with the Canucks, it was just expected that Luongo wouldn't show up for at least a month.
He got away with it because he would eventually find his game, often responding by having a banner month in November. By the time the Canucks reached the playoffs, led by Luongo, the bad starts were all but forgotten until the next October. Those were some lousy Octobers to be a Canucks fan.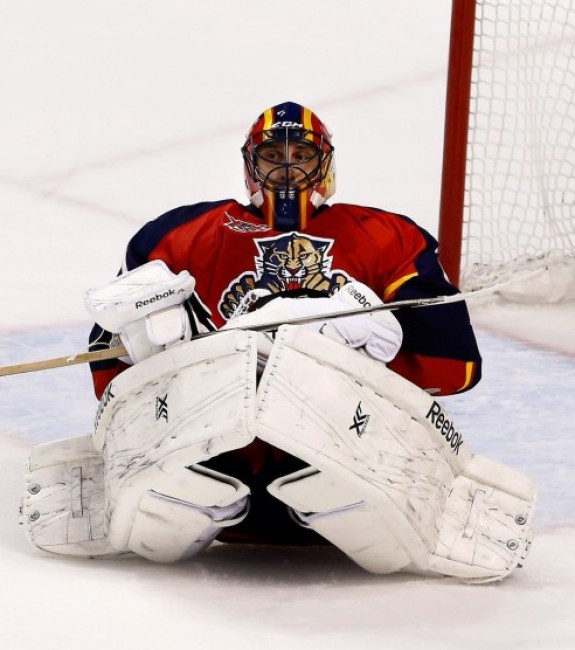 Ironically enough, his best two Octobers occurred during his first and last as a Vancouver Canuck. His first October as a Canuck was far and away his best, when he posted a shiny 2.14 GAA and a .923 save percentage.
Other than that, watching Luongo play in October was about as painful as having your grandma as a wingman. Here is a look at Luongo's stats in October as a Canuck.
| | | | |
| --- | --- | --- | --- |
| Year | Record | G.A.A. | S.V. % |
| 2006-07 | 7-4-1 | 2.14 | .923 |
| 2007-08 | 4-7-0 | 2.91 | .903 |
| 2008-09 | 6-4-0 | 2.98 | .902 |
| 2009-10 | 6-6-0 | 2.79 | .902 |
| 2010-11 | 2-3-2 | 2.93 | .907 |
| 2011-12 | 3-3-1 | 3.54 | .869 |
| 2013-14 | 7-4-1 | 2.46 | .909 |
Other than the impressive start to his Canucks career back in 2006, all of these totals are well below Luongo's career numbers of 2.50 GAA and a .919 save percentage. It always took the Canucks and Luongo about a month to find their rhythm, and it might have cost them more games if they weren't playing in a weak Northwest Division.
As long as Miller stays sharp, October will just be a reminder of how Miller is the anti-Luongo in Vancouver.