With much of the hockey-related attention being focused on players taking off to ply their trade in various European leagues, you'd be hard pressed to find many people who are actually talking about NHL CBA issues.
And then there's Ryan Miller.
In an email to James Mirtle of the Globe and Mail, Miller expressed "an immense distrust of the owners and their motives in this fight", especially after the last lockout which "resulted in a large share of those new revenues going to the wealthy teams." Miller's frustration boils out of the fact that players took a massive cutback in 2004-05, and are now being asked to give up a significant percentage of their share of hockey related revenue, while the owners themselves aren't willing to help each other out through meaningful revenue sharing.
In other words, when owners mismanage their wealth and/or are unwilling to spread it around, it's the players who are asked to help make ends meet, lest they risk being locked out indefinitely, as is the present situation.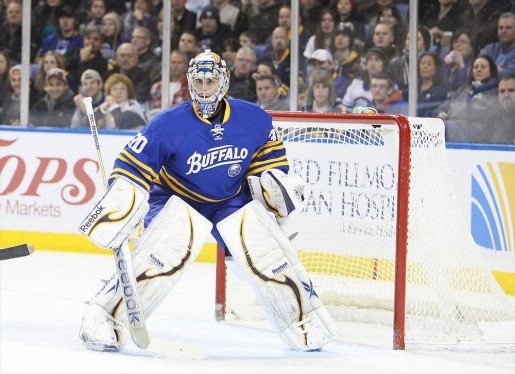 Here's what Miller had to say, in his own words (via the email he sent to Mirtle):
I think the anger and frustration comes from knowing what the owners are capable of under the guidance of Gary Bettman. They are willing to let a season burn as shown in 2004-05, and it is a path that they are comfortable taking as their choice form of negotiating.

This is the third time and no matter how the NHL spins it, the same story is being told. They claim teams are struggling financially and player salary restriction is the only way to address the inevitable disasters. It is hard to trust the owners when it is the same story after years of documented growth and increasing revenue.

That is why our proposal builds in more responsibility to league health as a whole through defined revenue sharing that gets money to the teams that need it. The proposal is based on Don Fehr spending a lot of time talking to the players and listening to our concerns.

We want a healthy NHL and a league that starts to move past the labour mistrust so that hockey could grow and flourish… And yet here we are again.
While frustration mounts among all involved and each side digs in a little deeper in anticipation of a long fight, the fear is that unless it's done right, we'll all be back in this same boat in 6-7 years. If the players truly believe that their plan of attack is what's best for the league as a whole and will promote sustained growth and stability, then certainly that's a cause worth patiently fighting for. At the same time, there's no questioning the resolve of the owners, and another sweeping victory by the powers that be may only serve to further fracture a very delicate (at best) relationship between the league and its players.
Needless to say, it's a dark time for all involved in the pro form of North American hockey, and one can only hope that an equitable deal is reached sooner than later. To that end, it would be nice if more high-profile players like Ryan Miller will stick around and speak out rather than going to Europe. But, the reality is that 'here we are again' is where we are likely to remain for the foreseeable future, with no talks scheduled between the two parties anytime soon.
As such, for better or worse and regardless of the perception, NHL players are migrating over to Europe, with two Sabres now confirmed to be in that mix: Christian Ehrhoff has signed with Krefeld in Germany, and Tyler Ennis will be suiting up for SC Langnau Tigers of the Swiss League (via Sportsnet).
There you have it; on a day when the Sabres would have been opening their training camp, there's only this kind of news to speak of.
Memo to Ryan Miller: you're not alone in your frustration.